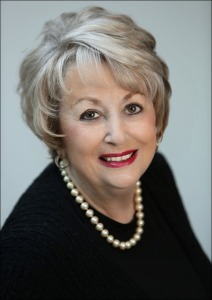 Alice Handelman
Bio

Alice Handelman is a contributing writer and Movers & Shakers columnist. Her stories in Ladue News have won three, first-place awards in the Missouri Professional Communicators annual communications contest.
Jessica Z. Brown-Billhymer is the most recent recipient of St. Louis Press Club's Catfish Award, which goes to a member who has made exceptional contributions to the field of communications and to the club.
"I never set out intentionally to help so many people through my music," she says. "Today, I play inspired music that soothes the soul so that people in emotional, physical or mental distress can remember the harmony and love within them."
Ellen Moceri has spent the past 55 years as a transformational leader in independent day schools and as an advocate for educational programs to fight systemic racism and encourage social equality. 
Mindy Horwitz first became aware that out-of-town parents might need a "local mom on the ground for assistance" when her oldest son was a freshman at Washington University in St. Louis.
Eva Frazer's passion and drive to help those in need shine in both her career choice as a physician and her personal commitment as a volunteer serving the metro area.
KTVI FOX 2's Jasmine Huda began honing her talents as a high school student at Ladue Horton Watkins High School.
A proven leader and volunteer extraordinaire, Peggy Holly brings her innate love of craft to her latest governance position as board chair-elect of Craft Alliance.
Ida Early, who was honored in 2014 as a Woman of Achievement, recently accepted the chairmanship of WOA's 2021 virtual recognition celebration.
A graduate of Washington University in St. Louis, Susan Sanders Block has chaired more than 100 events and committees and been honored by various organizations for her contributions to the metro area.
Greg Yawitz, board chair of the Jewish Federation of St. Louis, is a proven leader in the St. Louis Jewish and secular communities. 
View all