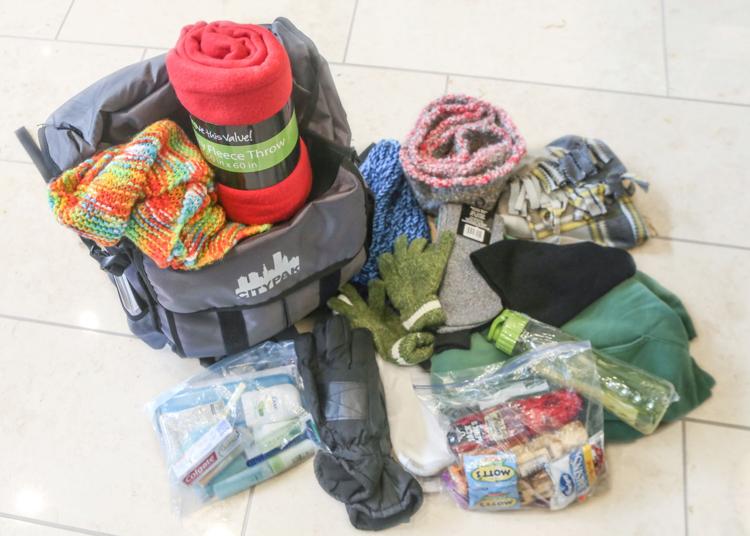 The man in the silk suit hurries by," the vocalist croons over piano delicacies. "As he catches the poor old ladies' eyes/Just for fun he says, 'Get a job.'"
Those subtly brutal lyrics come from Bruce Hornsby and the Range's "The Way It Is," from the album of the same title, which topped charts in 1986, three decades ago – yet the ongoing divide between the well-heeled and the downtrodden suggests the signal importance of local nonprofit BACK@YOU.
"The homeless matter," testifies that nonprofit's website, "and they are not invisible."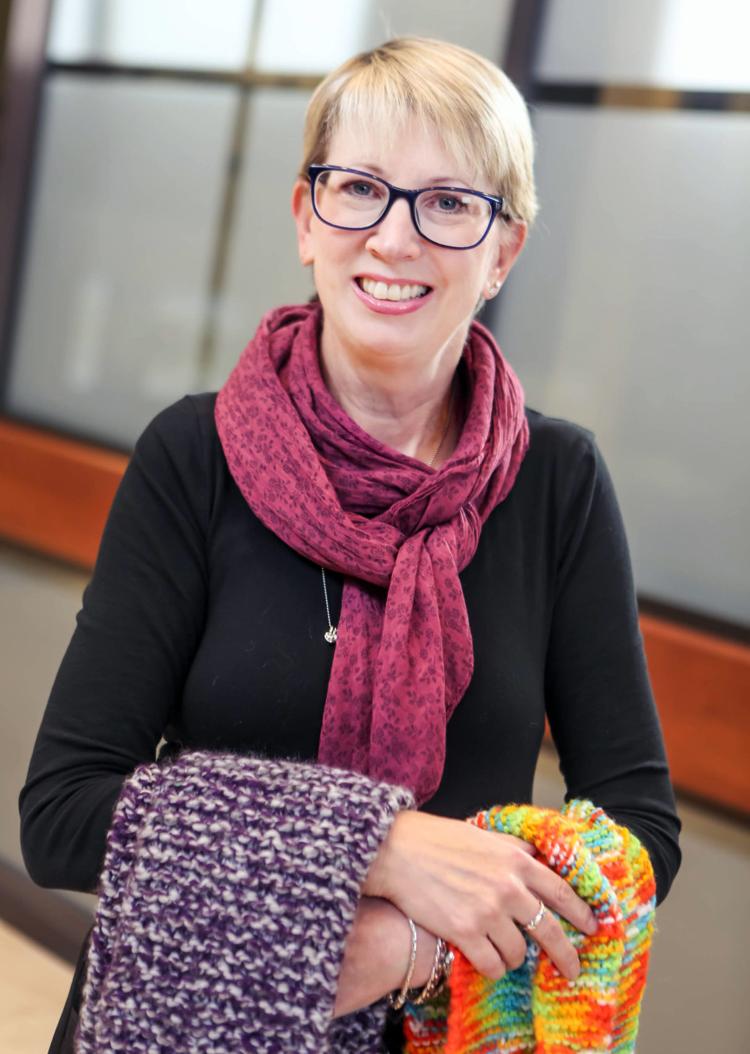 The inspiration for BACK@YOU struck founder Kathy Acre years ago, she relates. Acre previously served St. Louis Countians' needs under Section 8, the well-known lease-assistance program under the Housing Act of 1937, managed by the U.S. Department of Housing and Urban Development.
"Working so closely with people who were homeless or on the cusp of homelessness brought me face to face with how precarious our positions in life are," she says. "When I no longer did that for a living, I still wanted to help."
As a result, Acre began volunteering at shelters and soup kitchens, in addition to gifting pocket change to panhandlers, whom many others, in one way or another, treated as invisible.
Acre also noted that many of the homeless had only flimsy plastic bags in which to store and transport their belongings.
And she resolved to take action.
Informally, before the foundation of BACK@YOU, that action began with something much more durable than the sort of free tissue-thin supermarket totes that can often burst and send a gallon of milk, let alone all of one's belongings, to burst on the sidewalk: 20 backpacks bought for $5 apiece. To those first 20 backpacks, Acre added socks and gloves against the depredations of winter, as well as hand-crocheted scarves for a personal touch. Word of mouth inspired others, including the proverbial "total stranger," to contribute everything from fleece throws to personal-hygiene items to snacks.
Then, with her husband and two friends, just before Thanksgiving 2014, Acre distributed those initial backpacks at The Bridge Outreach, the "local nonprofit organization dedicated to meeting emergency needs for the homeless and at-risk individuals in our community while working to end their homelessness," whose website sadly announced its shuttering this past June.
The grateful response to that distribution led Acre, with some family members and friends, to subsequently register BACK@YOU as a Missouri 501(c)(3) nonprofit, the most common type of U.S. tax-exempt nonprofit organization under the Internal Revenue Code.
As such, BACK@YOU's first official distribution, of 200 backpacks, took place in mid-October 2015.
"This year we distributed 400," Acre continues, "with 200 going to St. Louis Winter Outreach, Paraquad, Places for People and other shelters and outreach organizations, and 200 being distributed on Oct. 30, 2016, at 'City Hall West,' 1520 Market St., in Downtown St. Louis."
BACK@YOU, its website notes, belongs to a looseknit coast-to-coast philanthropic initiative called Backpacks for the Homeless, although the St. Louis organization isn't affiliated with these groups. That initiative sprawls across 21 states and includes 32 other groups.
The website also relates three grim – even horrific – statistics: 14 percent of Americans go homeless at some time in their lives, military veterans constitute 26 percent of those suffering homelessness here, and children younger than 18 form a whopping 39 percent of homeless St. Louisans.
Beneath the rubric "Why We're Here," BACK@YOU's website otherwise presents this profoundly large-souled tagline: "Because Awareness, Compassion and Kindness Yield Open Understanding for the Homeless."
The site continues in a similarly philanthropic fashion with these four points:
"AWARENESS Knowing who our homeless neighbors are and what factors contribute to homelessness reminds us that we are all people, we all have dignity and we all deserve respect.
"COMPASSION Knowing our homeless neighbors opens our eyes and hearts to their joys and sorrows. Caring for people is at the core of BACK@YOU. If we know them, we must also care about them.
"KINDNESS Knowing and caring empower us to act to help make the lives of our homeless neighbors better. We do this through simple acts of kindness. We cannot do everything, but we can do something.
"UNDERSTANDING If we know and care and act, we cannot help but understand. A home is not what makes you a person or earns you dignity. We're all in this life and world together. We're all neighbors."
Some folks, of course, might bridle at that last word, especially given the seemingly nonstop battles between St. Louis City Hall and the Rev. Larry Rice's New Life Evangelistic Center. Acre provides a humanistic assessment of that last word – neighbors – in particular.
"BACK@YOU is a big proponent of the Housing First model," she says, referring to the National Alliance to End Homelessness "approach that centers on providing homeless people with housing quickly and then providing services as needed," according to the alliance's website.
"Housing First works," continues Acre. "But we can't house everyone at once, and there are not enough shelter beds for everyone currently living on the street. Larry Rice's … shelter performs a much-needed service by giving beds to those who don't have them, and they are the only area shelter that accepts men, women and children.
"But no services are available to help guests find permanent housing, [Rice's] building is old and not outfitted to accommodate so many people, and the fact is that shelters alone are a temporary solution. The people in the neighborhood that want to shut them down don't have any answers for where the guests should go – they just know they don't want to see them.
"Closing [Rice's shelter] is not going to make our homeless neighbors suddenly disappear. We all have the same goal of getting those living on the streets into permanent housing, and we just need to keep that in mind as we try to find solutions."
BACK@YOU's solution, as noted, takes the form of backpacks that show their recipients "that someone cares," states the nonprofit's website. "They may be small gestures in the grand scheme of things, but they are filled with love."
Acre, with pardonable pride, raves about those "small gestures."
"Our backpacks are different from almost any backpack you can buy anywhere – they're amazing!" she says. "Citypak Project is a nonprofit in Chicago that wanted to make life a little easier for those who were homeless in their city. They worked with the design team at High Sierra to make a backpack that addressed the special problems of those living on the streets.
"Everything is waterproof, and they are much larger than normal backpacks. They have compartments and cinches and clasps that make sure nothing falls out. There is also a rain poncho in a securely Velcroed compartment on the bottom of the backpack that is attached and goes over the backpack and the person carrying it.
"The backpacks cost $30 apiece, but we pay only $15 each, and Citypak Project matches that."
Acre continues by reflecting on the reception to BACK@YOU during its (so far) brief existence.
"The biggest surprise was finding out how many people cared and were inspired by the idea," she says. "In the beginning, when I was putting together 20 backpacks, I thought of it as my passion project and really thought it wouldn't matter to anyone else.
"I was wrong.
"Not only did people care, but they embraced the idea of wanting to show kindness and compassion through the scarves that were handmade with love. Our board thought the scarves would be the most difficult thing to sustain. That has not been the case. We easily collected 400 handmade scarves this year, and we have a head start on next year.
"While we've received scarves from all over the country, the majority of them have come from local knitters and groups. One group meets at the Fenton library and donates 100 scarves at a time. Between groups like these and our individual donors, we're convinced that we'll always have enough scarves."
Despite BACK@YOU's early success, moreover, Acre still cannily encourages further donor support.
"Over the last couple of years, we've developed relationships with wholesalers, allowing us to buy our backpack items at remarkably low prices," she says. "This means monetary donations will allow us to buy more and higher-quality items for less than the average shopper. In other words, we can do more with your dollars than you can. It's easy to donate on our website.
"Also, in April, we do our annual Backpack Blues Benefit at BB's Jazz, Blues and Soups, and we need good silent-auction items donated. We raised over $5,000 last April, and much of that came from the silent auction. Hopefully, people will also show up to the benefit and hear some of the best blues bands from St. Louis and support us."
For sheerly logistical reasons, Acre foresees only slow, cautious growth on the part of the nonprofit.
"I work a full-time, unrelated job, and no one on our board, including me, receives any salary or compensation," she relates. "I realized this year that 400 is the maximum number I can do right now and still work full time, which I financially need to do. So for now, we will continue to serve 400 each year, with an eye to future opportunities to expand.
"I would love to continue to supply backpacks that will make the lives of those living on the streets in St. Louis a little easier, but I would also like to expand and work with other organizations outside of the St. Louis area. Franklin County, Lincoln County and beyond are all in need. People often think of those experiencing homelessness to only be in the city, but that's not the case. That may be where you see a concentrated population, but it's not exclusive to the city."
In short, despite the comparative modesty of BACK@YOU's "small gestures," Acre's eye remains on the big picture.
"The current challenge is to make sure we're helping the most people and doing it in a way the city supports," she says. "We want to be part of the solution, not part of the problem for our city and our homeless neighbors.
"This year we were grateful to have had the support of Eddie Roth, director of human services in Mayor [Francis G.] Slay's office. Thanks to his efforts, our distribution went smoothly, and we were able to help the greatest number of people in the most respectful manner, showing all the guests in need that we cared and wanted to help them."
The term backpack, surprisingly, dates only from the second decade of the 20th century. Over time, backpacks have served the needs of students, sportsmen and soldiers.
Lately, through the efforts of Acre and her BACK@YOU team, they're also serving the needs of survivors on the streets of St. Louis, helping in part to alleviate the woes of hapless "street people" otherwise unseen from the average skyscraper.
BACK@YOU, 5010 Murdoch Ave., St. Louis, 314-498-9129, backatyou.org