You don't need to take a plane or a train for your next fall getaway – just hop in the car and enjoy the drive.
If you haven't been to Springfield, Missouri, in a while, you have a wonderful surprise in store and a new reason to visit. It's called Hotel Vandivort, a first-rate boutique hotel that packs a smart SoHo kind of vibe. The hotel is home to a remarkable new destination restaurant called The Order, a nod to the building's Masonic history. Both the hotel and the restaurant benefit from a level of quality and attention to detail that promises to bring guests back again and again.
Hotel Vandivort is located in downtown Springfield in a 1906 Masonic Temple that's been completely renovated and designed to appeal to discerning travelers. It's owned by Springfield residents, brothers Billy and John McQueary, and John's wife, Karen McQueary. The property features 50 unique guest rooms, 12 suites, and two premiere suites with definite rock-star appeal. The hotel also houses the stunning Vandivort Ballroom, which is located on the building's top floor and was a well-known Springfield special-event site during the building's past as the city's Masonic Temple.
"We knew we could bring new life back to this significant, historic building and add something to the Springfield landscape that's been missing – a contemporary and style-oriented gathering place for our community," Karen McQueary explains. "It's been our dream to give something special back to Springfield, and we think Hotel Vandivort is the realization of that hope."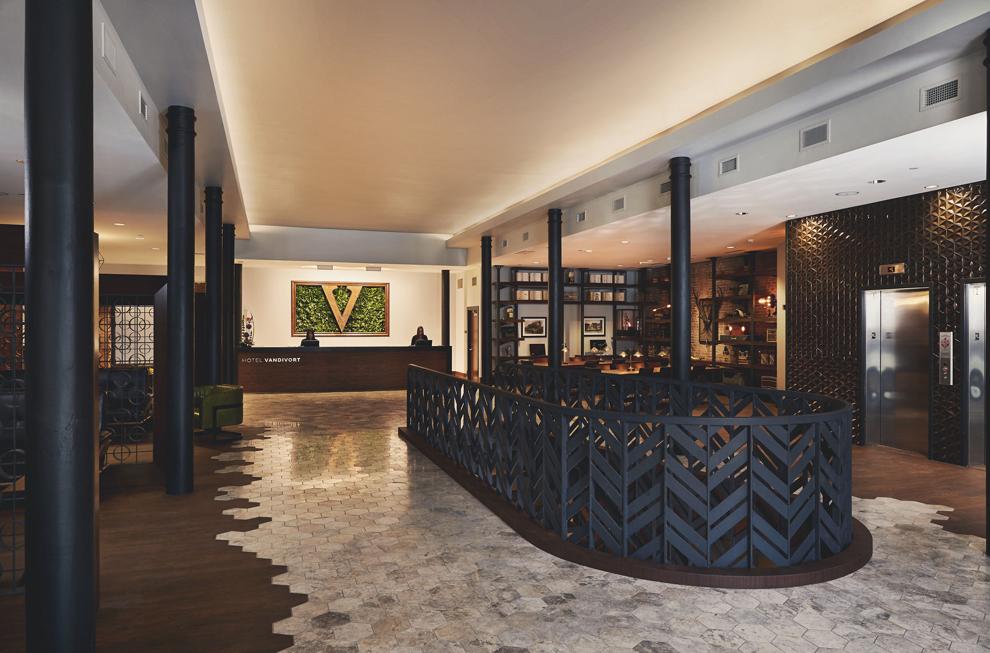 The hotel's fresh interior design, much of which Karen McQueary can take credit for, is a crisp, contemporary take on a vintage industrial style. That aesthetic is readily apparent in the décor of the upscale lobby, which showcases the creative work of local metal artisans who created the elegant main staircase railings, library-style shelving and impressive divider screens. Hotel guests are welcome to enjoy drinks and appetizers in the lobby, where they can relax in comfortable fireside seats, in window seats with a view of the street or at a large handcrafted communal table that encourages mingling.
"Seating options encourage vibrant social culture," McQueary explains. "Whether someone wants to have drinks with friends, a traditional dinner, or sit with a laptop at a communal library table, there are unique spaces for all of these experiences."
Overnight guests also quickly discover that their rooms benefit from thoughtful attention to aesthetics, comfort and detail, including cozy beds, high-quality linens, robes and slippers provided for guest use. Remote-controlled window shades and clever mood lighting options also help to make each guest room a truly relaxing retreat.
All that aside, perhaps the best thing about the new Hotel Vandivort is The Order, the lobby restaurant specializing in modern Missouri cuisine. Diners can choose from a creative menu of small plates designed for sharing or enjoy hearty entrées with a Missouri twist. Just one of many delicious examples is Ozarks Benedict, a unique play on Eggs Benedict made with a handcrafted biscuit, braised pork belly with a sage sausage and apple gravy, and two poached eggs.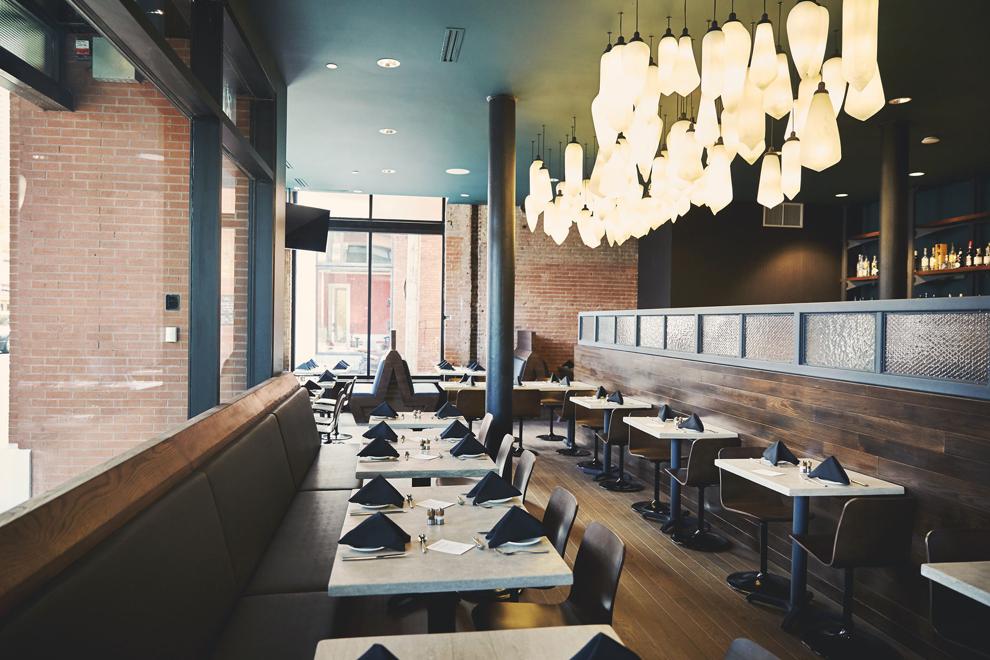 Everything on the menu is locally sourced, including grass-fed, organic beef from Blackgate Farms, cheeses from Terrell Creek Farm, pasture-raised pork products from Circle B Ranch and fresh produce from Urban Roots Farm. Other local favorites, such as The Coffee Ethic, Askinosie Chocolate and Hurts Donut, also make appearances in the menu's sweets section. Last, but certainly not least, the restaurant and bar feature unique hand-crafted cocktails and an excellent wine list that beautifully complements the menu.
Our advice: If you're planning a short weekend getaway this fall, put Hotel Vandivort and The Order at the top of your list. You won't be disappointed.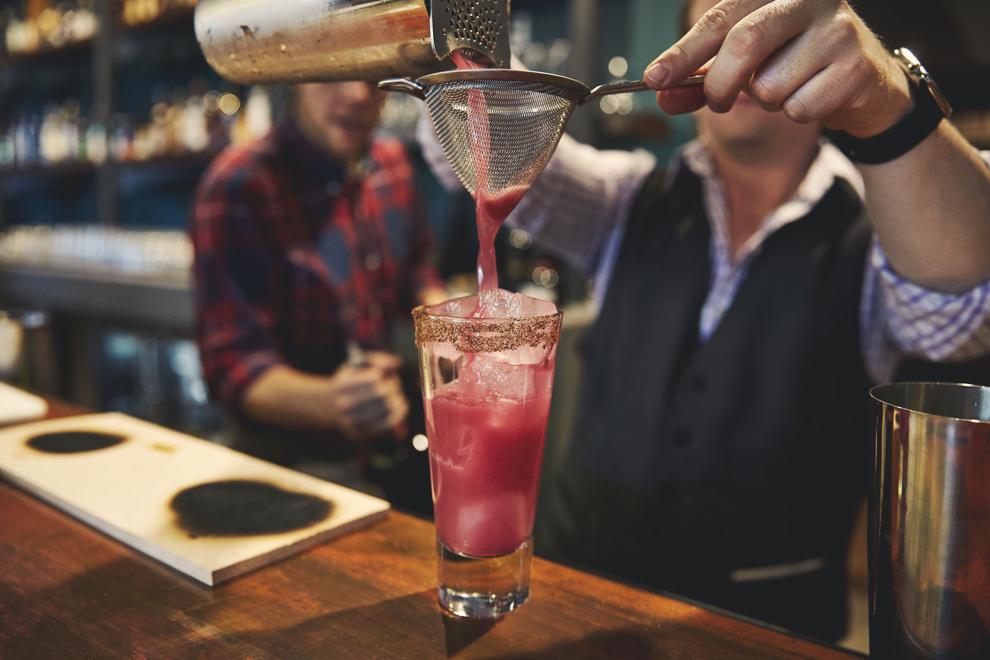 Go antiquing. Your choices are many, but Relics Antique Mall is a favorite. Named "Best Antique Store" by popular vote in 417 magazine, Relics features more than 2,000 pieces of French, British and American antique furniture and home décor. Plan to stay for lunch at The Tea Room at Relics, which offers delicious quiche, chicken salad and desserts, all made from scratch daily.
Be a part of the night life. You'll find a wealth of options for drinks and noshes in downtown Springfield, but one that's sure to appeal to St. Louisans is Scotch & Soda. The Prohibition-era cocktail house specializes in classic libations, Scotch whiskey and gourmet bar eats. There's high-top, pub-style seating in the front of the establishment, while the back room offers a more intimate, low-light lounge with sofas and coffee tables. The menu focuses on hand-prepared classic cocktails using fresh in-house infusions, syrups, tinctures and cordials.
Check out the art. Art walks in the downtown arts district run from 6 to 10 p.m. on the first Friday of the month. These events include a varying number of participating galleries that specialize in an array of different art forms and often offer live demonstrations.
Smell the coffee. Springfield is home to a large number of businesses that take their coffee and espresso drinks very seriously. Top choices include The Coffee Ethic, Heroes Coffee and Mudhouse. From single-origin coffee roasted in house to delicious fresh pastries, Springfield coffee shops are worth a visit.
Take a hike. Fall is without a doubt the prettiest time of the year in Springfield and the surrounding Ozarks. Consider putting a few hours aside during your trip to discover an urban trail, a conservation area, a state park, a national forest or a few of the miles of shoreline along accessible lakes, streams and rivers, all within a short distance of the city.