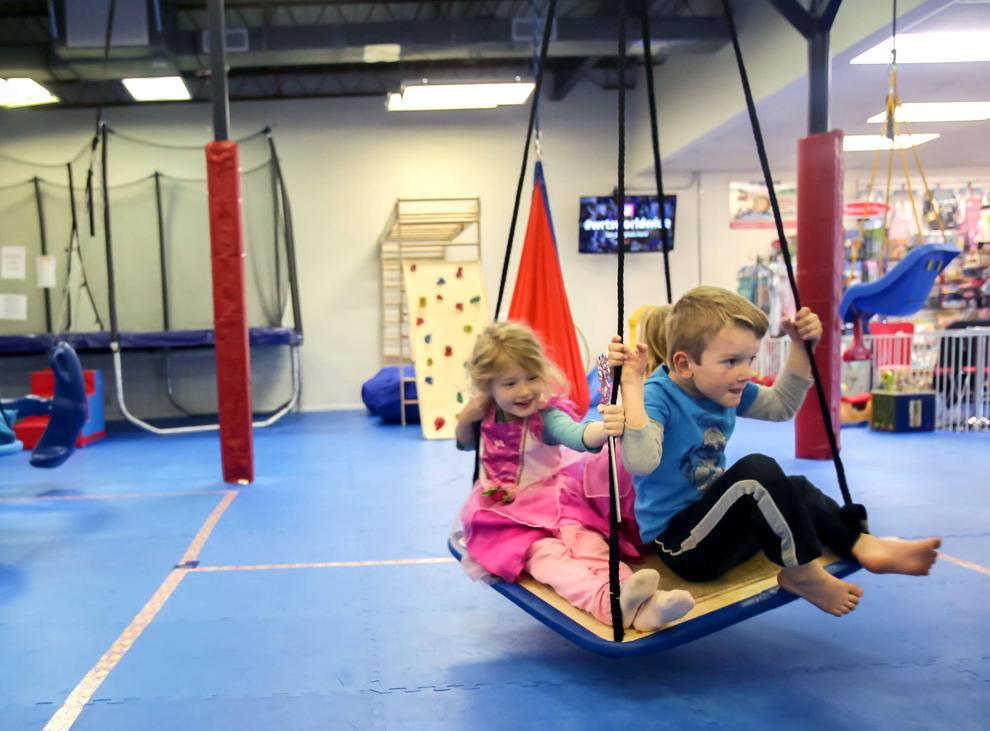 Although We Rock the Spectrum Kid's Gym might sound a bit too childishly exuberant for the average adult, the Fenton venture fills a signally earnest function: serving youngsters afflicted with autism and related conditions – as well as many, many more.
Tom and Cynthia Tipton, who own and operate the gym, opened it in a spirit of inclusiveness borne of a deep familial commitment, according to the local We Rock the Spectrum website.
That commitment goes by the name of Noland, whom the couple (with daughters Sophie and Cat) welcomed into their family as a 15-month-old adoptee almost a decade ago.
By the time Noland reached kindergarten, various behavioral tendencies led to his being diagnosed with attention deficit hyperactivity disorder, the neurodevelopmental affliction commonly known as ADHD – and that diagnosis ultimately led the Tiptons to launch the Fenton venture.
Tom Tipton details the background on the local branch of We Rock the Spectrum, whose name references autism spectrum disorder – the ADHD-related congeries of afflictions on which the American Psychiatric Association cast considerable light in the 14-years-in-the-making fifth edition of its Diagnostic and Statistical Manual of Mental Disorders, published in 2013.
"We have become more and more active in the autism community since our son's diagnosis in 2011," Tipton says. "When we discovered the We Rock the Spectrum franchise in California last year and met with owner Dina Kimmel, we saw a way to give back and meet the needs of other St. Louis parents and guardians with children on the spectrum or with special needs.
"The gym tagline is 'Finally, a place where you never have to say you're sorry.' This really resonated with us, as we have had to apologize many times on playgrounds and while at swimming pools for our son's behavior. With our gym, we are providing safe indoor play for all kids."
When asked how he believes the gym has benefited his son, Tipton replies with paternal puckishness.
"We think Noland enjoys having his own personal zip line whenever he wants!" Tipton says, referring to equipment at We Rock the Spectrum that targets stress release and promotes joint and body relaxation.
"He knows the gym is a safe place where he can play and make friends without judgment," Tipton père continues more seriously. "He also knows as he gets older, he can have a job here if he is not active elsewhere."
Beyond his son's experience, Tipton dwells on the ways We Rock the Spectrum benefits community children in specific and families in general.
"We are trying to make a difference every day," he says, "whether it's giving an autistic parent a chance to see [his or her] child playing safely or providing sensory-typical kids a fun playground where parents don't have to hover or worry about kids wandering away."
Parenthetically, although no valid brief characterization exists, children with sensory-processing issues – "sensory" for short, in contrast to "sensory-typical kids" – might respond too much or too little to stimuli as simple as loud noises or discomforting clothes tags, according to We Rock the Spectrum.
"Promoting socialization opportunities in play is positive for us and for the community," Tipton continues. "Everybody plays here and is welcome, including both sensory and sensory-typical kids, and their interactions help make later socialization easier. And you don't need to have a special-needs child to want a great place for your kids to play.
"Parents love that if their child has a meltdown or if their nonverbal child screams and makes loud noises, there will be no dirty looks or stares. Everyone and every behavior is accepted here. We even provide a 'quiet room' for kids who need a moment on their own to settle down before joining back in the fun."
In return, it appears the community has responded with incredible warmth to We Rock the Spectrum.
"Mr. Tom is absolutely amazing!" a mother of four youngsters posted in mid-November to the gym's Facebook page. "He genuinely cares for each of his guests, and it amazes me how he knows everyone's name [who] comes through his door."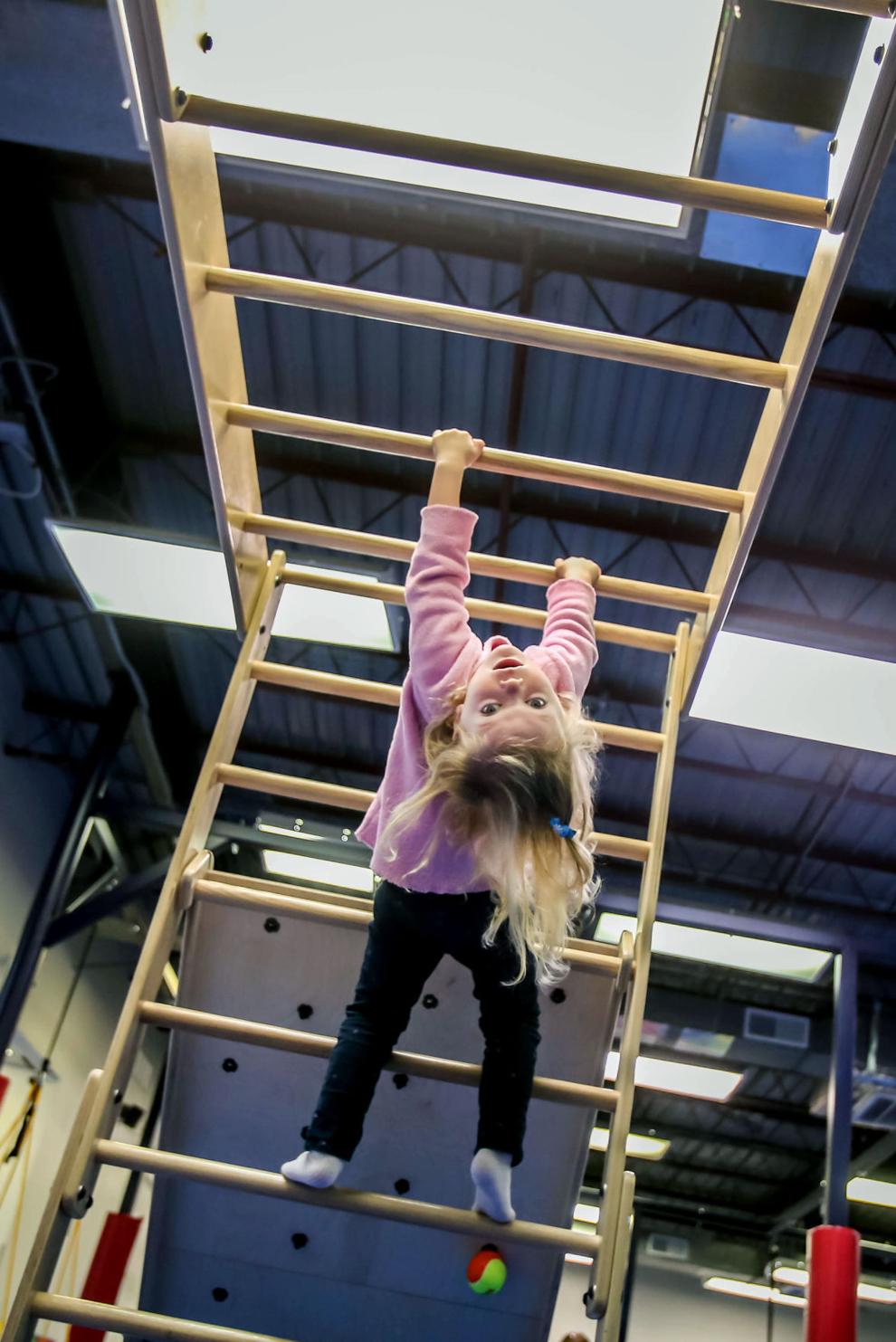 A month prior to that, another visitor posted: "We love this place! Our son is 5 and on the spectrum, and he adores coming here. … It's so nice to be able to bring him here and just relax and let him play. We're always here for no less than two hours."
Even a cursory review of We Rock the Spectrum's website suggests why a child could pass two or more hours there with ease – specifically, 10 pieces of equipment tailored for children with sensory-processing disorders. Crash mats and crash pillows, for instance, provide "motor planning and strength"; a trampoline, meanwhile, helps children in "building leg and core strength."
Using terms like vestibular (generally involving the sense of balance) and proprioceptive (generally involving bodily positioning and movement), Tipton enlarges on the website's explanations of how the gym's various stations specifically benefit children in sensory capacities.
"This equipment is often used in an occupational-therapy setting," he says. "The equipment provides vestibular and/or proprioceptive input, as well as enhances motor planning, tactile input, balance and muscle strength.
"For example, the trampoline works with the proprioceptive sense of movement in the body as communicated through ligaments, joints and muscles. Most of our swings utilize swivel rotators to give a variety of direction for children to enjoy swinging or spinning and work on the vestibular part of the brain."
Beyond that, given the earlier comment about his own son's preferences at the gym, Tipton's confession about the most popular of the 10 pieces of equipment tailored for children with sensory-processing disorders should come as no surprise, but he similarly enlarges on that confession with a utilitarian assessment.
"By far, the most popular piece of equipment is the 40-foot zip line," says Tipton. "The zip line provides a great way for kids to build upper-extremity strength, muscle endurance and the ability to integrate and tolerate movement.
"It also gives self-confidence, as children challenge themselves to hold on long enough to make it to the other end and crash into our crash pit. They also love to watch themselves in our wall mirrors as they sail down the zip line."
Despite the venture's name, by the way, Tipton prefers to characterize We Rock the Spectrum not as a gym but as an indoor playground because its services (for children from infancy through age 13, according to a blog entry on We Rock the Spectrum's website) extend far beyond providing weight training for junior mesomorphs pumping iron.
"'Open play' is available most every day, when parents/guardians can bring kids and playmates and spend the day playing," he notes. "Open play has no set time limit. We just say open play lasts until 'The parents get tired, the kids get tired or we close! Whichever happens first!'
"We also offer We Rock Care break time and camps. During We Rock Care, we take care of the kids, and the parents can go to appointments, run errands or even take a nap. Our We Rock Care camps are offered during the summer, winter break and spring break. Finally, we also host field trips, private play dates and birthday parties."
Yet another potential benefit of We Rock the Spectrum hinges on its blog, which features instructive posts with such titles as "How to Handle Sensory Issues and Halloween Costumes" and "Building a Relationship With Your Autistic Child's Teachers."
Despite We Rock the Spectrum's other felicities, Tipton returns to familial and community involvement when discussing the gym's staff and their credentials.
"Although our gym utilizes many pieces of occupational-therapy equipment, our background is just being autism parents," he says. "In addition to us, our staff includes individuals who are active in the special-needs/autism community. We also invite volunteers who need hours with children, including special-needs kids, from local universities and high schools.
"The most important things we look for in staff and volunteers is a love of children and acceptance of children with special needs. We try really hard to never say 'no' at our gym since our kids hear it way too often, unless it is a safety issue. We love watching how kids explore new ways of using our equipment!"
In the final analysis, Tipton attributes his and his wife's success with the gym and otherwise to being proactive as parents.
"We believe the best approach to proactive parenting for a child on the spectrum is a team approach," says Tipton. "We work closely with our son's behavior therapist and his school to ensure he continues to succeed in meeting his goals. We try to get ahead of issues and put together a plan with our team to help him be successful.
"Parents often ask us for advice, and in addition to sharing with them what has worked for us, we refer them to resources in the St. Louis area that will benefit them and their children.
Finally, for those who might view a commute to Fenton from Ladue or elsewhere as inconvenient, Tipton provides tentative but heartening tidings.
His family's success in Fenton, he notes, almost perforce has sparked thoughts of expansion, with the Tiptons' website mentioning a potential total of three gyms here in the St. Louis metro area – eventually.
"We have plans to open additional locations but have not announced timing," Tipton says. "St. Louis has been a tremendously supportive community, and we want to serve all kids across the area."