The Kirkwood School District Foundation (KSDF) presented more than $71,700 in scholarships and awards to selected students during its annual Named Awards Scholarship recipient ceremony last May. The recipients applied online and were selected for committee interviews after all applications were reviewed. The Named Awards Scholarship program was formed in memory or in honor of students, family and friends of the community, and funds are made possible due to the support of donors, donor families, Kirkwood parents, staff and alumni.
The 2019 Scholarship Recipients:
• Daisha Jasenowski, Phillips-Wojtow Opportunity Award
• Molly Prow, Glunt Family Award
• Thomas Kocher, Evan Dalgaard Memorial Scholarship for Young Leaders
• Coriana Proemsey, Franklin and Tresa McCallie Award
• Jenna Dyroff, The Salivar Family Grant
• Grace Hartman, Campbell Family Scholarship for College Bound Senior
• Fraye Beyene, Barbara Holley Memorial Scholarship
• Thomas Lennartz, Campbell Family Scholarship for Vocational, Technical or Skilled Trades
• Mary Ralston, Denver Miller Memorial Scholarship
• Margaret Bradley, Beth Brown Memorial Scholarship
• Peyton Roberts, Joan Dowell Memorial Scholarship
• Catherine Butler, Glunt Family Award
• Brendan Davidson, Denver Miller Memorial Scholarship
• Caroline John, Woodard Family Fine Arts Grant
• Olivia Squires, Russell and Ruth Kraus Memorial Art Scholarship
• John Rintoul, Herb Jones Memorial Scholarship
• Rosalie Doyle, Russell and Ruth Kraus Memorial Music Scholarship
• Anthony Speech, Jr. Mike Bales Memorial Scholarship
• Noah Rowan, David Koeneker Memorial Award
• Sarah Capriglione, Beth Brown Memorial Scholarship
• Grace Ferguson, Katie Stream Memorial Scholarship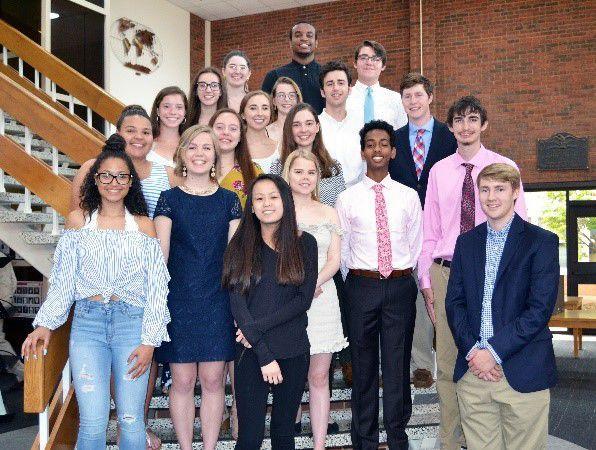 The Ladue School District has been named a National District of Character, and two of its schools, the Ladue Early Childhood Center and Ladue Middle School, have been named National Schools of Character. The distinction is given by Character.org to schools and districts that focus on character development which positively affects academic achievement, student behavior and school climate. Ladue Middle School (2014) and Reed Elementary School (2018) have earned National School of Character Distinction in the past. Character.org will honor these schools and districts at the 2019 National Forum on Oct. 24-27, 2019 in Washington, D.C.
The Spirit of St. Louis Women's Fund (SOS) awarded grants to more than ten non-profit organizations at their 2019 Spirit Awards and Annual Meeting. SOS is driven by a diverse group of women from the St. Louis region who pool their resources to deliver grants to over 70 small nonprofits throughout the community. This year's awards were held on May 22 at the Norman K. Probstein Golf Center in Forest Park. The grant recipients recognized at the meeting: Lydia's House (third year of a $100,000 multi-year grant); Almost Home ($7,500); Angels' Arms ($20,000); Create a Loop ($18,000); Fit and Food Connection ($19,500); Girls in the Know ($16,722); Healing Action Network, Inc. ($9,984); Megan Meier Foundation ($5,000); Migrant and Immigrant Community Action Project (MICA) ($20,000); Sneakers with Soul ($14,000); St. Louis BWorks ($10,000); The SoulFisher Ministries ($25,000); Urban Harvest ($25,000).
The Foster & Adoptive Care Coalition received a premier volunteer award at its 30 Years of Volunteers celebration. The Coalition was presented with the President's Volunteer Service Award, a national honor given by The White House and the Points of Light organization. It encourages citizens to live a life of service through presidential gratitude and national recognition. Ambassador George Herbert Walker III, cousin of the late former President George H.W. Bush, founder of the Points of Light organization, was in attendance to present the honor. The celebration took place on May 14 at Wells Fargo Advisors – Connections Center.
Dogs and dog lovers gathered at the 26th annual Humane Society of Missouri's Bark in the Park celebration on May 18. The event, presented by Purina, took place at Cricket Field in Forest Park and offered several activities and pet adoptions. The celebration featured a 5K race and 1-mile Walk to End Animal Abuse, dog performances, kids' obstacle course, barn animal petting area, opportunities to talk with veterinarians, games, vendors, and a biergarten featuring Urban Chestnut brews. All proceeds benefit the Humane Society of Missouri Animal Cruelty Fund.
Former National Geospatial-Intelligence Agency (NGA) director, Robert Cardillo, has been named a distinguished geospatial fellow in the Saint Louis University Research Institute. Cardillo will be based in Washington, D.C. but will devote a portion of his time each month to his work for SLU, effective June 1. In this role, Cardillo will support continual strategies for geospatial growth in St. Louis, enhance education for SLU students, facilitate impactful collaborations and provide guidance to GeoSLU. In addition, he will advise the Cortex Innovation Community on geospatial strategy, innovation and commercialization to further strengthen the partnership between the university and the neighboring innovation hub.
Dr. Judy Kamper was honored by Oasis for 30 years of service as the district facilitator for the Oasis Intergenerational Tutoring program in the Kirkwood School District (KSD). The volunteer program pairs older adults with children in grades K-3 to work one-on-one each week as their tutors, mentors and friends. Dr. kamper helped establish the program in 1989 when Oasis tutoring was nationally launched. Kamper retired in 2000 but continued her role as tutoring facilitator for Oasis. Over the course of 30 years, she has provided support to over 540 older adults who have served as tutors in all five Kirkwood elementary schools.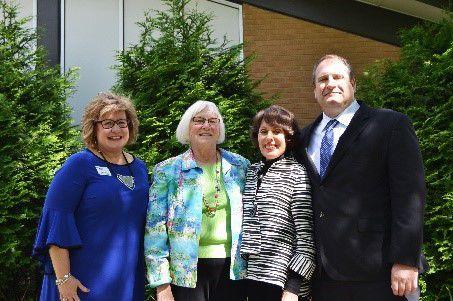 Foam Supplies, Inc. (FSI) recently granted $40,000 to the Make-A-Wish Foundation of Missouri & Kansas. FSI's gift will help grant four very special wishes to local children battling critical illnesses. In addition, FSI employees will have opportunities throughout the year to volunteer their time and talent at Make-A-Wish sponsored events.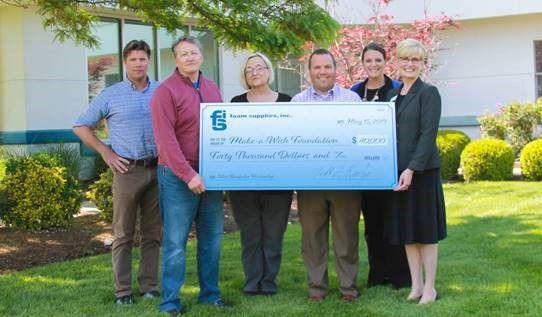 MICDS-Mary Institute and Saint Louis Country Day School senior student Kathryn Flemming was presented with a bronze medallion to recognize her selection as a Distinguished Finalist for Missouri in the 2019 Prudential Spirit of Community Awards. Kathryn created "Katie's Books for Kids" which led to more than 5,000 books donated to children's hospitals and allows pediatric patients to take books home with them when they are released. The medallion was presented to Kathryn on April 30 at the MICDS-Brauer Hall.
Emerson awarded $45,000 to five St. Louis area teachers through its 2019 Gold Star Grants. The grants are awarded annually through a competitive application process open to past recipients of Emerson's Excellence in Teaching Awards and help fund innovative projects in their classrooms. This year's recipients:
• Zandra Davis-Joshua, Gordon Bush Elementary School in East St. Louis, $2,500 to fund a home-to-school family technology center
• Kathy Sardo, Herculaneum High School, $2,500 to fund a career-focused curriculum for students with special needs
• Sarah Winstead, McCluer High School, $2,500 to fund, establish, and sustain a robotics team for the Ferguson-Florissant School District
• Tara Fish, Danby Rush-Tower Middle School and team member Hillary Hensley, $10,000 teamwork grant to fund the establishment of the BlueJay Innovision Lab, providing students with the resources and technology needed to create and innovate their own ideas.
• Amy Simon, Shiloh Middle School, and team members Camille Hudgens, Casey Restivo and Julie Siegler, $10,000 teamwork grant to fund science experiments and projects to challenge students to engage with higher-level application questions and strengthen their critical thinking skills.