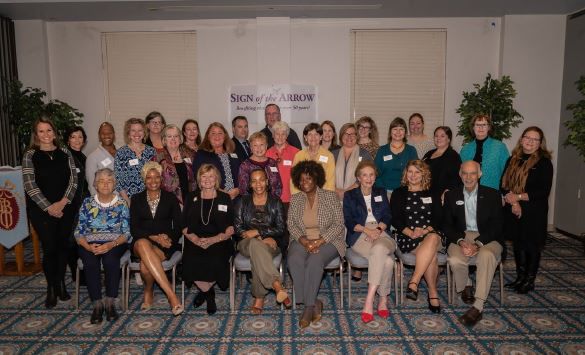 Sign of the Arrow recently celebrated their 51st annual Philanthropy Brunch by awarding 14 grants to St. Louis-area agencies. The event was held on Oct. 24 at Ladue Chapel.
Sign of the Arrow, a nonprofit retail shop for needlepoint and specialty gifts, was established in 1966 by the St. Louis Alumnae Club of Pi Beta Phi to provide philanthropic support to the community. Fifty-four years later, the shop is currently staffed by more than 90 community volunteers who give more than 18,000 hours each year to help run Sign of the Arrow.
The shop generously donates all proceeds to area agencies and has donated more than $3.8 million dollars to more than 192 various charities.
"In the tradition of our mission that began over 53 years ago, Sign of the Arrow is thrilled and proud to announce that we have awarded grants to 14 deserving nonprofit organizations this year," says Bethany Sage Curtis, president. "We send our heartfelt thanks and appreciation to our many loyal customers and steadfast volunteers. It is because of their generosity and devotion that we are able to continue in this Saint Louis tradition. Their dedication spanning more than five decades allows us to assist these St. Louis-area agencies, and we thank them most sincerely."
The following agencies are this year's grant recipients:
Books for STL Kids
Cornelia Greene Chapter of the National Society of the Daughters of the American Revolution
The Haven of Grace
Lifewise STL
Lumina at BJC Hospice
Most Holy Trinity School and Academy
Pathways to Independence
Pi Beta Phi Foundation
Rural Parish Workers of Christ the King
Sneakers with Soul
The SoulFisher Ministries
St. Louis Alumnae Panhellenic Association
St. Louis Dance Theatre: The Big Muddy Dance Company
St. Louis Dancing Classrooms