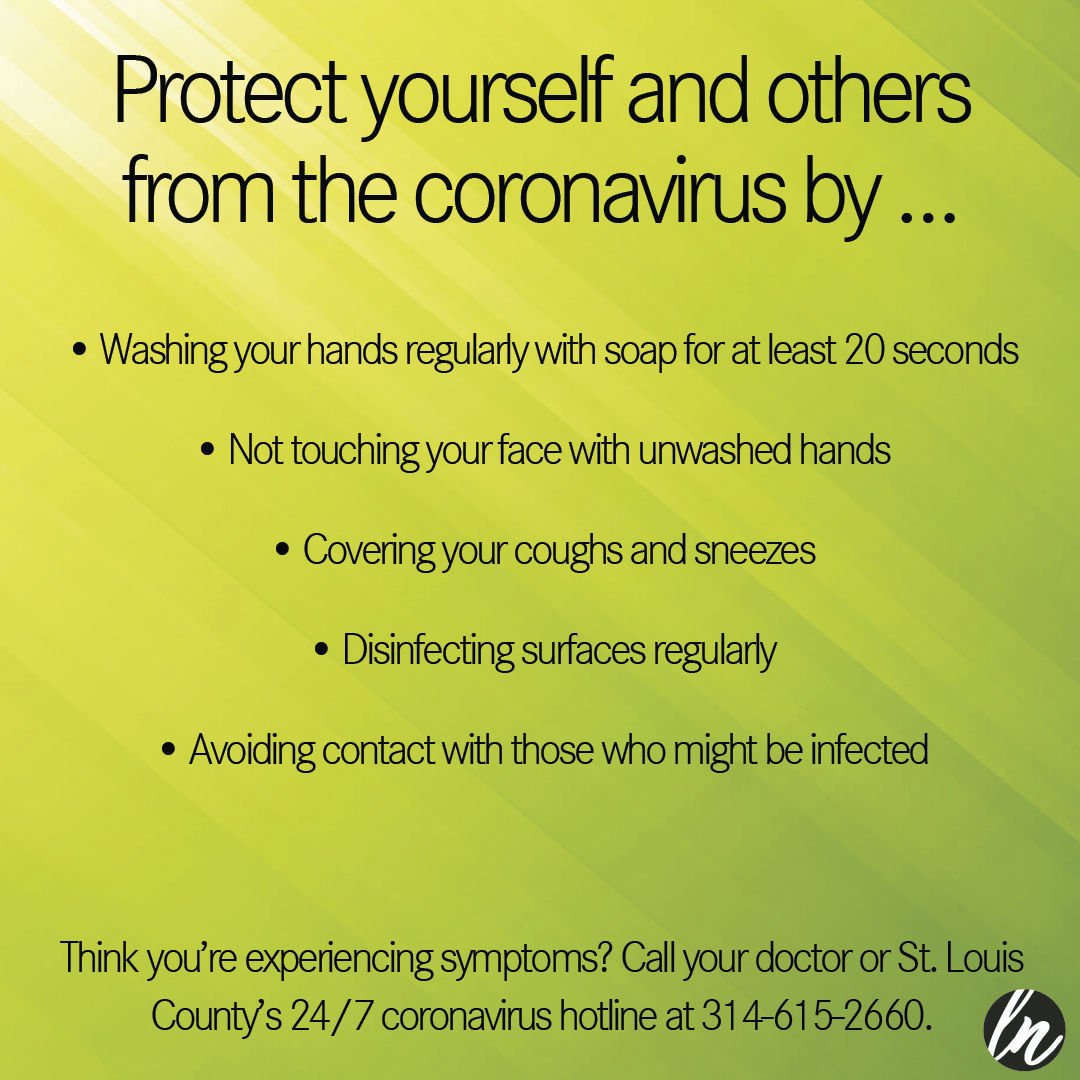 A family from Ladue has made headlines since news broke that a local woman tested positive for coronavirus over the weekend. 
According to the St. Louis Post-Dispatch, the woman diagnosed with COVID-19, the most recent form of coronavirus, returned to the metro area on March 4 after traveling from Italy. She reached out to the St. Louis County Department of Public Health the next day because she felt sick.
Symptoms of COVID-19 include a fever, coughs and shortness of breath, according to the federal Centers for Disease Control and Prevention, headquartered in Atlanta. The center recommends calling a doctor if such symptoms appear, especially if the person exhibiting them has been in close contact with an infected person or has recently traveled from an area where the virus has spread, such as China or Italy. Calling ahead helps health care providers prepare their offices and prevent potential spread of the virus. 
St. Louis County clinics are providing medical care to all county residents, regardless of ability to pay, and have set up a webpage with more information on prevention and treatment. Mercy expects to open a drive-through testing site in the metro area this weekend for ill people of particularly high risk. The county's coronavirus public health hotline, available 24/7, is 314-615-2660. Missouri's 24/7 hotline is 877-435-8411. 
The CDC and St. Louis County recognize the most effective ways to protect yourself and the community are to wash your hands often for at least 20 seconds, use alcohol-based hand sanitizer, avoid touching your face with unclean hands and avoid contact with those who are sick or showing symptoms. Also, cover your coughs and sneezes, and regularly disinfect surfaces. 
The CDC reports that most cases of COVID-19 are mild, despite some resulting in death. Most people recover without special treatment, and common cold medicine can be used to treat symptoms. According to the CDC, older people and people with severe underlying health conditions are more at risk for developing serious illness. 
For those who have not travelled from an at-risk area and have not interacted with an infected person, the risk of contracting the coronavirus is thought to be low, according to the St. Louis County webpage. However, if symptoms appear, calling a health care professional is the best way to proceed with caution.
For more information, visit cdc.gov/coronavirus.
Be the first to know
Get local news delivered to your inbox!