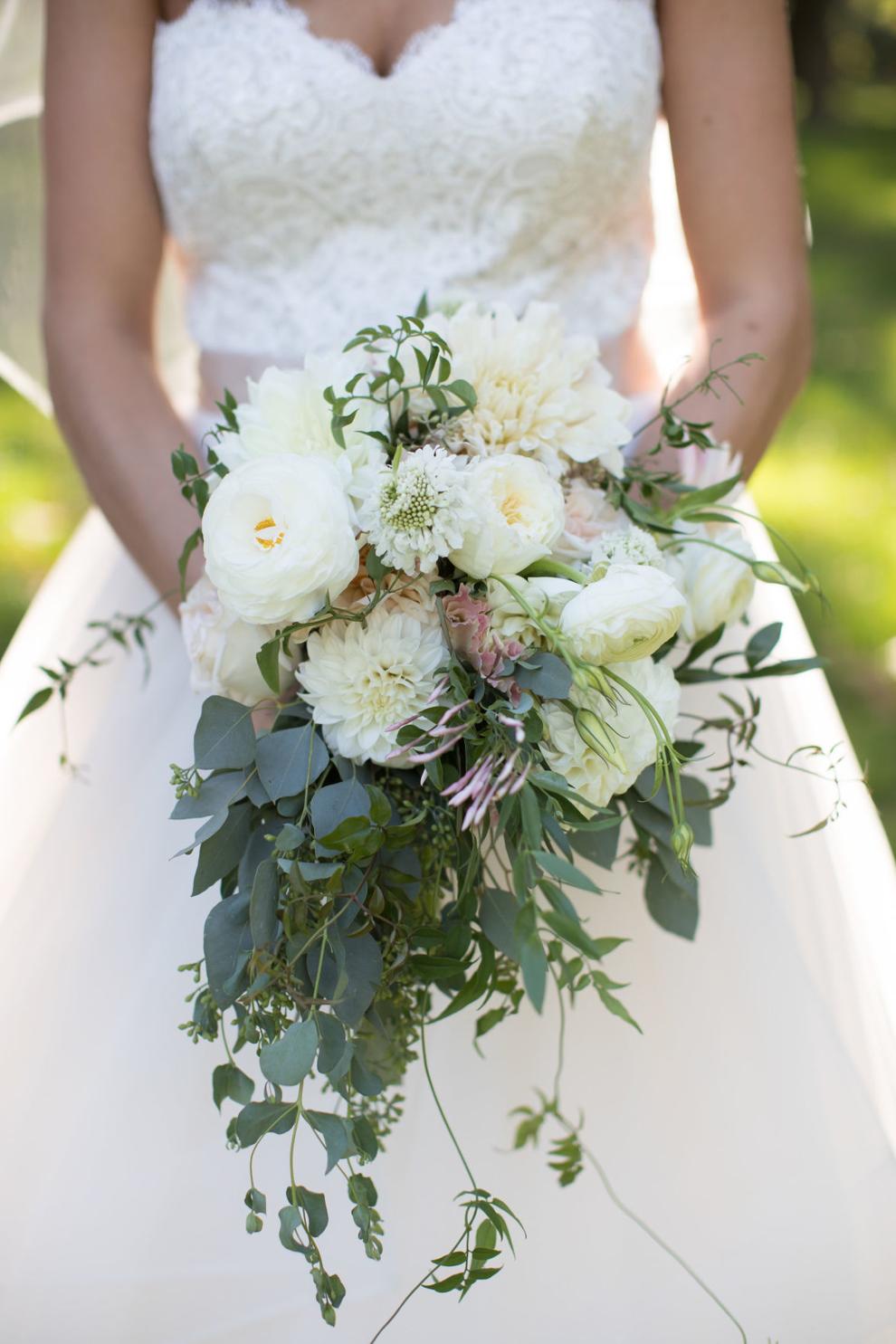 Most of the time, the first big decision for couples contemplating matrimony involves the date or the venue. Style-forward brides might seek the dress first, and foodie couples will waste no time deciding on the menu. When it comes to planning a wedding, in fact, flowers usually aren't the first concern on most folks' list. But in creating an unforgettable look for the big day, flowers might just be the most important.
"It's the one thing that can unite all ideas into one, whether that be color or sense of style," says Barb Wehking of Bloomin' Buckets in Rock Hill. "After brides come in and talk through their floral plans, they have more ease and are less anxious about their choices overall."
In that regard, some requests seemingly change little from year to year: Big, beautiful hydrangea blooms remain the most popular way to make a budget-friendly impact, blush-focused color schemes aren't fading in popularity anytime soon, and brides will always go to adjectives such as "romantic" and "classic" when describing their dream floral design. But there are also some very of-the-moment ways to incorporate flowers into the big day. LN spoke with local florists about what they are seeing in St. Louis as prime wedding season nears.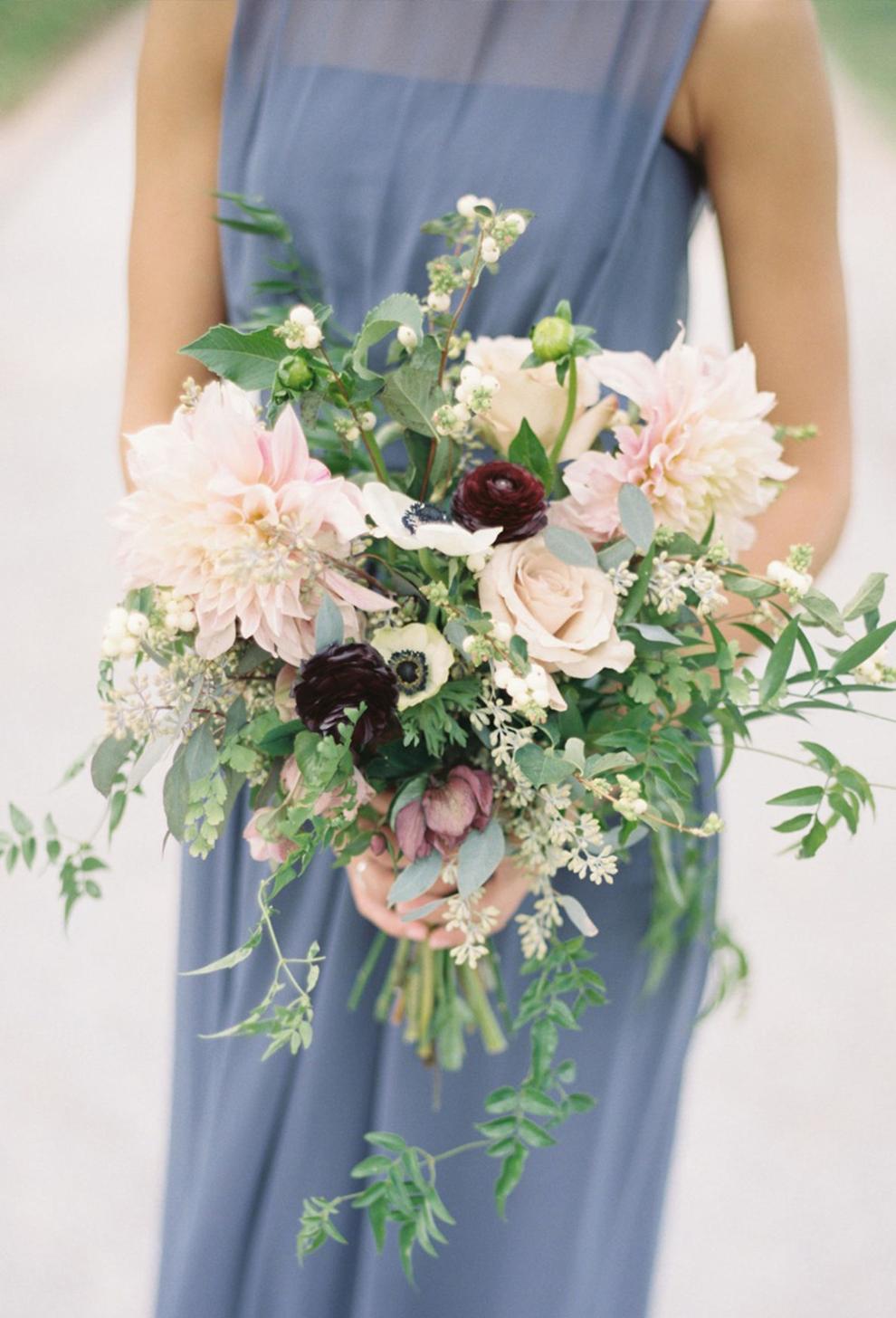 Inspiration from the '80s
The 1980s as a decade aren't often remembered for their classic wedding details – big bangs and puffy, oversized sleeves linger as two of the main culprits for our collectively skewed opinion here. But one '80s wedding trend has returned with a modern twist.
"The cascading bridal bouquets have definitely had a resurgence," says Sue Lueken of Walter Knoll Florist in St. Louis' Gate District neighborhood. "It goes back to the garden look that's really popular right now."
But instead of the voluminous arrangements commonly carried 35 years ago – Google search Mariah Carey's first wedding to Tommy Mottola for possibly the most egregious example of this look – today's brides are toting more natural takes on the trend.
"Today's cascading bouquets are less traditional, featuring more greenery or blooms like lilacs that naturally fall that way," Wehking says. "Cascading bouquets we're seeing now are less contrived, much looser and more organic-looking."
Claire Waldbart Kramer, owner and designer at Alex Waldbart Florist in Clayton, agrees.
"After years of the tight, round ball bouquet, we are finally seeing a more loosely gathered type of bouquet," she says. "The trend is leaning more toward flouncy greenery of different varieties combined with blooms that coordinate with the wedding theme. Usually, beautiful hand-dyed silk ribbons tie the bouquet together with streamers trailing for a soft, breezy, effortless feel."
Along with relaxed blooms like lilac, today's cascading bouquets often feature eucalyptus varieties such as silver dollar and seeded.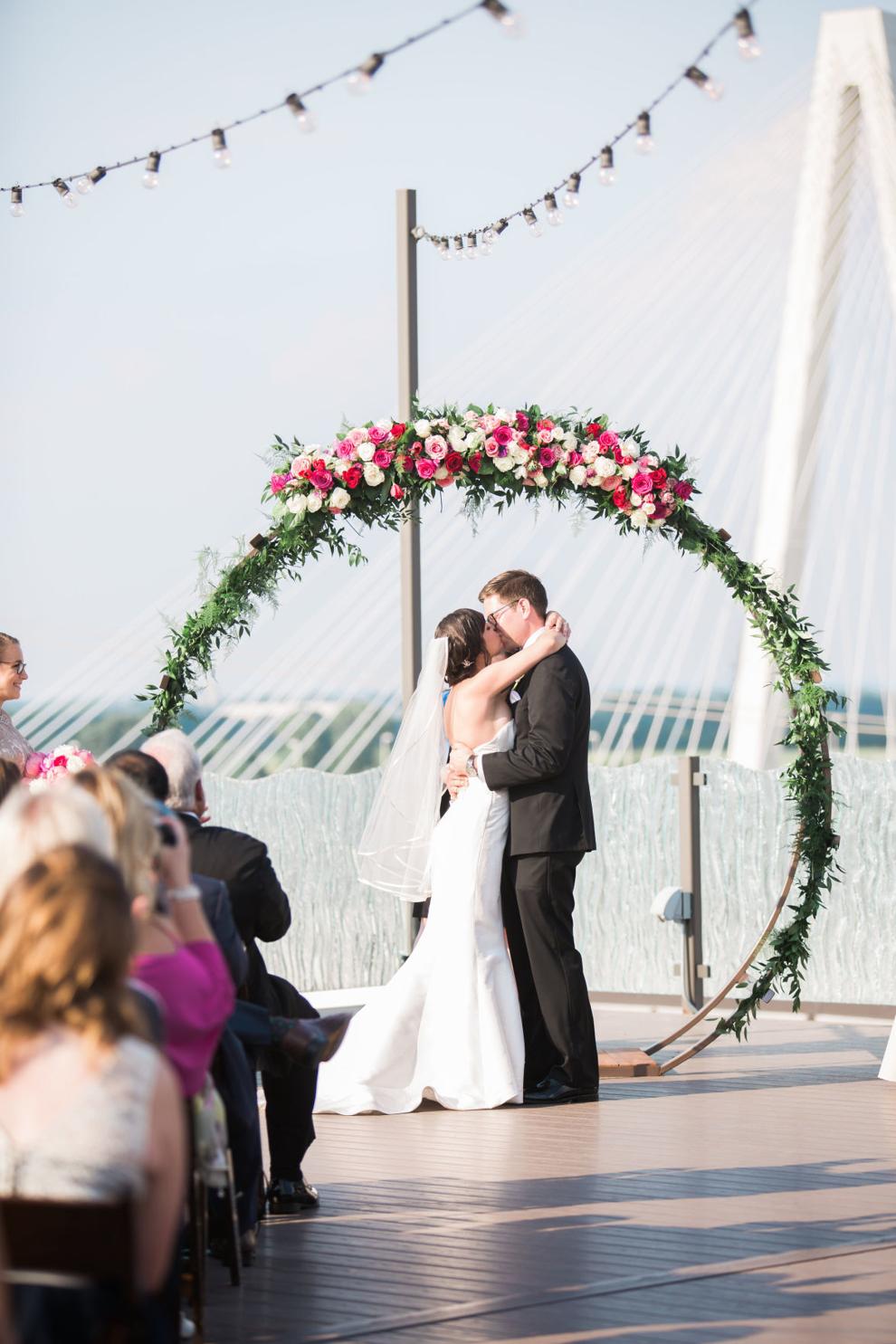 It Has a Good Ring to It
Rings exchanged during wedding ceremonies traditionally symbolize the happy couple's endless and eternal love. Now, ringlike shapes are becoming more and more present in floral design throughout the day.
Lueken counts floral hoops as one of her favorite current wedding trends and ways to create a dramatic look. Kramer agrees.
"Creeping into our most-requested decorations are floral hoops," Kramer says. "These are made of wood or metal, which we cover in flowers completely, or in a half-moon shape. These are so pretty suspended as a backdrop for a ceremony."
Along with floral hoops, Wehking is seeing a lot of foliage and floral wreaths in weddings this season. Like the hoop trend, wreaths make an impact suspended as a backdrop or hung artfully against decorative doors.
As the most wonderful aspect of this particular trend, it can translate to almost any wedding theme. For couples channeling a bohemian vibe, adding strands of ribbon to their floral wreaths and hoops makes the perfect touch. Traditional brides can look to designs created with more tightly packed white roses and simple foliage. And for those looking to make a dramatic statement? Take the idea of a ceremony arch, and bring it full circle by creating a large-scale wreath to exchange vows under. Not getting married outside? This idea also makes a perfect photo op for reception guests.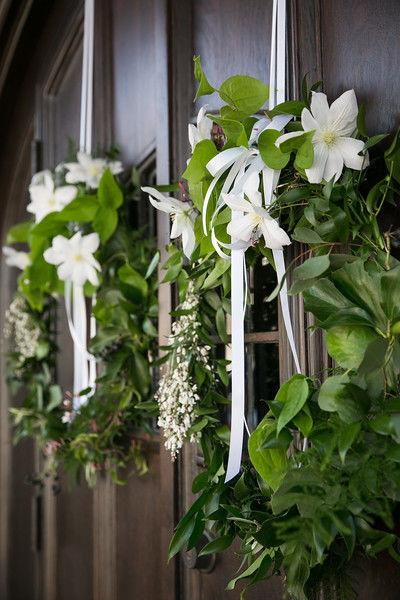 Reaching Great, Green Heights
All of the florists LN spoke with noted the trending attention shift from floral to greenery-focused décor pieces that pack a punch throughout the day.
Smaller statement-makers include cut pieces placed delicately around candlesticks or lanterns at minimalist-style table settings, greenery trailing down a beautiful cake and even pieces donned by the groom and his guys.
"Boutonnieres have seen a shift in a focus to greenery recently," Wehking says. "For a while, they were a little too big, and now you just see something smaller. And it doesn't even have to be a flower. I've seen simple, less cumbersome designs featuring herbs like rosemary or an olive branch."
Then there are the statement-makers: lush Secret Garden-esque arbors perfectly framing the happy couple during the ceremony and heavy greenery garland table runners (aided by the farm-to-table trend) setting the perfect scene at the reception.
Wehking says she's used greenery to create dramatic height impacts at many of her weddings recently, from greenery hung from chandeliers to garland strung above receptions at the World's Fair Pavilion in Forest Park. Also taking center stage (rightfully so) are ornate greenery-focused head table designs.
"Trends I'm seeing are overhead bridal party table structures decorated heavily with fresh flowers and greenery," Kramer says. "It is so gorgeous! The bridal party is photographed the most, so why not have wonderful decorations in your photos?"
In making a green impact, think gardenia foliage, magnolia foliage, Italian ruscus, hostas and many varieties in the eucalyptus genus.
Alex Waldbart Florist, 7801 Clayton Road, St. Louis, 314-644-3566, alexwaldbartflorist.com
Bloomin' Buckets, 9844 Manchester Road, St. Louis, 314-961-4040, bloominbuckets.com
Walter Knoll Florist, 2765 LaSalle St., St. Louis, 314-352-7575, wkf.com