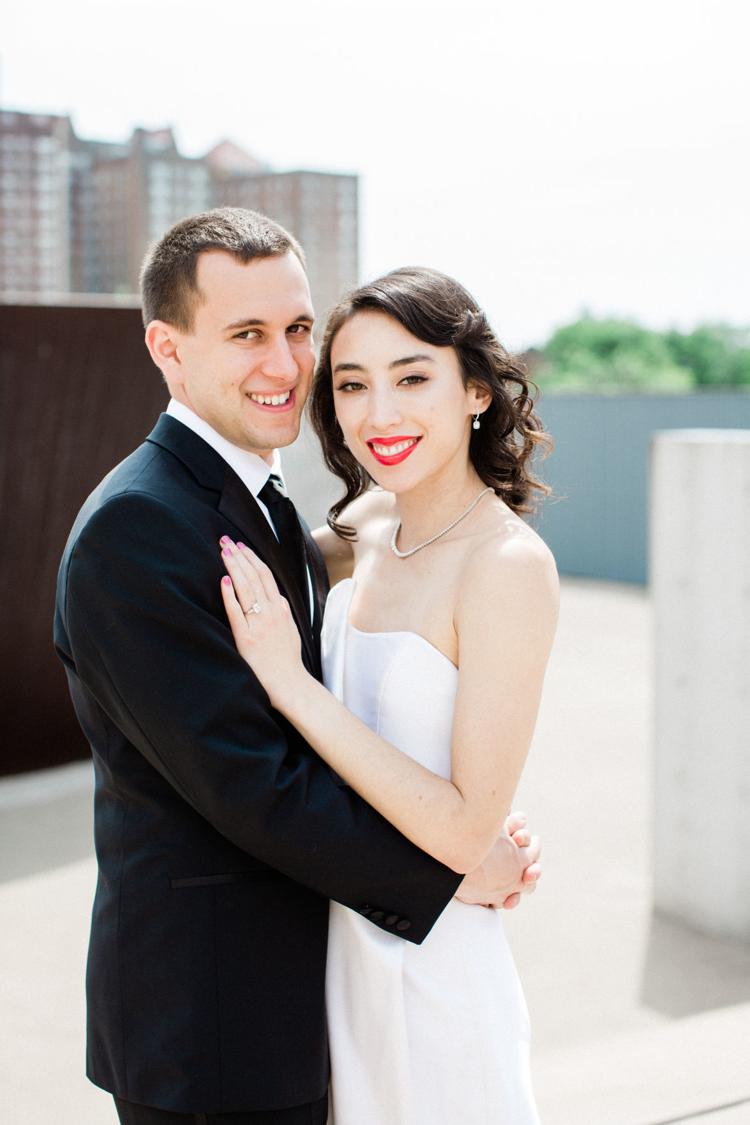 On June 9 in St. Louis, Thúy-Lan Võ Lite and Dr. Gabriel Nathan Friedman were married at the Lumen Private Event Space, with a festive celebration that incorporated both Jewish and Vietnamese traditions.
The bride is the daughter of Dr. Thúy-Liêũ Võ and the late Dr. Howard Lite of St. Louis. Thúy-Lan is the granddaughter of Jacob Lite and the late Paula Lite of St. Louis; and Mỹ Lê Võ of Shakopee, Minnesota, and the late Thuần Văn Võ of Oklahoma City. She is an MD-PhD candidate at Harvard Medical School and MIT.
The groom is the son of Dr. Carol and Richard Friedman of Skokie, Illinois. Gabriel is the grandson of Kay Friedman and the late Howard Friedman, also of Skokie; and the late Anneliese Dreifus and Franz Otto Nebauer of Columbus, Ohio. He is a neurological surgery resident at Massachusetts General Hospital.
The couple honored their parents and grandparents with a traditional Vietnamese tea ceremony, for which the bride donned a red-and-gold áo dài, a traditional Vietnamese wedding garment, and a matching gold crown. From a LaCroix bar to a cocktail hour with his-and-hers drinks, special elements abounded throughout the couple's big day.
Thúy-Lan changed into her white wedding dress for the ceremony and the reception. She and Gabriel exchanged her parents' inscribed wedding rings, to which the bride and groom added their own names. After breaking the glass during the ceremony, the couple enjoyed a celebration, during which guests hoisted up the pair in their chairs to dance the hora. In lieu of the traditional wedding cake-cutting ceremony, Thúy-Lan and Gabriel exchanged delicious bites of ice cream cones.
For their honeymoon, the couple traveled to Geneva, London, Prague and Amsterdam prior to the wedding, in order to accommodate the groom's neurosurgical residency schedule. Thúy-Lan and Gabriel reside in Cambridge, Massachusetts.
The Date
June 9, 2018
The Bride
Thúy-Lan Võ Lite
The Groom
Dr. Gabriel Nathan Friedman
The Bride's Parents
Dr. Thúy-Liêũ Võ and the late Dr. Howard Lite of St. Louis
The Groom's Parents
Dr. Carol Friedman and Richard Friedman of Skokie, Illinois
Bridesmaids
Stephanie Myles, Louisa Ferguson, Lindsey-Paige McCloy, Dr. Monica Guo, Saria McKeithen-Mead and Dr. Cristina Shea
Groomsmen
Aaron Friedman, Daniel Friedman, Joshua Rosenberg, William Hummel, Dr. Ofer Fass and Samuel Lite
Flower Girl
Flannery Jane Myles-Williams
The Ceremony & Reception
Lumen Private Event Space
The Wedding Dress
Judd Waddell from Allegria Bridal in Belmont, Massachusetts
The Tux
Hugo Boss
The Bridesmaid's Dress
Bill Levkoff
The Invitations
Minted
The Florist
Flowers & Weeds
The Rings
Genovese Jewelers, circa 1988, originally belonging to the bride's parents
The Entertainment
Shawn Titchenal, DJ manager at Millenium Productions
The Photographer
Erin Stubblefield Weddings and Portraiture
The Wedding Designer & Planner
Maureen FitzGibbon of Kate & Company