When Courtney Colaneri was a tween, she spent slow summers crafting and creating jewelry with her grandmother.
"In the summers, you know you are bored out of your mind, looking for something to do, so I would just kind of help her out with bracelets and things like that," Colaneri says. "My mom would join, and we would just craft all day. But then you grow up and have a whole life of your own where you're a teenager, and you go to college."
Fast-forward several years, though, and Colaneri is creating yet again – but this time, for her booming business, Sunny + Luna.
"The goal wasn't to make this into a business," Colaneri says. "I started making all kinds of crazy stuff with really neat stones, and my girlfriends were like, 'You need to turn this into something.' And then my husband got all into it. I was just doing this for fun, but this passion came back from doing it as a child."
Colaneri's first creation was dubbed the Joanie, which is made of ravishing rose quartz stone beads and gold rhinestone accents.
"Rose quartz is a symbol of love," she says. "And it's feminine. I just love that."
Although Colaneri has similar simple stacks, she also has large statement stone bracelets like the Kay, which features a large, white druzy (sometimes "druse") stone among gray and white marble dyed howlite beads and gold-plated hardware, and the Liz, which showcases a large, turquoise agate stone, among turquoise beads and gold-plated hardware.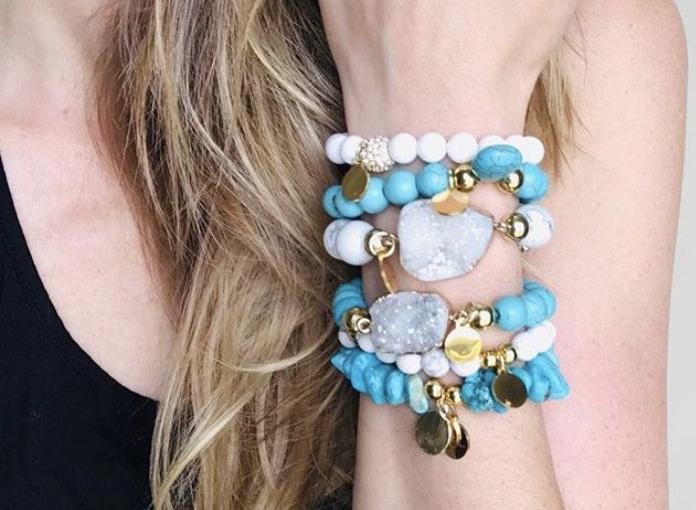 "There are two main [stones] that I use that are kind of like snowflakes – there aren't going to be any two that are the same," Colaneri says. "One is the raw, sparkly rock-looking style, and that is the druzy. So basically, when you crack open a certain type of rock, the inside has this sparkly crystallization. …
"The flat, smooth, shiny stone – the one with veining through it – is called an agate or a geode. Those are really unique because the veining is natural. … Sometimes they do dye the stone a pretty color and smooth it out, but the veining and marbleization is natural, which I think is supercool."
Each Sunny + Luna collection is named after a woman in Colaneri's life, like Rhoda Mae, her grandmother.
"I have done kind of a nod to all the women in my life, whether it's family, friends," she says. "As long as they've inspired me in some way."
Beyond bracelets, Sunny + Luna offers earrings and adorable clutches, all of which can be purchased at Mix + Match in St. Louis' Southampton neighborhood, at Milk and Honey in Wildwood, on the Sunny + Luna website and at various upcoming trunk shows.
"[When I started], my mom was like, 'Oh, my gosh, your grandma would be so proud,'" Colaneri says. "I'm using my grandmother's same tools that she used maybe 30 years ago. I'm going through this paperback book that has brown pages – and her handwriting – in it. It has been taking on a life of its own."
Sunny + Luna, shopsunnyandluna.com