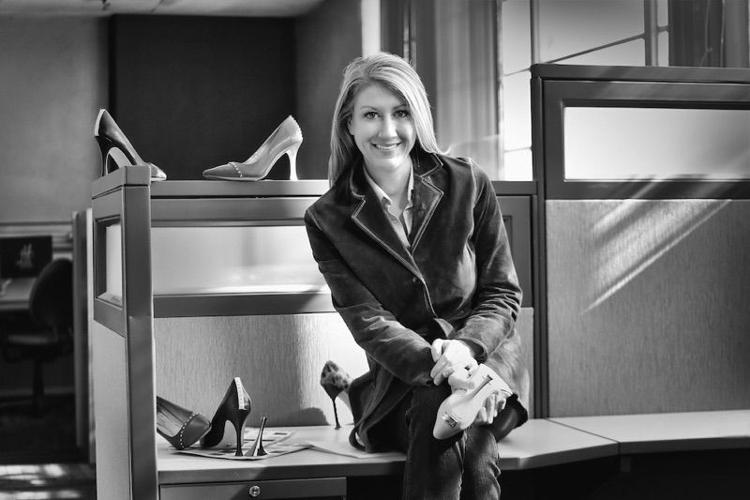 Claire Flowers, a St. Louis native, was working in information technology when she realized there was an absence in the market for functional and fashionable professional women's footwear. She created her namesake brand, Claire Flowers, in 2014 initially to provide women with a line of adaptable, timeless and resilient shoes. Expanding into apparel as well, the Claire Flowers brand focuses on durable materials in classic silhouettes with both simple and funky color options. Flowers' new project, Starr & Wales, is a footwear line offering trendier styles at a lower cost. Ladue News chatted with Flowers about the inspiration behind Starr & Wales and her ongoing mission to make professional women feel powerful while remaining feminine and fun.
Tell us all about Claire Flowers' new Starr & Wales line.
Starr & Wales is a new brand by Claire Flowers. The line is fast-fashion and has a lower price point than the Claire Flowers brand. It's also more casual than the Claire Flowers line. There is a trend where women are getting more and more casual, including a huge sneaker trend. I am not interested in creating a line of sneakers, but I am interested in filling the need for a casual shoe that is affordable. To that end, we created Starr & Wales.
What inspired you to create this collection?
The Claire Flowers customer gravitates toward classic styles. Because the shoes last so long, we don't want anything too fashion-forward because we don't want the shoe to outlast the fashion. So we created Starr & Wales. It's a more accessible line, and it reaches a broader demographic, being that it will be mostly casual shoes like flats and low-heeled booties. We also use this brand to bring the latest trends to the masses. For example, we started with a broguelike shoe that has been made popular by Gucci. You can get a similar shoe with high-quality materials without the designer price tag.
Claire Flowers is certainly well-known for its stylish pumps. What made you pick mules as the star of the line?
Mules are easy and nearly everyone can wear a mule. It doesn't matter if you have a skinny ankle or a flat foot, etc. We tried to launch with a style that everyone could wear.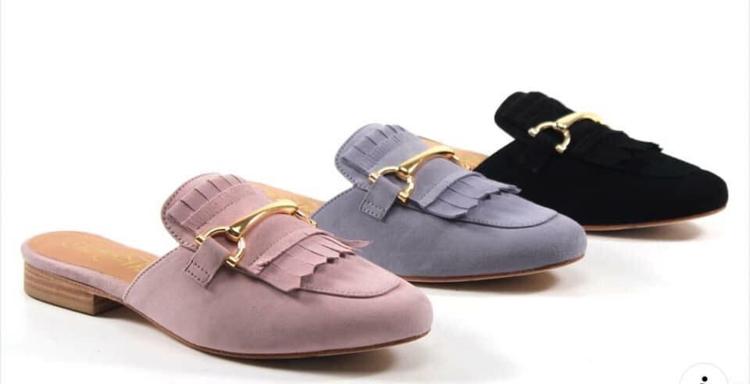 You picked such fun colors for this collection – blush, lavender and black. What made you go with these stunning shades?
They're delicate and dainty. If you know me, these are the colors I wear most often. Perhaps it's my personal preference, but blush has been popular for several years now, and black is always a must. I just loved the lavender shade because it's the perfect mix of gray and purple. I really like how many people ask me, "Is this gray or purple?" And my response: "Whatever you want it to be." We all see color a little differently, and pairing shoes with outfits will make your shoes look to be slightly different colors.
Are there any details on an upcoming release to expand the line further?
Of course, we will have only one style per season in three colors. In the fall, we will offer a bootie in black, a print and a color that is TBD.
Claire Flowers shoes are all about comfort, style and durability. How do you feel the Starr & Wales collection fits that mission?
They are certainly comfortable, but that is much easier to achieve in mules and booties than it was in creating Claire Flowers pumps. While those three elements are important to this brand, the value we are offering our customers, above all, is access to a well-made shoe that is affordable and on-trend.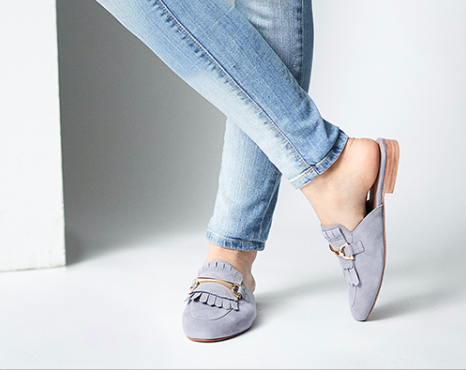 How do you see individuals rocking these marvelous mules?
I can't wait for spring to see all the ways they're worn. They are perfect with all shades of denim, and you can pair them with work attire. I think the gold hardware dresses them up. They are also perfect for travel. They are so easy to slip on and off and throw into the bin at airport security.
Any other new launches or plans for Claire Flowers that we should keep an eye on?
We are expanding the line of outerwear and creating bags at the moment. We have a huge spring/summer launch at Mercedes-Benz of St. Louis on April 11. We will be debuting all the new spring/summer styles while Mercedes debuts four new car models. So it's an event for men and women. Check out the Claire Flowers Facebook page for event details.
Anything else you'd like to add?
To purchase Starr & Wales, please visit claireflowers.com and click Starr & Wales on the top menu bar!
Claire Flowers, 3630 Corporate Trail Drive, Earth City, 314-373-1288, claireflowers.com