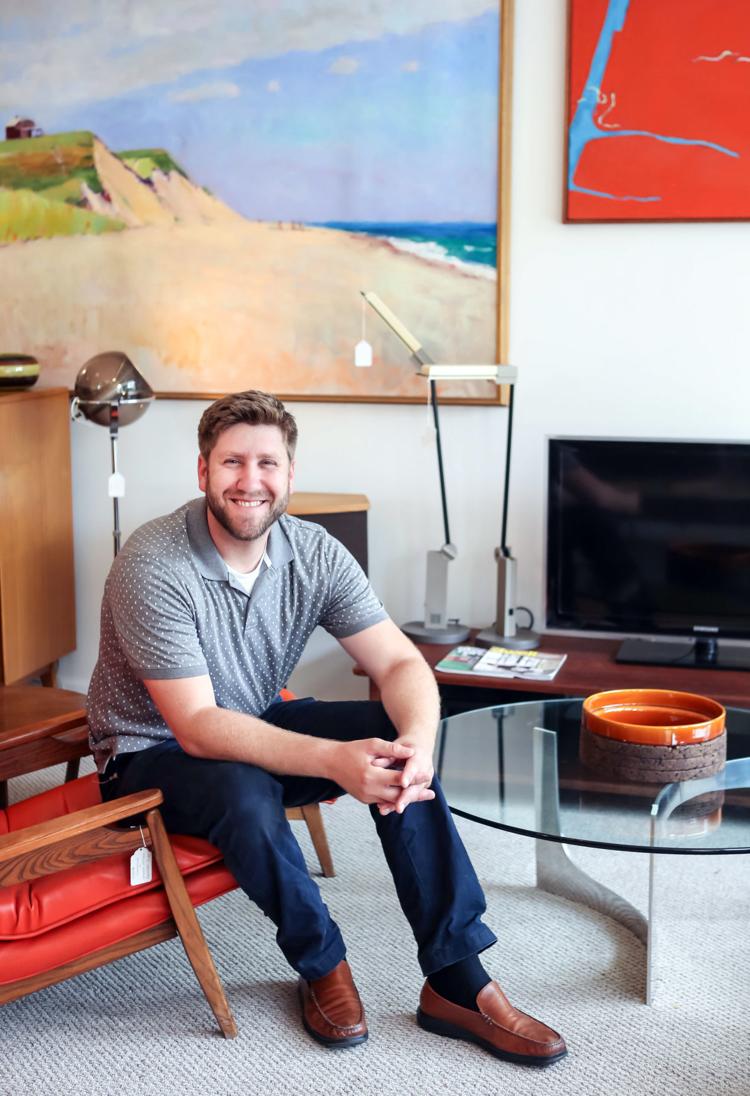 Fresh might take you a moment to spot. The petite white storefront sits back from the street a little, making it tricky to see as you search for parking on Marshall Avenue in Webster Groves. Open Fridays and Saturdays from noon to 5 p.m. or by appointment, this unassuming storefront leads to one of the area's newest vintage shops specializing in unique, high-quality home pieces – and it has been known to happen that a given piece sells from the store's Instagram account in minutes. Ladue News caught up with the owner, Mark Bartels, to find out more about this vintage treasure trove.
Tell us a bit about what you're selling. What condition are you finding these pieces in, and what happens behind the scenes before they hit the floor?
I specialize in unique midcentury-slash-vintage furniture, lighting, art and other household items. I like to find pieces that catch my eye and inspire me in some way. For me, I need to be able to visualize how the pieces I find could and will be used in other peoples' homes. As an added challenge to myself, I'm always searching for items that are in great condition, as I have limited space to work on any items at the shop – though I also encourage others to remember that these are vintage pieces of furniture, and they will not be perfect. I feel that it is important to embrace the history that comes with each piece.
Where do you find the vintage items you sell?
Customers ask me that question all the time. Honestly, I am constantly on the hunt. I will sift through hundreds of pieces daily trying to find those few special ones that attract me. I find many of my items at estate sales, online, through auctions, garage sales, and sometimes, if I'm lucky, I have people just contact me looking to sell.
Why vintage? Have you always been a midcentury modern fan?
I have been attracted to midcentury furniture for a while now. That particular time period pushed the boundaries on what furniture could be, and I just connected with it. I grew up in a house filled with strange and unique items, many of which were of also high-end midcentury design. I have been fortunate to have a father who also has an eye for unique items and who appreciates excellent design and the effort that goes behind an item to make it so special. As I've grown older, I've taken what I've learned from my father and have been able to apply into a deeper love and appreciation of midcentury furniture and the designers behind the pieces.
You opened in Webster last October. What has the response been like from locals?
It has been an outstanding welcome! I have met so many kind and caring neighbors. I'm finding Webster Groves to be full of people who cherish the history of objects and who strive to embrace being unique. It's a great match.
Your store is a one-man show. How are you managing everything?
I find the pieces, move, clean up, price, research, photograph, post, stage and manage the shop all on my own. It can be a lot at times, but I really don't mind it – though my back may say differently at the end of the day. Luckily, I also have a very supportive wife who has also helped me move her fair share of heavy furniture, as well.
What were you doing before you opened the shop last year?
Just last year, I was teaching math, science and social studies to third graders [at Central Christian School in Clayton]. I spent over 11 years in education and loved it. I left teaching not because of the lack of love for it, but because I needed to grow and challenge myself in new ways, as I always expected my own students to do the same.
What can we expect next, as you continue to grow?
I'm going to push Fresh in some new and fun ways going forward – and maybe eventually into a bigger building – but as of right now, I'm going to continue concentrating on being honest, fair and having a good time doing something that I love to do. I hope that my customers see that and enjoy coming in because of it. 
Fresh, 733 Marshall Ave., St. Louis, 63119, 314-252-0485, instagram.com/freshstlfinds