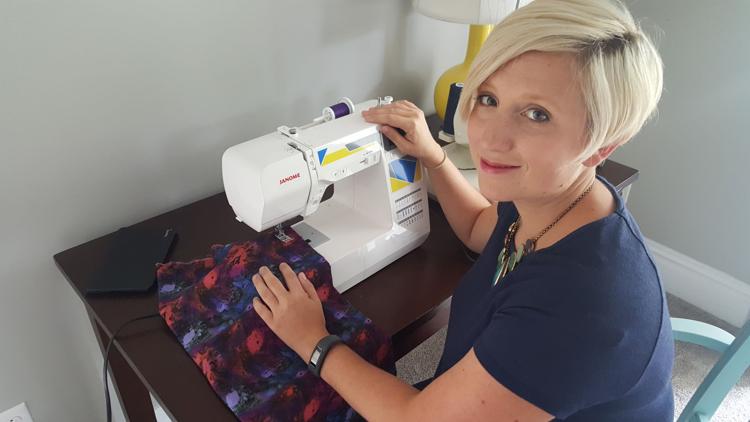 Your toddler may not love your favorite '80s band, but after he or she wears a skirt or romper from Rochelle Albright's handmade clothing line, Rompstars, it's really only a matter of time. A Gen Xer with an affinity for pop culture, Albright delights in creating wearables from nostalgic T-shirts that she finds in thrift stores, introducing kids to her childhood favorites. Likewise, Albright's selections of brand-new fabrics with galaxy, skull and tie-dye patterns are perfect for parents who love helping their kids stand out. Launched this summer out of her home, Albright's business has taken off by selling items through Facebook and at events alongside CityMade, a collective of local crafty moms. With an eye toward whipping up even more one-of-a-kind items for the winter holidays and beyond, Albright relishes her role in making sure her young clients are the coolest kids on the block.
What changed your love of sewing from a hobby to a business?
Well, two little boys can only wear so many things! I would always get a lot of compliments from people about my boys' wearing these things. "Can you make me one?" or "I'd like to have one of those." So I just started doing it that way and selling through Facebook and to contacts.
Who's your target audience?
I sew mostly for toddlers through young grade school kids. I pretty much don't make anything with snaps, buttons or ties – it's all stuff that toddlers can be comfortable in and that they can put on and off themselves.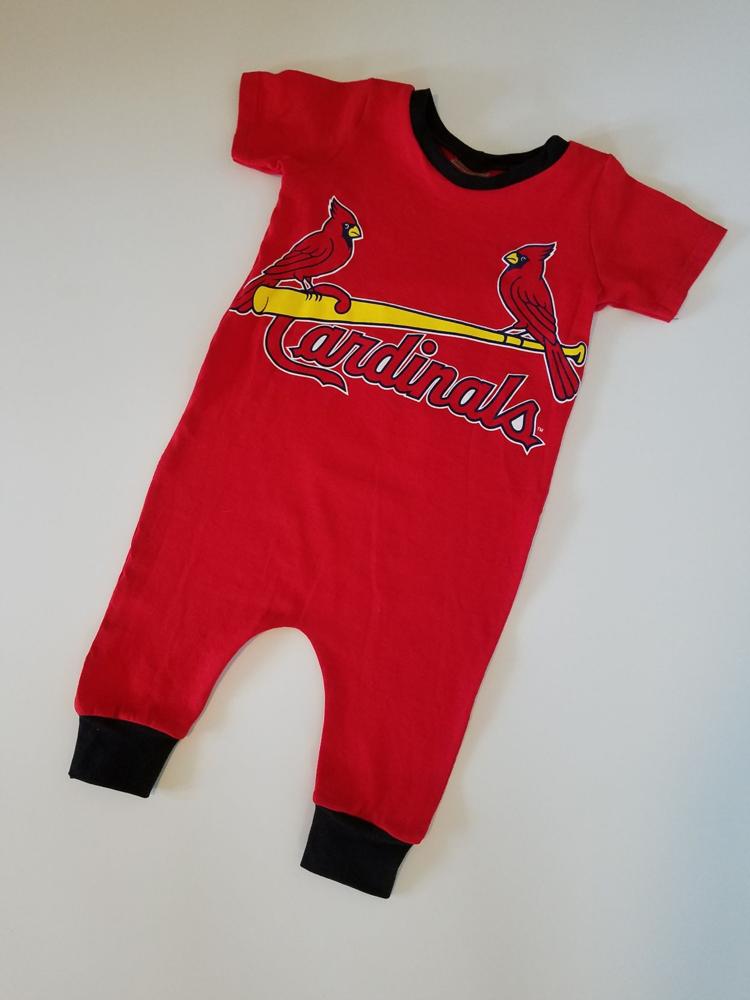 What do you look for in thrifted materials?
I just look for things that are a little bit edgier – a lot of band tees, things with fun designs. I also do some St. Louis sports items, like the Cardinals or the Blues. Tie-dye shirts are fun to upcycle. And the shirts from the '90s with characters on them are fun to find!
What have been your most popular products?
Wonder Woman prints have been very popular, as well as things that are a little bit darker in design. For girls, I wanted to do stuff that wasn't traditionally girly. I have this science/chemistry print that was really popular, which I was really surprised by. I had randomly bought a few yards of this fabric and sewed the skirts up right before the last sale, and they were the biggest item!
What do your two boys like to wear from the Rompstars line?
My 3-year-old loves the rompers because they're one piece, they're soft and they're easy to get on and off. He has a Batman one that he loves – because what 3-year-old doesn't love Batman? And my older son loves soft pants. I've made some harem pants, as well as hoodies from upcycled adult T-shirts. They like to tell people that I made them, which is kind of cute!
Where can readers buy Rompstars items?
I have the Rompstars Facebook page, and I'm just getting started with Instagram. And now we're in peak craft fair and marketplace season, so I work with the CityMade collective at those.
What are the benefits of being part of a collective like CityMade?
There are five of us right now, and we all have a different niche we're filling. There's a jewelry designer, somebody who does home goods and bags, somebody who does clutches and purses and more. We talk to each other about new things we're trying out. It's nice to have other people to bounce ideas off of and to share the cost of doing an event.
And be honest, who loves your creations more: the parents or the kids?
It's hard to say! I think the parents really like them better because, at least in my circle, parents are eager to have things that are a little bit different and not the standard thing that's out there.