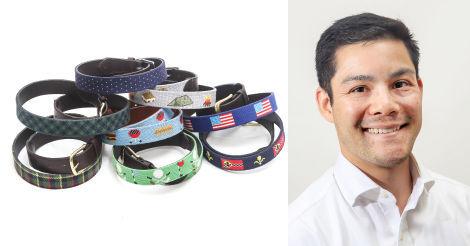 The embroidered belt is a preppy summer staple and certainly an accessory well-dressed St. Louisans are familiar seeing around town. But where do they come from? One such line with a local connection is Never Back, a Midwestern collection of men's statement belts. Ladue News caught up with co-founder Jonathan Woo to find out more about this fashion-forward brand.
Tell us about the backstory – how did you enter this field?
The idea to start a needlepoint belt business came about the same way many good ideas do – over tacos and margaritas. I was with my two close friends, Pat O'Hara and Stephanie Zipp. We've always wanted to start a business. Pat's family is from St. Louis, and so his mom and grandma always made needlepoint belts for him. We all think they're cool because they're unique and tell a story, and I really wanted one.
We all do a little bit of everything, but each of us brings something different to the table and have specialties: I have a background in finance, legal and web development; Pat has a background in finance, operations and a passion for needlepoint belts; and Stephanie has a background in public relations and fashion. By putting our three heads together, we've been able to successfully launch this business.
Who is your customer?
Anyone who doesn't want their pants to fall down. While our primary customers are guys who want to look good and don't take themselves too seriously, we've interestingly also had a lot of traction with women who have been buying them as gifts for the men in their lives.
We even had a wedding party buy them as groomsmen's gifts, which was cool to see. I think it's because our designs stand out, spark a conversation, make someone smile – the possibilities are endless – and probably because they're not the same brown or black you see every day.
And while needlepoint belts do traditionally skew preppy, Never Back is on a mission to spread this fun-loving style to the masses.
Do you create custom pieces?
While we do not currently offer custom pieces, we are exploring ways to monogram the leather parts of our belts and also looking into ways to possibly preorder completely custom designs. It could be something we roll out in the future and are excited about that possibility.
Where do you find your inspiration for new designs?
Our inspiration can come from anywhere, but we make things we like and would wear ourselves. One of our new designs, the Grillmaster, we made because we all love grilling and hanging out with friends. We made a St. Louis flag belt because I live in St. Louis, and Pat's family is from St. Louis. We made the S'mores belt because I'm obsessed with them. Stephanie loves fashion and brought some class with the navy-and-white pin-dot belt, as well as with the Clark and Meriwether check patterns, which we named after Lewis and Clark.
Besides that, we solicit feedback from our circles of friends and family, and always have our eyes peeled for seeds of inspiration from everywhere we go – especially from St. Louis and Chicago.
What is the design and execution process like?
Once an idea for a design is decided, Pat is our in-house designer and takes hours upon hours perfecting each design on paper. We usually go through multiple rounds of edits on each design before it ultimately comes to fruition. We pay very close attention to the placement of every stitch, the shade of each color, the leather and the hardware.
Once the designs are finalized, we work with a company overseas to produce them. Each belt is hand-stitched, and so this part of the process is also time-intensive. Once we have the full order of belts, we hand-inspect each one for quality assurance and get ready for launch by conducting photo shoots and prepping our media materials. And then it's go time!
Never Back belts are available at shopneverback.com and cost $95.