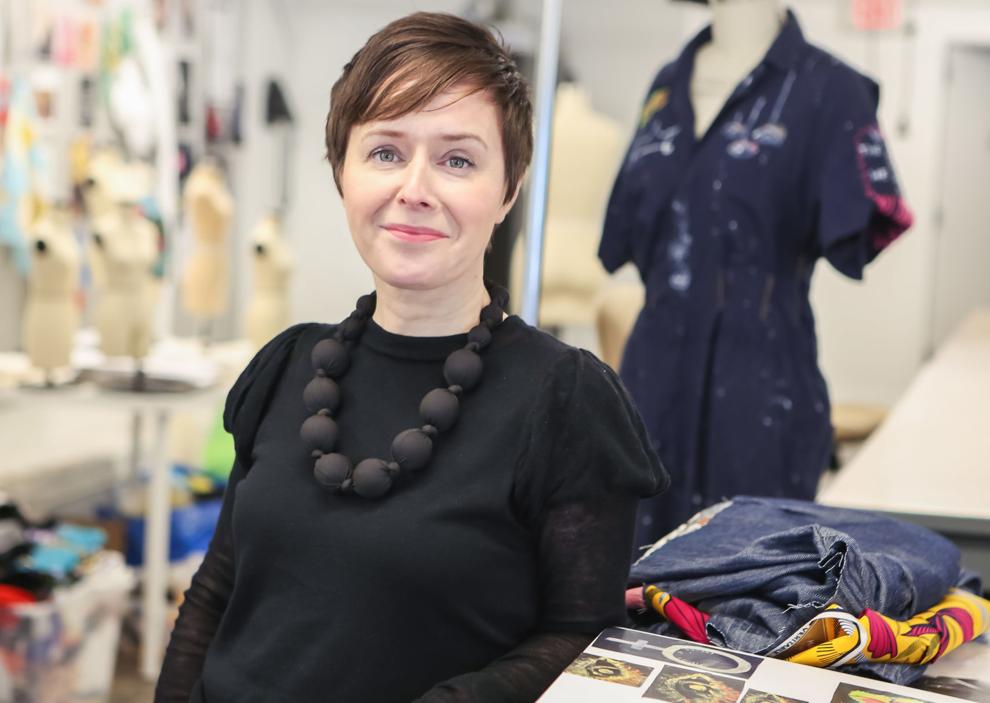 The future of fashion is being forged right in our city. "Future Fashion" is Saint Louis Fashion Fund's educational programming for 2019 – the classes are dedicated to exploring the diverse world of fashion by teaching students how to design, illustrate, sew and create patterns for students ages 14 to 18. Jo Flannery, the fund's director of education, is responsible for developing the curriculum, which centers on creativity and design. Flannery, a U.K. native with years of couture and high-end ready-to-wear experience under her belt, teaches some of the in-house programming while providing real-world fashion knowledge to students. Did we mention that her career began at Catherine Walker, where Princess Diana was a client? LN chatted with Flannery about the increase of teen programming at the fund, the variety of classes that will be offered and why it's important to invest in the future of fashion.
Why did Saint Louis Fashion Fund decide to increase teen programming?
We did a pilot summer intensive course in partnership with COCA last year. It was a tremendous success, and as such, we knew we needed to expand the program. The students worked so hard – coming in early and staying late to finish their projects!
There are six workshop series being held from March to August. Can you tell us a little about each of these classes?
We launched with a Sustainability design-and-make weekend class. One of our partners is Found by the Pound, a thrift store in St. Louis. They have provided us with used garments that the students can upcycle. Each student is given an old overall – very on-trend at the moment! – and they can rework in any way they want … Sustainability is such an important topic in fashion. The students will learn about what it means to be a sustainable designer and hopefully will use this knowledge as they explore careers in fashion.
We offer a half-day workshop in Draping on a Form. Draping is a brilliant skill to have and is not too difficult once you know how. Dorothy Jones from St. Louis company Bespoke is our master teacher for this class. She has decades of experience and loves to teach students new skills.
Our summer series, Fashion Intensive 1 and 2, are in collaboration with COCA. They are weeklong courses where students get to fully immerse themselves in design and making. We start with visual curation skills, making mood boards and thinking about color palettes and design details. Students then start work on cutting a simple shape in muslin and learning how to use the sewing machines. By the end of the week, they will all have produced a prototype garment to their own design. Students present their work to an audience of family, friends and fashion professionals. My aim is to introduce students to college-level teaching and to get them to think imaginatively and critically. Intensive 2 goes deeper into this process. Overall, it's pretty fast-paced but always lots of fun!
And finally, we have a very special Sneaker School one-day Saturday workshop that we are running in partnership with St. Louis shoe design company Elan Polo … They have a deep knowledge of shoe and sneaker design. We are superexcited to be able to offer this class to young students.
What skills will be introduced to the Future Fashion students? How will these lessons impact their own future fashion careers?
The students will learn how to visually curate and present ideas – hugely important in the future job market. They will learn how to sew, make patterns, how to problem-solve and how to pivot ideas. By the time they get to college, they will already have a good grounding in the different skill sets and processes involved in taking an idea in their head to reality.
What is the most unique aspect of the fund's Future Fashion program?
Our classes are fueled by creativity, first and foremost, but we also want students to learn about the real world of fashion. We foster a network of connections, both local and national, to give students the opportunity to meet people who work in fashion and to ask questions. We also have our fashion truck, Miki's Closet, which allows us to take our fashion education on the road for enrichment classes to city and county high schools. 
Saint Louis Fashion Fund, 1533 Washington Ave., St. Louis, 314-400-9300, saintlouisfashionfund.org