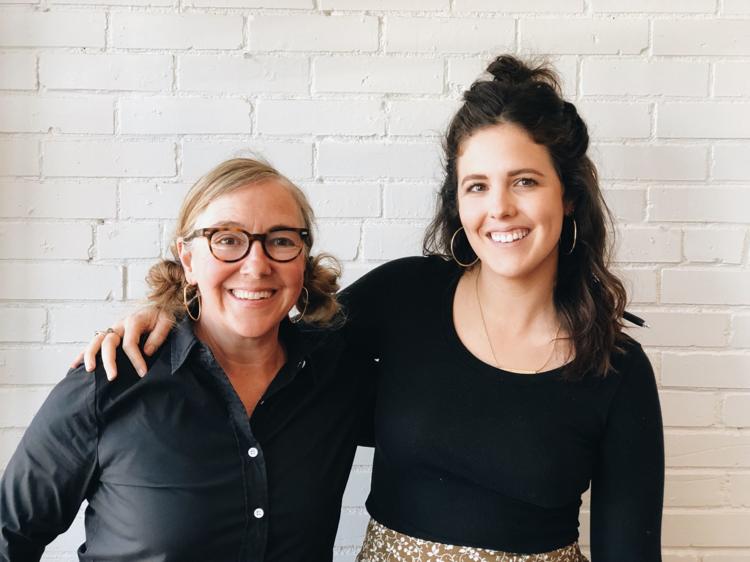 Civil Alchemy by Fauxgerty is a fresh take on combining contemporary and vintage silhouettes. These enduring shapes and patterns were created for the strong and fiercely feminine; women can wear them to the farmers market or a business meeting – the line is adaptable to all styles and occasions. Civil Alchemy, a lifestyle retail company dedicated to offering quality goods that are functional and inspired, features everything from housewares to specialty foods, tools and jewelry, leather accessories and its own brand of gin. It's no surprise that this multifaceted store in Webster Groves would catch the eye of an equally imaginative and resourceful St. Louis brand: Fauxgerty. Fauxgerty's main pillars are people and the planet – the fabrics are sustainable, the factories are ethical and the fashion is elegant. And what could be better than two local powerhouses joining forces? Not much! LN got the scoop on this exciting collaboration from Chrissy Fogerty, founder and designer of Fauxgerty, and Kelley Hall-Barr, founder of Civil Alchemy.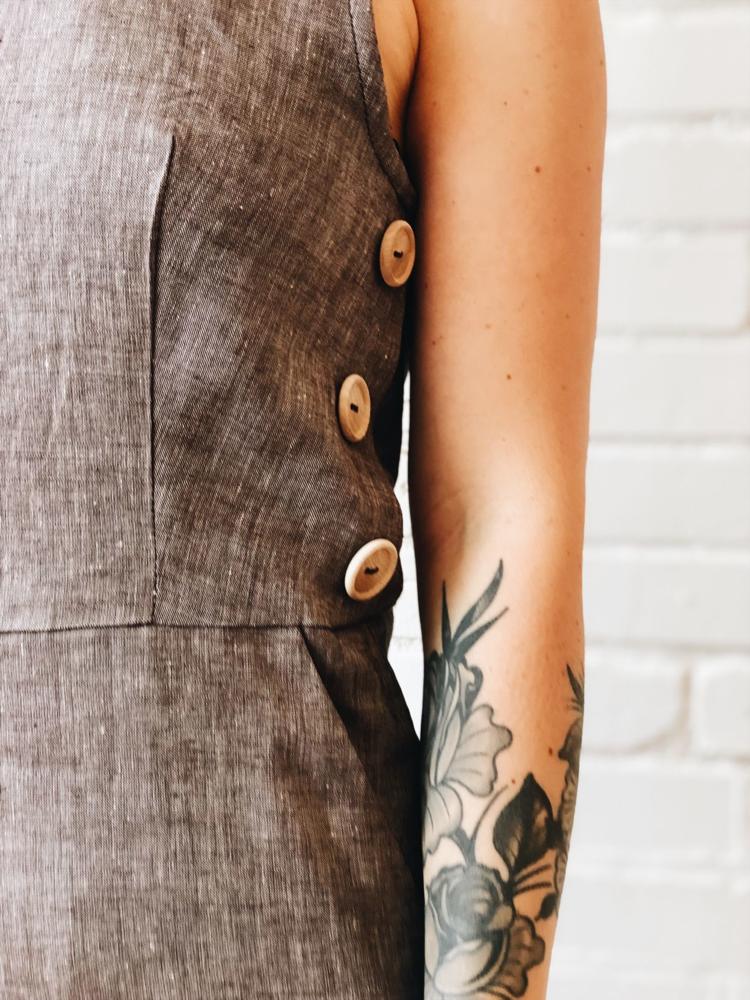 When was the idea to create a Civil Alchemy x Fauxgerty line born?
Hall-Barr: About three months ago, Chrissy and Jon Barr approached us about finding a way to collaborate on future products. We were already huge fans of what they were accomplishing. They have such an important presence in our local creative community. Plus, their clothes are amazing. So it just seemed right. After meeting a few times, we really refined what the collaboration would look like in practice and got to work.
Fogerty: Fauxgerty decided to move into exclusive partnerships with retailers this year. Civil Alchemy is one of my favorite places to find gifts and garments in St. Louis – they have a strong brand identity and such great taste. As soon as we met regarding a collaboration, everyone felt our brands were such a fit. This collaboration is a great way for Fauxgerty to connect with our local audience since the closing of our [Central West End] retail location and for Civil Alchemy to create garments based on their customer's preferences.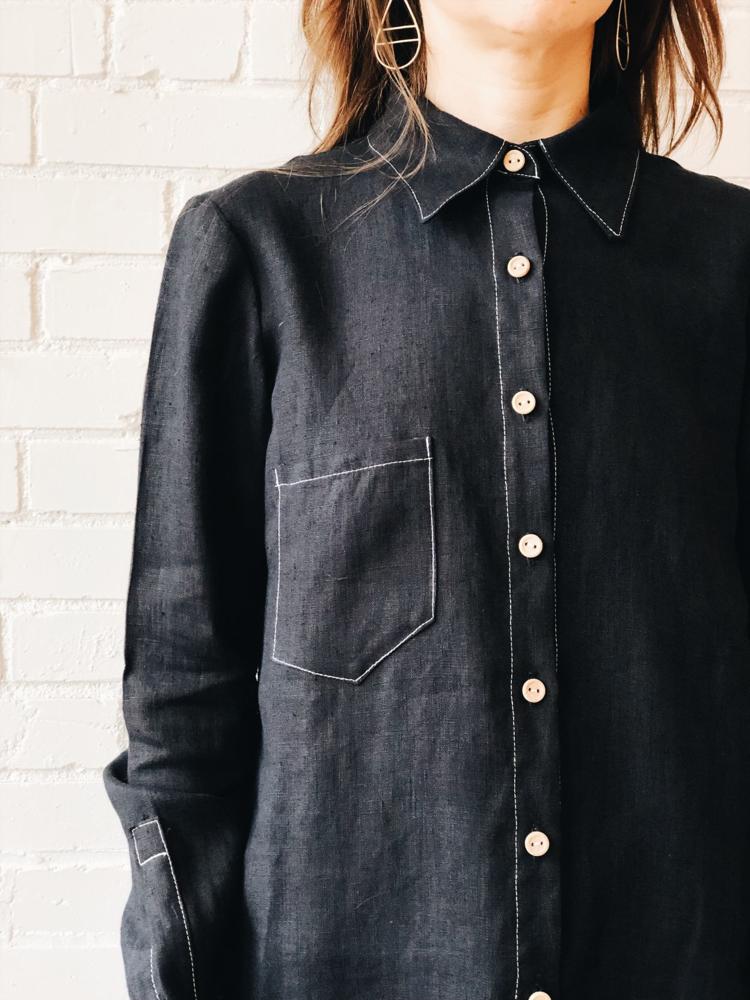 Could you tell us about the collaboration process?
Hall-Barr: When we started working with Fauxgerty on this project, we really felt they were already very in-line with our values and aesthetics. You can see this in their existing bodies: tasteful, subtle and timeless silhouettes. There was no reason to reinvent the wheel here, as the bodies fit our style very nicely. The collaboration mostly came out of the selection of fabrics and finishes of the pieces. You can see this in the colors and patterns selected. The process itself was absolutely electric. Getting all of us in the same room was so dangerous because fantastic ideas were just flying. It is so extraordinary when you connect with a team like Fauxgerty and they just get it.
Fogerty: We met with Kelley and Ian VanDam to discuss their color palette for summer and garment styles that excite them. Kelley loves special details and classic color combinations, and you will see that in these pieces – such as a navy oversize button-down with contrasting cream topstitching and natural wood buttons. The collaboration was so natural and exciting. We had way too much fun working on these garments together, and I think it's evident by the way things turned out.
We heard this is Fauxgerty's first collaboration with another brand. Why was Civil Alchemy the obvious choice?
Fogerty: We wanted to work with a brand that could showcase Fauxgerty pieces in a thoughtful way, in a well-curated space – and Civil Alchemy is just that.
What types of products will be offered in the line?
Hall-Barr: For now, the collaboration includes dresses, jumpsuits and button-down shirts. Who knows what the future will hold?
Fogerty: Fauxgerty's existing best-sellers like The Amber and The Frannie in new hues and prints that echo Civil Alchemy's aesthetic.
Is there an item you are most excited about?
Hall-Barr: We are so excited about the Billie Jean button-down shirt that we collaborated on. We decided to use an off-color topstitching on the shirt. The feature subtly gives the piece a sense of visual independence from other shirts, while still being a very wearable daily shirt. We also love The Frannie dress. It fits every space and body type so perfectly.
Fogerty: I am in love with the print we decided on for The Fiona dress. It's whimsical, classic, and my favorite midi dress silhouette.
Should we be watching out for anything in the future?
Hall-Barr: It is incredible to see what Fauxgerty has accomplished over the last few years. I think the possibilities are endless, so definitely stay tuned.
Civil Alchemy, 8154 Big Bend Blvd., Webster Groves, 314-801-7577, civilalchemy.com
Fauxgerty, fauxgerty.com