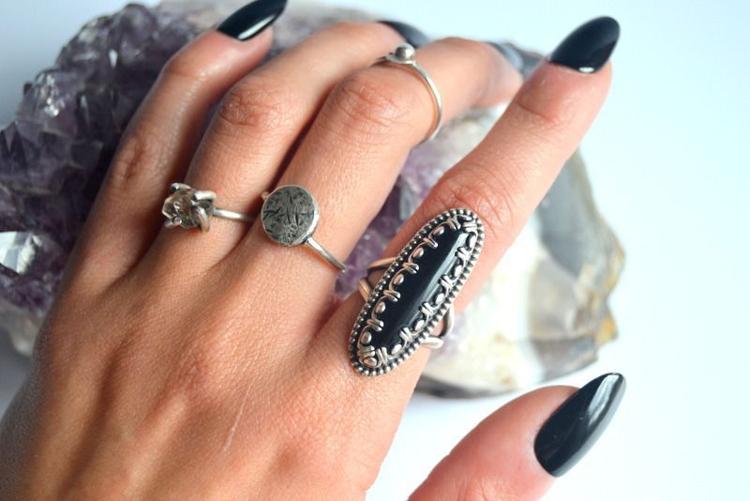 Camille Moore, owner, metalsmith and designer at Rebel + Ruse, began to make jewelry in 2012 while on an Air Force deployment to South Korea. Moore made pieces for her own use, but the jewelry caught the eye of friends and family who began requesting custom items of their own. After leaving the military in 2015 to attend graduate school full time, Moore began to build the Rebel + Ruse brand, creating unique rings, necklaces and cuffs from recycled sterling silver, using traditional metalsmithing techniques and stones handpicked from southwestern lapidary artists.
Where/how did you learn metalsmithing? Is there a difference between traditional metalsmithing techniques and modern?
I took a couple metalsmithing lessons through Craft Alliance and St. Louis Community College to learn the basics, but for the most part, I'm self-taught. I'm constantly researching techniques and working to advance my skill set, but I'm more inspired by the traditional/revitalist side of the craft overall. Traditional metalsmithing techniques refer to the processes of fusing and soldering metal by hand, chasing and repoussé, etc. More contemporary techniques include practices like enameling, or fusing layers of "glass" onto metal, similar to glazing in ceramics. I'd love to explore more contemporary and specialist techniques, but for now I'm focused on perfecting the basics.
How is the sterling silver recycled/sustainable?
Sustainable means the products are made with reclaimed/recycled metal or with third-party certified, ethically mined metal. Jewelers can send their "scrap" silver to silver suppliers to be recycled for future use. Unmined silver can be reclaimed from old jewelry, computer parts, etc., then recycled into new jewelry. I only purchase my silver through companies that offer post-consumer or recycled options and whose silver is mined sustainably – mining that attempts to reduce the environmental impact and improve working conditions for miners. Sterling silver as a precious metal can be continuously recycled with minimal loss in quality, and it's important for me to use eco-friendly materials in my work.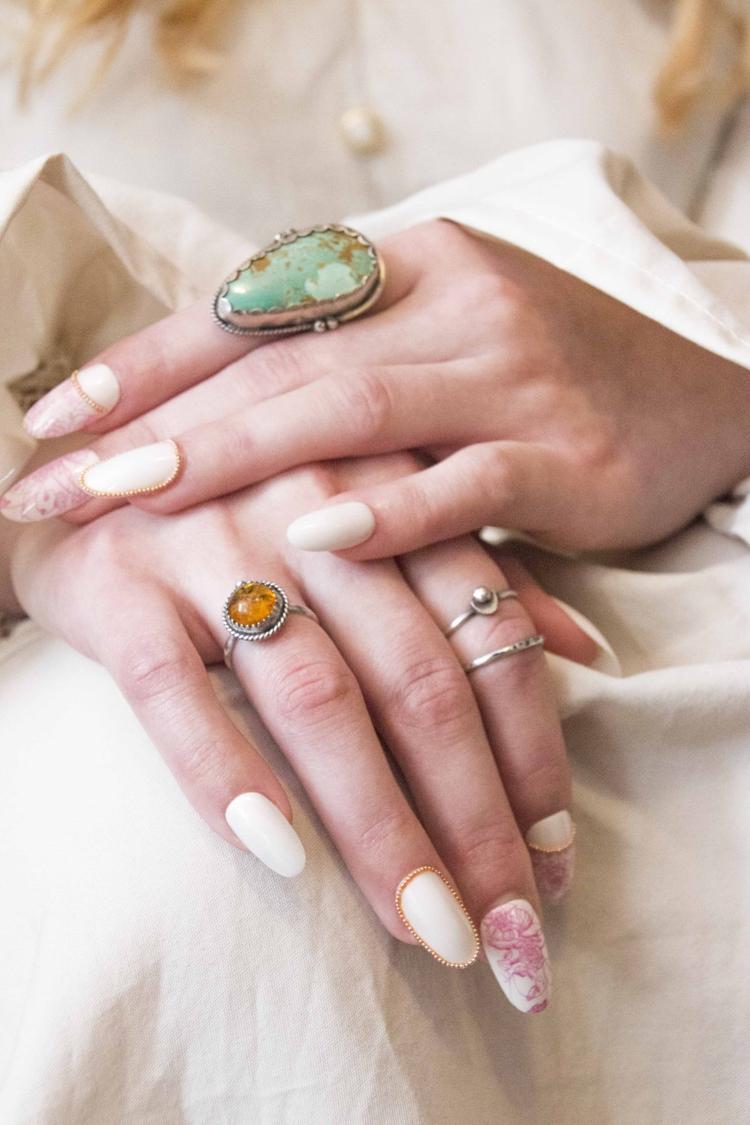 Where did you find your stone sources? What can you tell us about these lapidary artists?
My sources took a bit of research, trial and error, to find. I've developed a good working relationship with several lapidary artists from Arizona and Nevada who cut and treat the stones themselves. These artists are often jewelers who learn lapidary skills for their work and supply stones to fellow jewelers. For me, it's important to find the best-quality turquoise possible at reasonable prices for my customers. I try to source turquoise that's as close to natural as possible, and I only purchase American-mined stones. Natural turquoise is a stone that hasn't been altered in any way but isn't the most ideal for jewelry; it can easily crack, crumble and lose color over time. The stones I purchase, and most stones on the market, have been stabilized and sometimes enhanced, or chemically/electrically treated color preservation and hardening. This treatment translates to extended wear without deterioration. The amount of material a specific mine produces and the extent of treatment dictate how much each stone costs. I never use synthetic, imitation or lab-grown stones, however. I source my turquoise stones directly from lapidary artists to ensure I receive high-quality product from a reliable source.
Where do you get your style inspiration?
Since my own personal style is so eclectic, I'd say I gather inspiration from infinite sources. My mood, my supplies and the specific stone I'm working with often dictate a piece's direction. As far as design, my pieces range from minimalistic, simple bands to ornate turquoise pieces in a pastiche of traditional Native American jewelry. I'm inspired by art, fashion, nature – anything I find beauty in can be translated into jewelry design. I create things that I'd like to wear, and I don't like to limit myself to one specific style.
What kinds of custom orders have you received in the past? Or what is your creative process for custom orders?
Custom orders are often done to re-create previously sold design in a specific size for a buyer. My favorite customs, however, are the ones completely inspired by the buyer. I'll sometimes have a commissioner come to me with a specific stone or design idea they wish to bring to life. I love this because it's a chance for me to design something in a way I otherwise wouldn't have, and I always learn something new.
How has the response been so far since you opened up shop?
The response has been really positive and humbling since opening in January this year. I've gotten to collaborate with other St. Louis makers on photo shoots ranging from wedding collections to children's wear, even hairstyle art. The best part of creating my business has been meeting other makers in the community. I'm humbled at the support I've seen from my family, friends and community.
What kinds of shops carry your products?
Right now my pieces retail at Ruby Francis clothing on Cherokee, May's Place antiques and vintage on Ivanhoe, and Urban Matter home accessories and gifts boutique in south St. Louis. I'm also a resident artist at MindScape Gallery in Chesterfield Mall and retail at Muse Clothing in Columbia, Missouri.
Rebel + Ruse | rebelandruse.com | rebelandruse@gmail.com