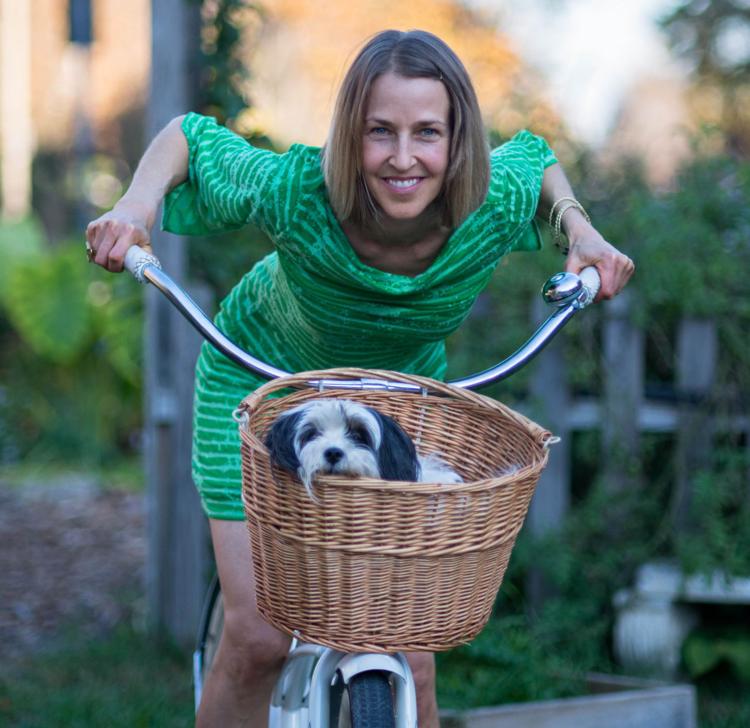 Amy Lynn Johnson worked as an environmental engineer for three years before ultimately realizing it wasn't her dream. She always knew she wanted to have her own creative product, but it was nearly a decade before her future in fashion design began to take shape. Johnson did take a valuable lesson from her time in engineering, where great order was created within chaos, leading to the name of her company: KayOss. After studying and training in fashion design in Florence, Italy, the Highland, Illinois, native returned to the St. Louis area and hit the ground running, co-founding the PRONTO Fashion Show in 2006, where she debuted her KayOss fashion line for the first time. KayOss products can be purchased at Johnson's pop-up boutiques, with online purchases available soon.
How would you describe the aesthetic of your line?
KayOss is all about being noticed, by the fabric movement, texture, color and design – adding a classy hint of flirt and feminine edge. It feels amazing to the touch, travels well and is timeless. It's meant to create conversation, inspire and bring out a woman's inner goddess. My clients tell me that their husbands never comment on their clothes, but when they wear KayOss, the compliments flow.
What inspires your designs?
I am inspired by fabrics. I go to Los Angeles and New York to search for the perfect fabrics and also meet with my reps that bring in fabric from Italy and France and other countries. I am always looking wherever I am traveling! My line is always changing, now moving to as much natural fibers as possible so the clothes can breathe and feel even more amazing. I am also inspired by my surroundings through travel. It all happens organically, which I can always see after the line is developed. I am currently taking ballet and spending a lot of time in nature, so we will see what happens next season!
Do you do all the design work, or do you work with a team?
I do the design work with input on structure from my amazing seamstresses and patternmakers. I also feel there is a design collaboration with my clients, as they request what they would like, and I get to work with so many different body types to see what moves and flows well. I built my business on trunk shows and charity fashion shows, fitting many, many women, changing and perfecting my patterns over the last 10 years. This has really helped me to understand women's different body types and what is necessary in designing garments that look good on their body, which in turn they feel great! That's my favorite part: to see how happy they are. I have the best clients – most of them have become good friends over the years.
What types of clothing do you sell?
I started with skirts, then added tops, dresses, coats and, most recently, pants. I also add fun pieces to my line sometimes – cardigans, kimonos, shrugs, tights, scarves, wraps. If it fits great, they can take it; if not, I can offer to fit them and have [an item custom]-made if I have the fabric available, which usually takes about two weeks. This allows a lot of flexibility if [the customer] would like [the article of clothing] longer, or with sleeves, or they just need a little extra room in some areas.
How does your company have a low carbon footprint?
Everything is designed and produced in St. Louis. I was an environmental engineer, so I keep aware of the process and work toward minimal waste as much as possible. My tag line is "If you do what you love and follow your heart, you will find your calm within the chaos." I truly believe this. I never felt connected when I was working in engineering, and the last thing I ever thought I would be doing is designing clothing. You never know. You just cannot give up. It's baby steps toward what feels right in your heart, so I work every day to incorporate this into all areas of my life.
KayOss, 314-398-9098, kayossdesigns.com