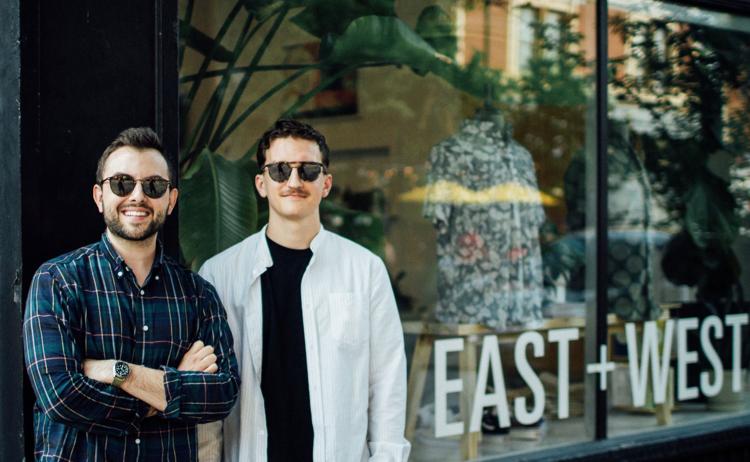 When Brian Simpson launched East + West seven years ago, he focused on two things: unique offerings and top-notch service. After deciding the time had come for his next adventure, Simpson thought it crucial to find someone who shared his dedication who could take over that menswear boutique in St. Louis' Central West End neighborhood. That's where St. Louis transplant Roy Brady comes in. Ladue News caught up with Brady, the new owner, who's taking the reins on July 1.
How did you become the new owner of East + West?
I came into the shop one day to chat with Brian – a frequent occurrence at the time – and talked with him about a new direction I was taking in my life. I had recently left my previous job and was excited about creating a plan for myself. Brian was someone who I felt was a great person to listen and confide in. Little did I know at the time he was also thinking about looking for a new career path as well!
Later on, I came back into the shop, and he dropped the news on me: He was looking to sell and asked if I was interested. I told him I was captivated by the idea, and I started exploring what that would look like. As time went on, it made more and more sense to me. I was superexcited to keep the gem in St. Louis that I've known for the last four years and to get the opportunity to explore and grow with everything that East + West is.
Tell us a bit about your career path. What led you to boutique ownership?
I worked in the coffee industry at St. Louis favorite Blueprint Coffee for about four years prior to this venture. I got to be extremely familiar with St. Louis on a personal level there. It was a great experience to not only watch a new company grow but also to be a part of the effort to win over the city on a personal-service model.
What makes East + West special to you?
I connected with East + West through word of mouth and grew more and more fond of it over time. I loved that the store provided good-quality clothes, and the platform allowed for personalization. The shop allows for just about anyone to come in and find something that they can make their own. The whole vibe celebrated the individual and what they brought when they walked in, while helping them discover new brands. It provides access to classics, fresh new looks and thoughtful odds and ends. It was superrefreshing to be around a whole bunch of different styles while having my own lanes to express myself throughout.
What types of changes can customers expect under the new ownership? And what are you hoping to keep the same?
East + West will be closed for the month of July while we do some updates and design changes. Some new waves coming into the shop will include multiple new brands, a line of ceramics from [local potter/earthenware artist] Boda Clay and an in-house line down the road. I obviously have different taste when it comes to some things, so the look of the shop will be evolving as time goes on, but what East + West has done is so timeless. That means that brands that the existing community around the shop knows and loves will be sticking around, hopefully along with some soon-to-be favorites as well.
With summer on the horizon, what should fashionable St. Louisans stock up on this season from East + West?
Right now, vacation collar short-sleeve button-ups are a great way to put some style on in the heat. Gitman Vintage [based in New York City] makes year-round classics for your wardrobe, making classic pieces fit seamlessly with modern fits. I love the retro looks when the pieces are versatile and easy to wear! Bather swim trunks are a great pickup for summertime outings as well. [LN dingbat]
East + West, 387 N. Euclid Ave., St. Louis, 314-553-9288, eastandwest.store/saintlouis