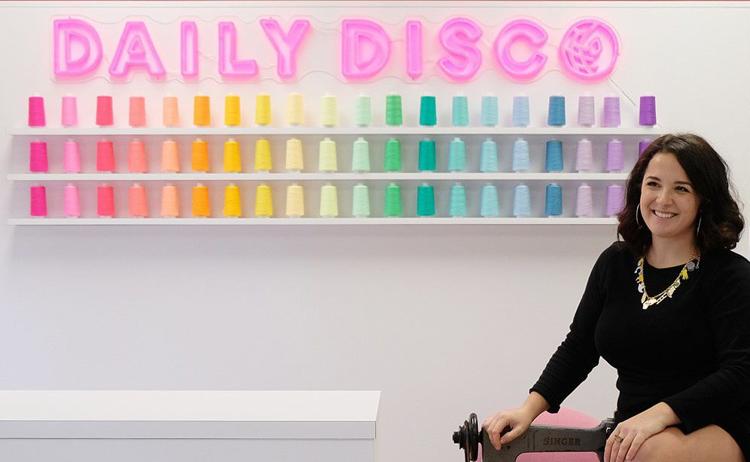 The queen of customization, Abbey Eilermann – the bold beauty behind Daily Disco – has found a home in St. Louis' Hill neighborhood for her elaborate embroidery shop.
"We knew we needed to move offices and just thought, 'Why not?'" Eilermann says. "It would be just so fun to have a place to have people come in and get things customized on the spot. Since a lot of our business, too, is so online-focused, to get to interact with the community and see people face to face was something we were really excited about."
Located at 2103 Marconi Ave., the Daily Disco storefront is altogether as bright and bold as the Instagram feed that sparked the shop. A rainbow wraps the interior of the storefront, and a big pink neon sign showcasing the Daily Disco name is above a rainbow of thread.
"We wanted it to be really bright and cheerful," Eilermann says of the space. "We have a DIY jacket wall with all of the patches and things that you can kind of mix and match to create your own custom jacket. Then we also have a [1920s-era sewing] machine built into our cash wrap, so we can add your name right there on the spot or take a custom order if you want something more detailed."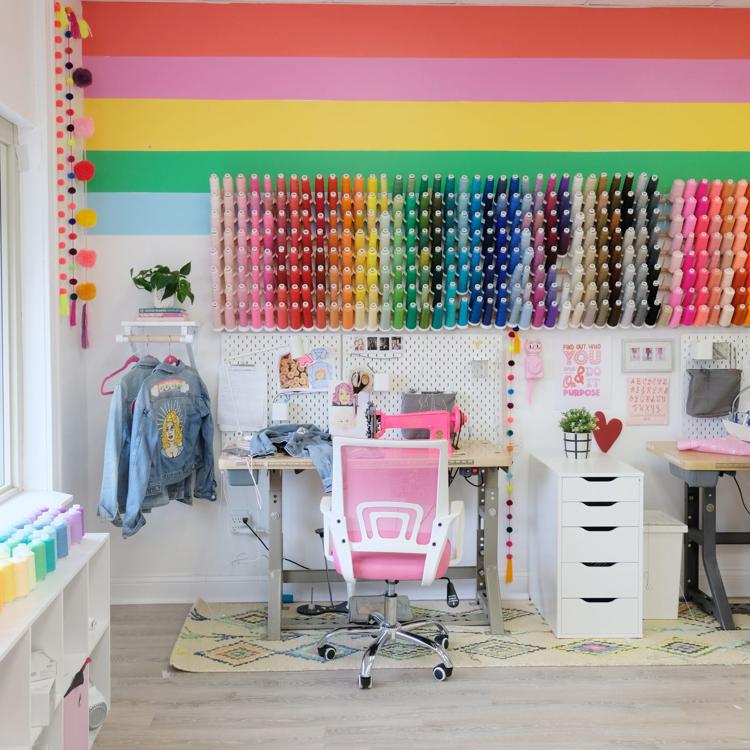 Eilermann is having fun with the new location, incorporating a space in the shop for some playful, hill-arious items, such as a holy cannoli key chain and coffee mug, a Hill-themed tea towel and more.
"We love The Hill, so we are excited to be part of the community more," Eilermann says. "Just to have a place where people can actually come in and touch and feel the products and see how the machines work.
"That is what makes our embroidery so cool and different – the modern kind of embroidery is all computerized and is all hand-cranked, so it is really special and cool to see it in real life. Also, because we really have done everything through Instagram, a big part of our clients aren't in St. Louis. So we are super excited to be more in St. Louis and kind of spread the disco word."
In addition to The Hill items, Eilermann has expanded the customizable capabilities with the physical shop.
"Before, we had customizable patches, but that was kind of the extent of customizable [options] besides the jacket," she says. "So now we have all kinds of fun accessories – like we have sleep masks that we can embroider names on, we have dish towels, clutches, totes. Then you can bring in your jacket. Some people bring in their scrubs."
And the pink Singer sewing machine that started it all, of course, is also in the shop.
"We wanted to have a machine up there because it's so cool to see how it's made and how it is hand-steered and freehand," Eilermann says. "There is like this quiet hum of the machine, and then it goes into circles. The wildest kid will just stand there and watch it."
So when you're in need of custom chain-stitching that's kitschy and couture, simply follow the rainbow to the heart of The Hill.
Daily Disco, 2103 Marconi Ave., St. Louis, 314-802-7575, dailydisco.com