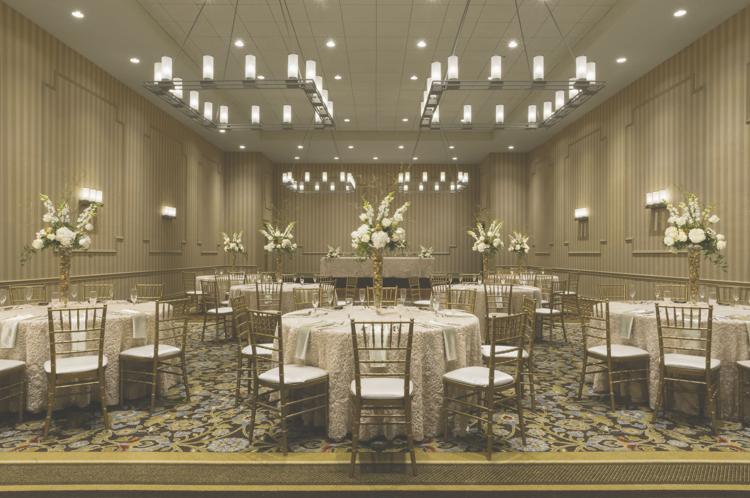 From a little girl or boy's dream to the big day, a wedding can be one of life's most treasured experiences. Sheraton Clayton Plaza Hotel St. Louis plucks that childhood dream out of each bride or groom's head and brings it to life in spectacular fashion. From big and small, rustic chic to the height of glamour, it all comes down to listening to your dreams.
There are many ways to customize the event space, Sarah Johnson, director of sales and marketing, says. "We can add a cocktail lounge in the back of the room or add tables with fun treats for attendees. We find ways to reshape the room you're in to fit the type of event you wish to have."
She and her experienced team add inventive flair to each event, helping to shape a couple's idea into reality. "We stay on the cutting edge of trends in the wedding industry," Sarah Johnson notes. "We take a consultative approach to really bring out what's special to each couple."
Deedy Johnson, event coordinator, works directly with the bride and groom to understand their big picture. "One couple wanted a different way to serve snacks, so we created a doughnut wall," she explains. "A lot of people love the Cardinals theme, so we've done sliders and fries, and we even have a hot dog stand. We do whatever we can to achieve a couple's vision."
The venue itself appeals to guests who want to experience St. Louis. "There are a million things to do in Clayton," Deedy Johnson shares. "We're within walking distance of 50 different restaurants, and a minute away from Shaw Park and other parks, which are the perfect places for photo opportunities. We are located a block and a half away from the Metro, so out-of-town guests don't have to drive downtown to all the St. Louis destinations they'll want to check out, like City Museum and the Arch."
From beginning to end, she and her team take care of the details, so couples can spend more time celebrating with loved ones. "We take care of everything on the hotel end, so mom and dad or aunts and uncles don't have to," Deedy Johnson promises. "Anything we can do upfront, from putting out the guestbook at the beginning to taking care of the hotel room for later that night." The Sheraton does whatever is possible to make weddings out of the things from which dreams are constructed, so that each couple can focus on their happily ever after.
Sheraton Clayton Plaza Hotel St. Louis, 7730 Bonhomme Ave., 314-863-0400, sheratonclaytonhotel.com