Tradition. It matters most at Huffords Jewelry, where two generations have served clients with the utmost trustworthiness. Now that it is time for the third generation to step in, its clientele can rely on that constant from the person next in line, Dan Hufford.
"Our core values are absolutely staying the same," Dan Hufford, the heir of the jewelry shop, states. "Who we are – integrity, quality, hospitality – that foundation is never going to change. Every single customer experience is different, so we cater to the individual. We try to understand their why, their end goal, and come up with a solution they had not thought of. … That's the most fun. You see their eyes light up."
Some clients may desire a lengthy consultation while others feel strapped for time. If the latter, Huffords will literally go the extra mile to consult wherever is most convenient for the customer. "People are amazed at how far we'll go, whether it is delivering to their doorstep or office," Hufford shares. "I've driven across the state and even flown stones to a customer. There's no extent to which we will not go, within reason, to do what's best for each customer."
This initiative seems natural when one considers who taught Hufford in business and in life: his father. Duff Hufford describes the most important lessons in business he has taught his son in preparation for the transition in ownership: "Honesty and integrity, foremost," he says. "If you lose that, you lose everything."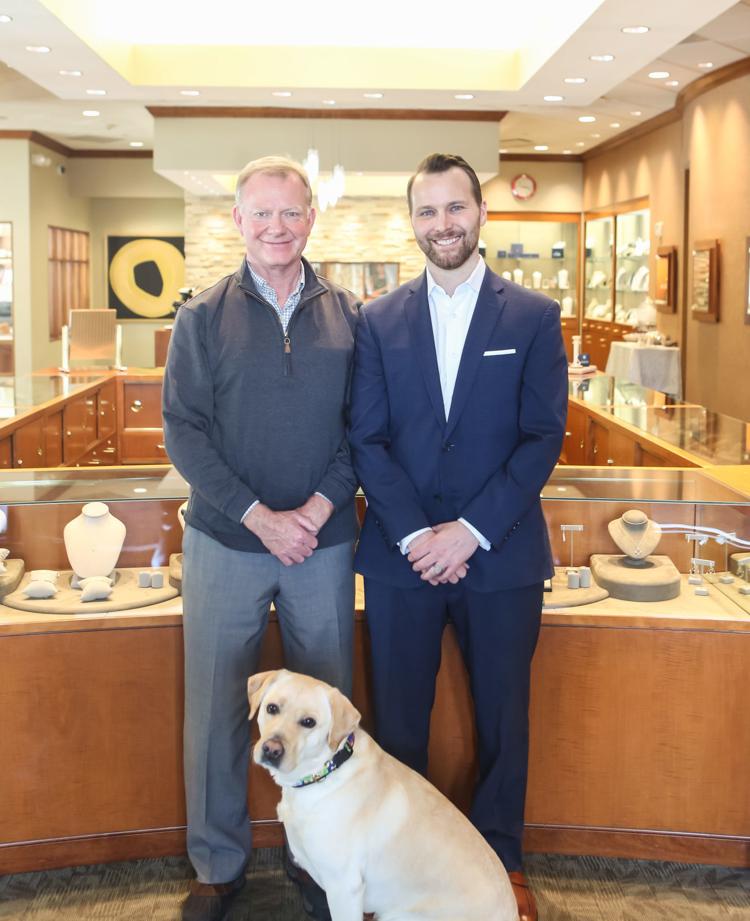 Duff Hufford looks forward to passing the torch, though he will continue to utilize his unmatched knowledge and experience to handle appraisals and estate jewelry. His newfound spare time will be devoted to spending time with his wife and grandchildren, in addition to fishing.
Meanwhile, his son faces a challenge with online shopping and big-box stores. Rather than compete directly though, Dan Hufford recognizes that Huffords Jewelry has something more to offer. "The internet and big-box stores always will have a bigger budget and bigger selection," he describes. "I want to have a well curated selection that you can see and touch. Most of what we do is special order. When people realize the options for customization, most are happy to take their time."
Huffords Jewelry also offers lower priced items that make for excellent gifts and it promotes monthly events to keep its customers engaged year-round. From father to son to grandson, the boutique's loyal clientele can trust their children and their children's children will have a similar experience at Huffords.
"I have full confidence that Dan can carry on the Huffords tradition of delivering quality and integrity," Duff Hufford reassures. After all, clients seem to trust in the Hufford name.
Huffords Jewelry, 10413 Clayton Road, Frontenac, 314-993-1444, huffordsjewelry.com
---
Luxury Bazaar - March 28 to 30
Take advantage of special pricing on exclusive designers at Huffords Jewelry. Visit huffordsjewelry.com/luxurybazaar to learn more.