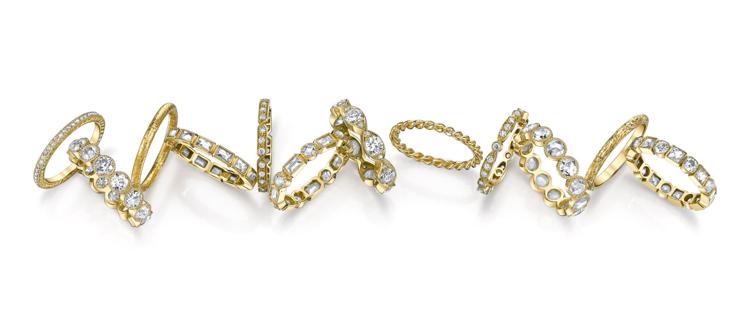 YLANG YLANG, located in the heart of Ladue, brings fresh, innovative and often exclusive jewelry lines to St. Louis. This family-owned boutique has brought immense value to the community since its inception in 1985. Much like a prized heirloom, the popular shop was passed down to the next generation, daughter Julie Ettinger.
At YLANG YLANG, spotlighting incredible designers is a tradition that Ettinger fortifies with Single Stone, made all the more fitting by the artisan's focus on heirlooms. "In a time when possessions have become disposable, we believe having something that is sentimental and well-made is so important," Ari Madilian, co-owner of Single Stone, says. "These items, passed down for generations, can connect people to their past."
Ari and his wife, Corina, built the Single Stone brand on this concept. "I grew up in the L.A. jewelry district," Ari shares. "I was 23 years old when I fell in love with the hunt and discovered my passion for great jewelry and diamonds. The idea of finding the perfect piece for a client became my obsession."
Corina always admired adornments, but came into the jewelry business through marriage. "In the beginning, our business was directed at creating jewelry for other brands and designers," she says. "I missed the connection of telling our own story and decided to work towards that."
The tale behind the designers' name came from Ari's heritage. "Single Stone is the direct translation of the name of my father's company in Turkey. Tek, meaning 'single,' and tas, pronounced 'tash,' meaning 'rock' or 'stone,'" he explains.
In 2014, a traveling buyer brought a ring with a story ready to be shared. Once purchased, the team at Single Stone discovered a hidden note inside its original box. "The paper was almost impossible to notice, as it perfectly fit the box," Ari remembers. "These words were written on it: 'To our beautiful Cora, from Mama and Papa, 1883.' Needless to say, everyone in the office burst into tears."
The true value found at YLANG YLANG extends to the story inspired by this wearable art. "We are romantics at heart," Ari says. "This is one of the reasons we prefer to use vintage diamonds in all our designs. It gives our pieces personality and soul."
YLANG YLANG, Colonial Marketplace, 8845 Ladue Road, Ladue, 314-725-7464, ylangylang.com
Single Stone Designer Showcase
Feb. 23 and 24 at YLANG YLANG
Ari Madilian of Single Stone will provide a custom design consultation on your dream engagement ring or future heirloom. Discover something to treasure at this special two-day store event.
Book your appointment at 314-725-7464.