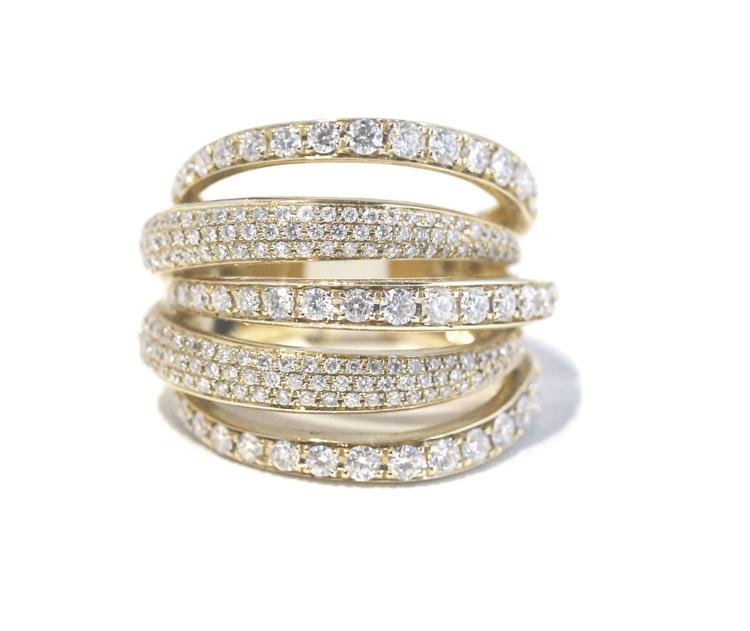 Considered a king among jewelry since Ancient Egypt, gold is experiencing a resurgence today as a prized possession. Often denoting status, what was once only worn by royalty is now accessible to all. One quality remains true, even after all this time: Gold continues to captivate modern-day cultures.
White gold may be most women's preference when getting married, but the yellow-tinged precious metal has not lost its appeal. "Yellow gold has never gone out of style," asserts Katie Kelly, a buyer at Genovese Jewelers. "St. Louis is jumping on board with its popularity."
Kelly explains how the two opposing color tones can actually accent one another. "Everyone is mixing metals," she assures. "Try to incorporate just a little [at first]. Some might wear a yellow gold bracelet with a white gold engagement ring."
According to Kelly, you can draw attention with an easy rule of thumb. "My favorite way to mix is pairing a gold piece with a diamond one," she shares. "It makes it pop. If you accent [your gold jewelry] with diamonds, people notice it way more. The way of life right now is stacking your jewelry. Everyone just wants to keep going with more and more and more. [With everything being] so interchangeable, you can't have enough."
Stacking offers versatility in style, yet some trends currently outshine others. "Every designer I meet is showing heavy links in their fashion jewelry," notes Kelly. "That chain-link design appears in right-hand rings, stacked rings and bracelets. Some designers even have hoop earrings with [a similar aesthetic]. People want heavier, chunkier pieces to tastefully mix."
Given its rich history, the benefit of choosing a gold adornment is its truly endless style possibilities.
"All trends circle back around," says Kelly. "There are so many styles and different looks – anything from a classic design to something more vintage. The thing that is great [about this style] is you can pull out one of your grandma's yellow gold bracelets from forever ago and stack it with a piece you have now, and it will look brand new."
When considering gold additions to your jewelry wardrobe, call on Genovese Jewelers to meet your every need. A favorite among St. Louisans, the family-owned and –operated shop will ensure you walk away with exactly what you want.
"We can design any piece of jewelry," says Kelly. "We can [mimic] these newer trends. We either carry something like [what you see] in fashion magazines – or we can make it. We can do anything here at Genovese Jewelers."
Genovese Jewelers, 12460 Olive Blvd., Creve Coeur, 314-878-6203, genovesejewelers.com