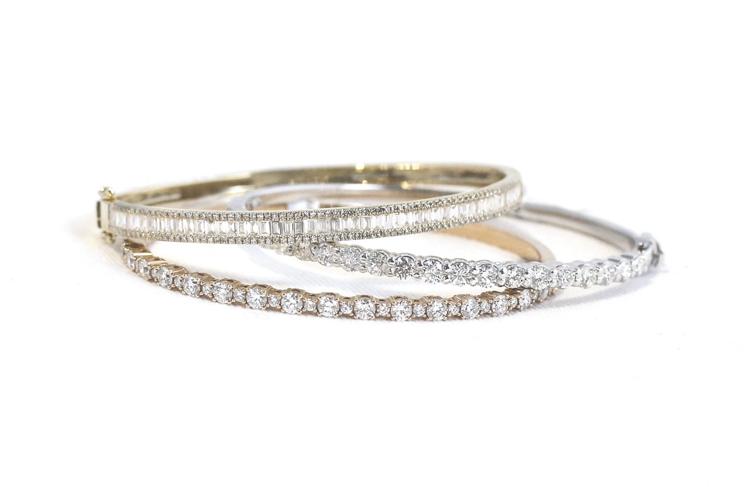 In the thick of winter, icy roads may be all that is on your mind. Step inside Genovese Jewelers, located in Creve Coeur, and the only ice you'll be pondering is the kind that makes one's eyes marvel at its beauty.
"This Valentine's Day, we recommend going with stack rings," says Brooke Hyman, a sale, design and marketing associate at Genovese Jewelers. "That way, one by one, a customer can accumulate a set over time. You can also upgrade your studs, and stack bangles or necklaces in different colors of gold."
The gift of fine jewelry does not have to be cost-prohibitive either. Hyman notes the family-owned, local shop offers options in every price-point, from diamond bar necklaces to the popular silver line by designers Gabriel & Co., featuring sleek and stylish decorations. For those seeking a celebration of love that comes directly from the heart, conceptualizing the perfect piece can achieve your romantic ideal.
"If a customer has a dream, we can make it happen," assures Hyman. "We are one of the only jewelers [in the country] that offers in-house, CAD [or computer-aided] designs. If a customer comes in with a photo and they want that exact piece, we're able to bring the image to life. We make dreams a reality."
Your vision is transformed with the guiding hands of jewelry experts whose talents are nurtured at Genovese Jewelers, a homegrown company that supports more than 25 families. "Every employee is an expert at what they do, from our shop guys who set the stones to our CAD designers," notes Hyman. "An important part of any business – especially ours – is making everyone feel like they have a role, that they really add to the company and provide value."
That difference shows in the world-class designs the company produces right here in St. Louis.
"Many of our clients have been coming to us for decades, starting with grandparents on down to their grandchildren," shares Hyman. "Our customers are definitely the most important element of our business."
No matter the winter forecast, one thing is clear this holiday – Cupid has no need to interfere. One look inside Genovese Jewelers and you'll be lovestruck.
Genovese Jewelers, 12460 Olive Blvd., Creve Coeur, 314-878-6203, genovesejewelers.com