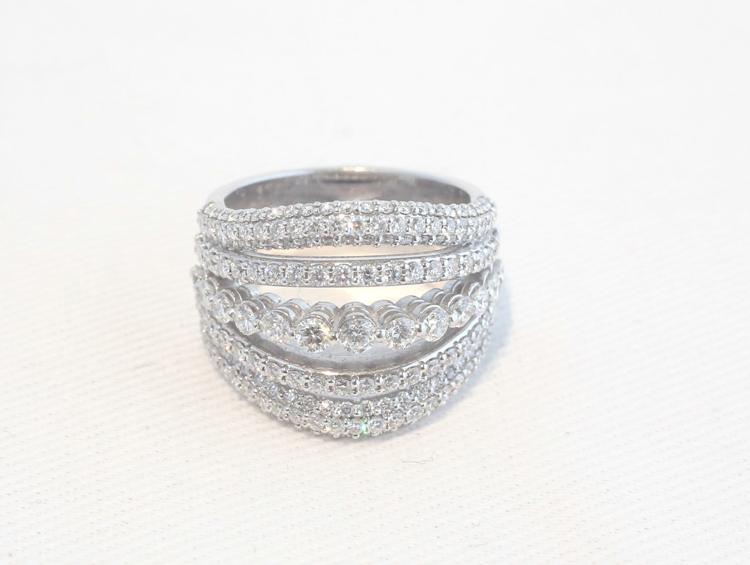 No denying…There is just something about the sight of a diamond's sparkly substance that immediately thrills. Luckily for St. Louisans, Genovese Jewelers can get you that quick fix, as most of its manufacturing happens right here.
"We can get a piece of jewelry to a customer a lot faster than most," buyer Katie Kelly says. "Everything is done in-house, starting with the design, and then going into the computer rendering, casting and setting the stones."
Now, as to how a woman can incorporate diamonds into her daily life, Kelly's got some excellent advice.
"The first and most important piece of jewelry every woman should have is a pair of diamond studs," explains Kelly. "It's something you can wear every day, whether you are running around while wearing flats and pants, or going to a meeting with clients. You can throw them on and not have to think twice."
Genovese Jewelers is unique in offering clients an upgrade program, which allows them to acquire bigger diamonds at any point after an initial purchase of studs. The money they've already put down is then applied to the new cost, thereby allowing customers to build up their jewelry wardrobes without breaking the bank.
"The basics [of your wardrobe often] include diamond studs, hoops, a bracelet, like a tennis bracelet or a bangle, a pendant and a right-hand ring," details Kelly. "Start with the basics that will never go out of style."
Once you have those down, how do you rotate them into your daily wardrobe, from day to night and work to play?
"As far as diamond studs go, you can always add a jacket to it," notes Kelly. "The circle of diamonds fit around the stud and dress it up. And, you can take them on and off. Another thing we recommend is intermixing [metals, like] yellow and rose gold with white gold."
Kelly's current favorite trend is stacking bracelets. "There are so many different styles," she says. "Whether the stones are set the same or different, it all goes together. Any shape, any size of diamond. Everything now is so intermixed. You can really do anything with your jewelry."
Another popular trend is layering necklaces of varying lengths. Pairing a 15-inch necklace with 17-inch and 18-inch strands can highlight a uniform style or effortlessly blend fashion-forward pieces, with geometric shapes, to ensure a uniqueness in every combination.
"You can do so much now with your jewelry wardrobe," Kelly says. "There's always room for more."
Genovese Jewelers, 12460 Olive Blvd., Creve Coeur, 314-878-6203, genovesejewelers.com