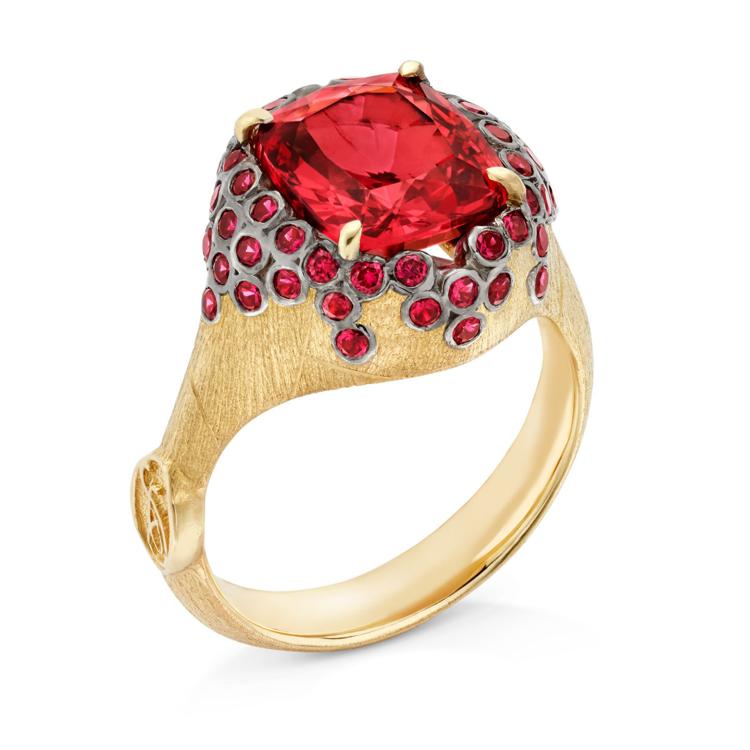 Whether it's a pair of pearl studs worn so often that they become like a second skin or a beloved cocktail ring – passed down from generation to generation and reserved only for special occasions – a piece of jewelry can be incredibly personal. More than mere trinkets, jewelry can mark a milestone, spark memories of a loved one or simply accompany you throughout your daily life.
Adam Foster, founder of the eponymous fine jewelry atelier in Brentwood, understands the intimacy and power of jewelry. For more than 15 years, Foster has been producing bespoke creations for customers in his hometown of St. Louis and across the country. "We're different because we're not trying to help customers find the right line of jewelry," says Foster. "We design and make everything in-house for each customer."
Jewelry vies with chocolate and roses as one of the most popular Valentine's Day gifts to give and to receive. A visit to Foster's studio, however, is unlike an ordinary trip to the jewelry store. Foster caters to all types of clients, from customers looking to purchase a piece straight from the case to those seeking custom designs. Sometimes, a consultation with Foster will be the gift – a surprise date resulting in a beautiful piece made specifically for the wearer, no return receipt required.
"People tell me, 'I just go into stores and buy stuff.' Well, fine, but you came here for an experience," stresses Foster. That experience typically begins with a one-on-one appointment, complete with cocktails, conversation and free rein of the showroom. "It's about the experience of coming in, having a drink and designing something together," explains Foster. "When the piece is complete, it will be about the jewelry and the fact that you got to spend time with the person who made it. I think that's really important."
For Foster, establishing meaningful connections with customers is a matter of customer service and of strong, effective design. "Maybe you don't have your eye on anything specific, but you know you want a ring," he says. "We think about how we can fit the piece into your lifestyle and who you are, so that people comment: 'Oh my god! That's so you!'"
With references to the Renaissance, nature, and the cosmos, Foster's brilliant designs easily elicit reactions of amazement and awe. Although Foster incorporates diamonds into his work, he is known for sourcing and showcasing rare gemstones, like emeralds, rubies, sapphires and blue moonstones.
Foster, however, is more interested in marrying the right design with the right wearer than he is in any particular material. "It's less about a specific kind of material and more about the final piece, and making sure it matches your aesthetic."
This year will be a momentous one for Foster and his business. Clients can look forward to new designs that feature a more modern edge, borrowing from Art Deco and the clean geometry of Piet Mondrian's work. In February, he will host a trunk show at New York's storied Bergdorf Goodman department store. And in the spring, Foster will open his first standalone boutique on Lindbergh Blvd.
With this new storefront, Foster will be able to bring his exquisite designs and unique shopping experience to even more St. Louis-area customers. "Normal jewelry shopping is more about checking boxes," he states. "Our process is about the finished piece, so that when a customer wears our jewelry, people wonder: "Where did this come from?"
Adam Foster Fine Jewelry, 1600 S. Brentwood Blvd., Suite 410, St. Louis, 314-771-3390, fosterjewelry.com