The Normal Brand continues to conduct itself like the sartorial Little Engine That Could, recently launching its first dedicated bricks-and-mortar outlet.
Early last month, the retailer of casual but quality menswear and womenswear opened a storefront operation toward the eastern end of Colonial Marketplace, which straddles the Ladue/Clayton municipal boundary.
That said, Jimmy Sansone – who founded The Normal Brand and now runs it with his brothers, Conrad and Lan – hastens to voice a disclaimer about the physical expansion.
"While it's true we started online, we've had a bricks-and-mortar presence since the very beginning," Sansone says. "Starting with just a few stores in St. Louis, we're now in over 400 boutiques coast to coast. We knew we wanted to offer a unique experience while telling our story, and decided that we finally had the team in place where we could execute to the level our customer deserves."
In Missouri alone, according to The Normal Brand's website, the company's goods grace 18 retailers in 11 municipalities. Also, retailers carry those goods in 42 states – not too shoddy for a clothier only 4 years old.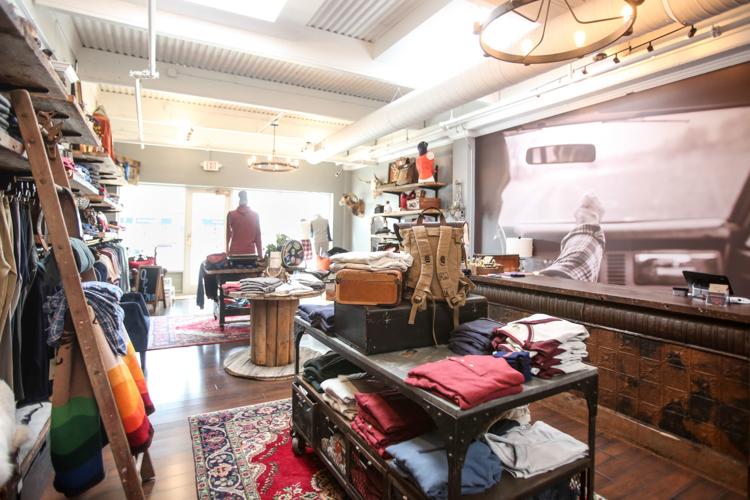 Sansone sketches the background of the new Clayton shop and the reaction thus far from walk-ins. "We put a huge emphasis on the customer experience, and we're really happy with the responses," he says. "Our mom designed it with all of the details our brand tries to embody, and created a rugged but still modern feel.
"We have antiques from [Brentwood's] Rand Rosenthal Design Group and modern touches from [Creve Coeur's] Forsyth throughout the store. We've heard that there's nothing in St. Louis like it."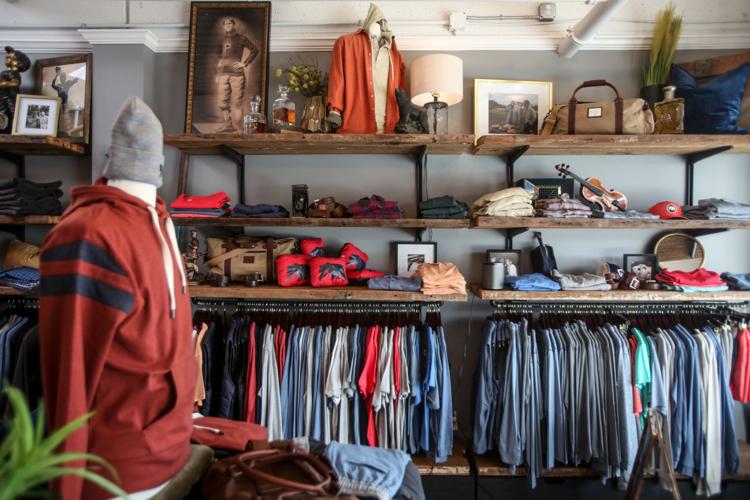 As The Normal Brand's website further relates, the company's creation followed a shirt-buying foray by Sansone a few years ago in which industry pretension basically popped all of his buttons. At that point, he and his brothers resolved to launch a proudly Midwestern line, slowly but surely, and to focus it on unpretentious, versatile and durable apparel capable of being worn from day to day, in city or country or … well … wherever.
That resolution generated The Normal Brand, whose generally varicolored wares include pullovers and polos, button-ups and T-shirts, henleys and hoodies. Its wares likewise encompass chinos and trunks, joggers and canvas pants. Among other items, the company also offers an outlier beanie and ball caps – lots of ball caps – most if not all of which sport the company's Rockwell Kent-ish ursine ensign.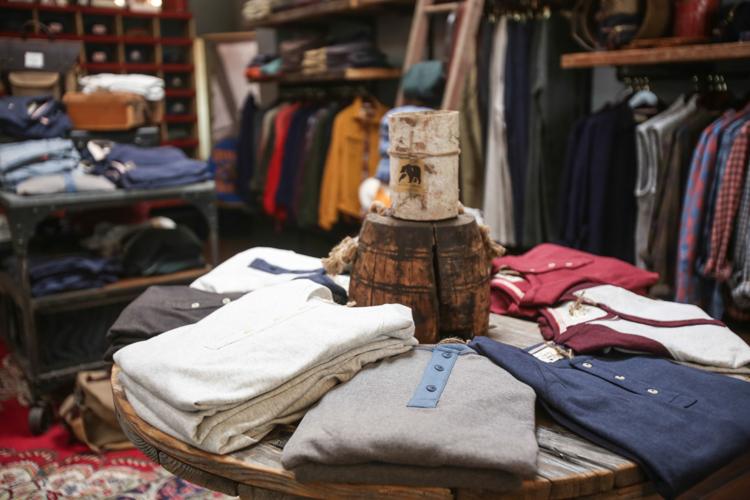 The Normal Brand's website labels nearly 90 (!) products as new for its fall collection with many more coming throughout the season, which prompts an inquiry into Sansone's potential personal favorite among them, as well as the reason for that favoritism.
"Well, we have a lot more than that dropping through the end of the year," he says. "I work with the product every single day, and I'm a pretty harsh critic, but I think the updates that we made to the fits to accommodate our customer to really nail that Normal fit have me excited about the whole collection, really."
After a small pause, Sansone adds, just a bit suspiciously, "But there is a sweater collection coming called the Jimmy's that I am partial too."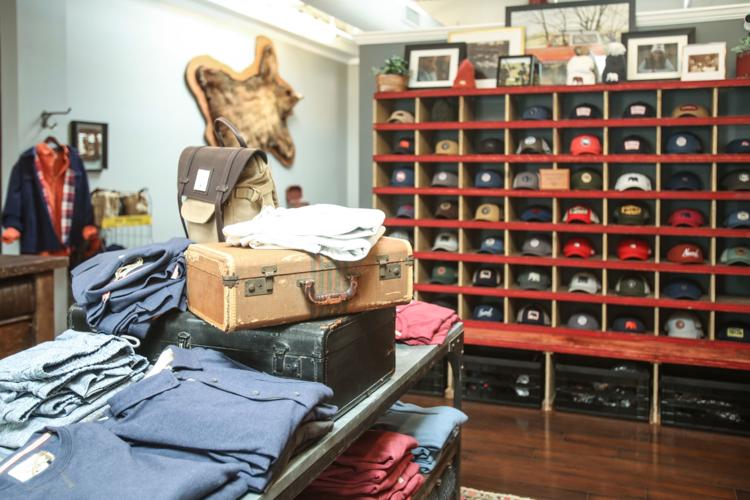 With similar good humor, Sansone responds to a question about some of the funkier male fashions regularly showcased in, say, GQ Style: In contravention of his company's stated aesthetic, does he harbor any personal "ab-Normal" guilty pleasures in menswear, perhaps from Balenciaga or Dolce & Gabbana? "Well, I wouldn't call it 'ab-Normal' – I still love wearing a beautiful sport coat or suit," he says. "But when I get home, I'm ready to throw my Puremeso joggers back on."
Ah, yes: Puremeso, The Normal Brand's trademarked fabric. Sansone briefly describes it for the benefit of someone who's never worn a garment made of that ribbed polyester/cotton/spandex blend. "It's the softest fabric you've ever worn," he says. "That may sound ridiculous, but we have thousands of comments that tell us [that] every day. It also washes easily, and we reinforced the seams so you can do anything with it.
"We run this fabric in a few different weights and many silhouettes because it really is that good."
Sansone likewise briefly considers the most satisfying and frustrating aspects of the startup thus far. "The best part is hearing from our customers, especially new ones, who are happy a brand like ours exists," he says. "Also, we really love seeing random people wear the gear. Friends will text us pictures of someone wearing it in Australia or Germany or Hong Kong, and that's a great feeling.
"The most frustrating [aspect] would have to deal with inventory – but mostly, the logistics of manufacturing a lot of SKUs [stock-keeping units] all over the world."
Extending from that reflection on the company's past, Sansone reflects on The Normal Brand's near future as it proceeds resolutely toward the end of its first decade. "We want to continue to be true to our core mission of providing normal clothes, but better, to our customer," he says. "When we started, 90 percent of our sales came from Missouri, and now it's down to 3 percent, so we are finding way more people around the world who buy into this mission.
"Hopefully, in the next [few] years, we can keep finding more and more, and run into more random people in the street wearing our brand."
Random people? Hmmm. In a final bit of blue-sky whimsy, Sansone shows no hesitancy about naming the single celebrity in any field that he'd love to have prominently photographed in a piece of apparel from The Normal Brand.
"I know I speak for my brothers when I say seeing [film star] Sylvester Stallone wearing The Normal Brand would be pretty insane," he says. "Maybe Rocky could sub out his leather jacket for one of our shirt jackets, or he could lose the fedora and rock a waxed canvas cap!"
The Normal Brand, 8809 Ladue Road, St. Louis, 314-899-0800, thenormalbrand.com
Be the first to know
Get local news delivered to your inbox!