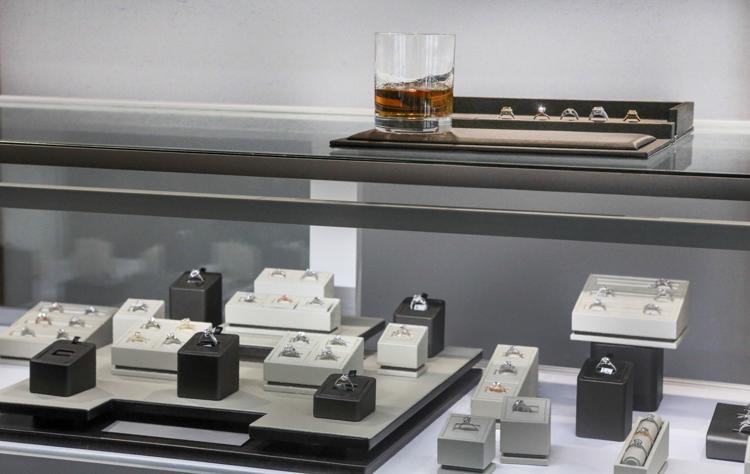 Cocktails aren't a one-size-fits-all field – from liquor preferences to shaken-versus-stirred, some drinkers prefer customized creations. The same often holds true for jewelry shoppers, thinks St. Louisan Chris Phillips, who recently decided to serve both types of clientele in The Diamond Bar: Town and Country's first fine jewelry store with a complimentary full bar.
Located in a new building in Town and Country, The Diamond Bar opened May 28 and houses a curated selection of pieces. Phillips has been working in the field since he was 19 years old, and during that time, he noticed a void. "I grew up in this industry, seeing forward and backward what it is," he says. "The reason I created this concept is because this is what I felt was missing in our industry: the customer relations and a little bit more shopping experience versus a selling experience."
The self-service bar stocks top-shelf tipples. Bottles sparkle on the back wall of the boutique, while mixers, single-serve bottles, premixed drinks and nonalcoholic offerings sit in a nearby minifridge. Plans for drink-and-browse parties (think rosé and rose gold for ladies' nights or bourbon tastings for gents) are in the works and can take place inside the store or on its oversize back patio, which overlooks ample green space. But although the customizable cocktails make a tasty addition to the shopping experience, the bespoke jewelry sets The Diamond Bar apart.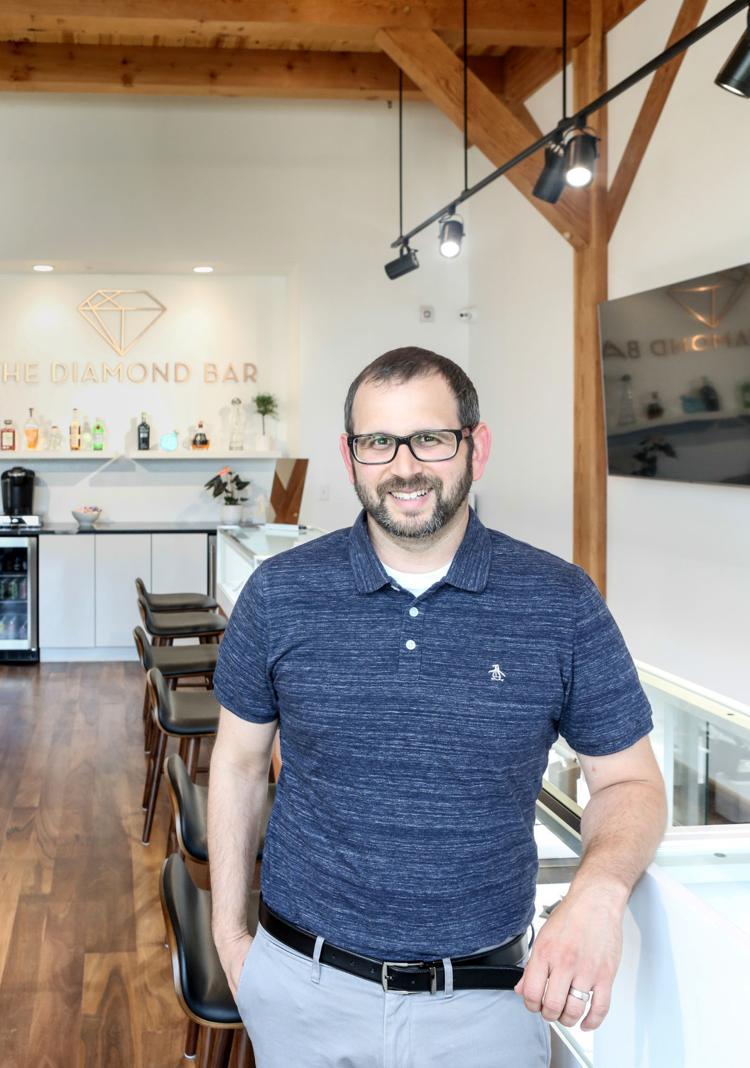 "The idea of the store … is to create inspiration to design something for you," says Phillips of the custom-heavy boutique. "Seventy-five percent of my inventory can be customized specific to what the client wants." From metal options to setting switches, alternate precious or semiprecious stones to entirely bespoke creations, the selection inside The Diamond Bar is petite thanks to the store's focus on original items. A soon-to-be-installed wall of one-of-a-kind pieces by Phillips will not only showcase more original creations but also come with a 15 percent proceed donation to a buyer's charity of choice.
"I've made a lot of pieces in St. Louis for a lot of different customers," says Phillips of his desire to branch out on his own. "As my wife and I were creating [the store], she said, 'You can't put Chris Phillips Jewelers on the building because people don't need another traditional store – it's bigger than you. Create something that is fun and exciting for people to want to come to.' And that's how The Diamond Bar was born."
For those wanting a customized item from The Diamond Bar, the process starts simply: A conversation helps determine what the customer wants – which could range from combining features of items seen in the store to creating something entirely new – and what budget she or he has.
After Phillips can visualize what the customer wants, he drafts a quick hand sketch to make sure everyone remains on the same page. The next step involves a 3D computer model, which can either be viewed in the store or emailed to a client. Last comes using the computer model to create a wax mold, with the piece of jewelry cast in the selected metal. Stones are hand-placed and the item is cleaned and prepared for its picture-perfect debut. Most of the process happens in-house – excluding casting, a process too hot to do in the shop – and everything is made in the U.S.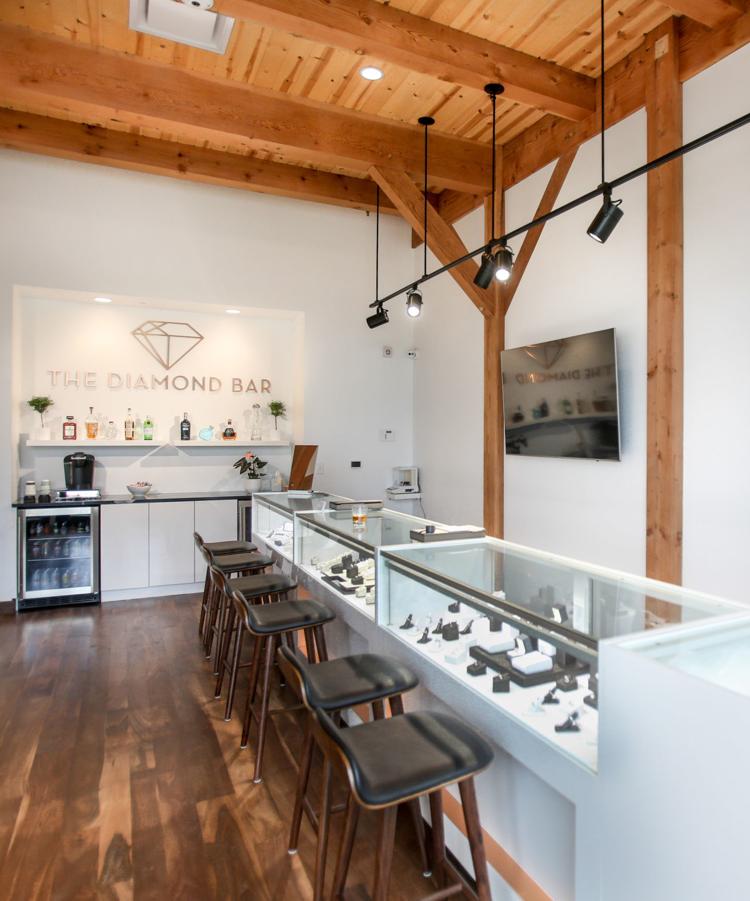 Unlike a traditional jewelry store, The Diamond Bar presents no items by price. Phillips notes the uncomfortable nature of telling a customer his or her budget fits in a specific jewelry cabinet but not in another and says his establishment lacks even a minimum starting price for shoppers due to the varied nature of customization. "I've been in the industry for 16 years – designing, creating," he says. "The one thing that drove me crazy about the industry was [when] jewelers have a case or two where items are for $100 to $500 and poorly made or mass-produced overseas. You'd find something gorgeous [but when you mention your budget,] they bring you to the darkest part of the store. You're buying something you're compromising on, based on the idea of 'This is all I can afford.'"
Instead, the layout at The Diamond Bar is based on function and includes custom and vendor pieces such as rings, necklaces, earrings and bracelets. If an item piques a customer's interest but exceeds her or his budget, Phillips will gladly make changes that can adjust the price. "I don't want to limit your options just because your budget doesn't allow for that specific piece," he says. "We will make a version close to it that you will love and in the style you like. We're here to make fun jewelry, spread our business by word of mouth and grow as a business to be the community jeweler."
The Diamond Bar, 13360 Clayton Road, Town and Country, 314-548-5100,thediamondbarstl.com