If one regards the human body as an ambulatory canvas and day-to-day clothing choices as, say, oils or acrylics, it takes little if any squinting to envision "Ann Ray & Lee McQueen: Rendez-Vous," an enthralling fusion of the photographic and sartorial arts now on display in St. Louis' Forest Park Southeast neighborhood.
That fusion, which opened Oct. 5, runs till Feb. 15 and marks the dazzling debut of projects+exhibitions, a showcase from Barrett Barrera Projects.
In seeking to "deconstruct and reconstruct experiences at the intersection of traditional art forms and design, fashion, film, literature, music, technology and science to release art from preconceived notions," according to its website, that "cross-disciplinary group of originators" succeeds with consummate panache.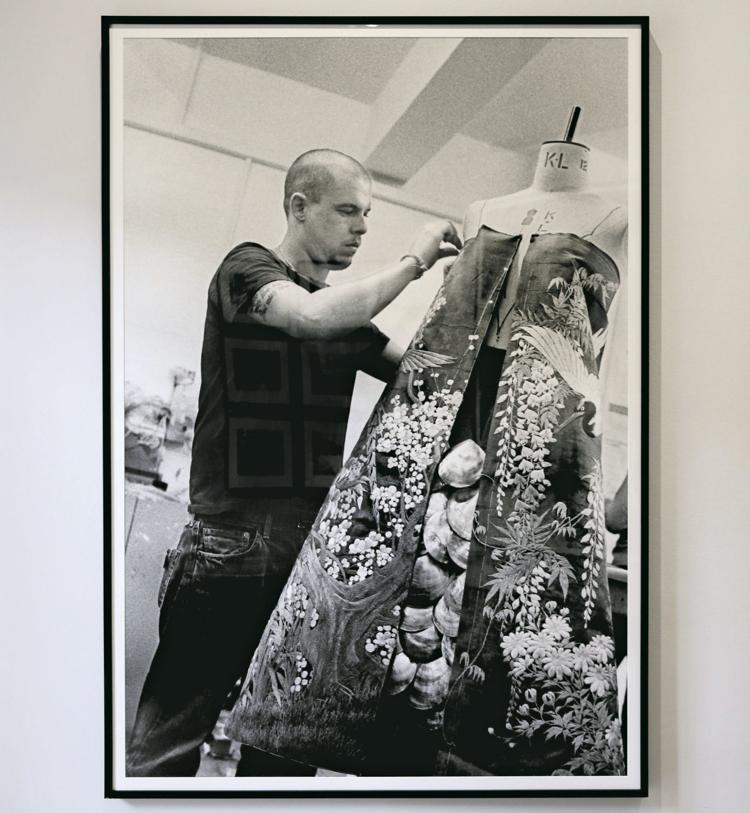 Both professionally and (to a slightly lesser extent) personally, "Rendez-Vous" documents the 13-year pas de deux between Ray, a French visual artist, and McQueen, a Brit fashion designer and couturier better known less by his first name than his middle name: Alexander.
So what do visitors gain from projects+exhibitions' nominal admission fee of $5?
From Ray, they obtain mainly black-and-white photographic insights, most of them archival prints from the original negatives, into 43 McQueen-centered shows. ("I like your images but I'm broke," Ray, in an informal essay in a saddle-stitched booklet accompanying "Rendez-Vous," recalls McQueen telling her early in their friendship. "Give me your photos, I'll give you clothes.") Those photos show McQueen, a pantherishly built man with tattoos and a crew cut, looking, by turns, stern, focused, pensive – and weary beyond words.
Perhaps all of one photo, more's the pity, shows him grinning, apparently exhilarated by life.
From the designer himself, visitors obtain views of his garments, some from Ray's collection, some from Barrett Barrera Projects' own holdings, which the group's website calls "the largest private collection of McQueen's work." For metro area fashionistas, frankly, this exhibition should constitute a bravura presentation, displayed to maximum effect with subtle ingenuity in a white-painted Manchester Avenue brick retrofit – a former body shop, perhaps – due east of Kingshighway.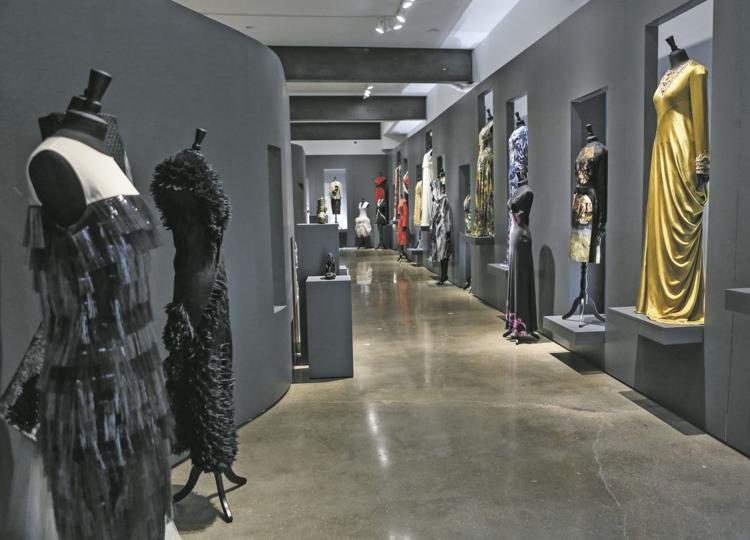 By the time he overdosed and hanged himself in 2010, just before his 41st birthday, McQueen had devoted himself to "extending the potential of the fashion show as a medium for spectacle and utilizing the design of clothing as a tool for making provocative interventions in debates about the body and identity," states Christopher Breward in Fashion, part of the Oxford History of Art series.
Despite characterizing McQueen's imagination as "fired by dread and irrationality," Breward continues that "regardless of the outlandish styling, many commentators acknowledged the swaggering confidence of his designs which either accentuated the sexuality of the wearer … or displayed a dazzling virtuosity in their quasi-surgical manipulations of form and line."
Another tome also titled Fashion – a Dorling Kindersley behemoth co-issued with the Smithsonian Institution – concurs.
After a 1992 master's degree collection audaciously entitled "Jack the Ripper Stalks His Victims," that volume notes that McQueen served as head designer at the French luxury fashion/perfume house Givenchy before launching his eponymous brand (with subsequent support from the Italianate Gucci Group) and that he earned the British Designer of the Year laurel four times, Commander of the Most Excellent Order of the British Empire chivalric recognition and the 2003 Council of Fashion Designers of America's International Designer of the Year accolade.
It also suggests that by the time of his suicide, McQueen had considerably broadened his conceptual horizons from mere Grand Guignol japery, relating that "his final show, 'Plato's Atlantis' in 2010, raised questions about the future of the planet and man's careless approach."
To be sure, even a talent as titanic as McQueen sometimes strayed. A quasi-Elizabethan smock in the Dorling Kindersley/Smithsonian volume, for instance, looks distressingly mycological, and the designer's periodic dalliances with avian motifs periodically seem, in retrospect, less fetching than featherheaded.
"Rendez-Vous" includes such a textbook stray, a classic gray pump crossed with an old-fashioned Erector Set. Visually, it suggests footwear filched from Joan of Arc's Saturday night steppin'-out armoire or perhaps a crazed podiatrist's update of the 19th-century iron maiden.
Otherwise, the exhibition includes few other missteps among its offerings, which easily top four dozen dresses, related garments and shoes.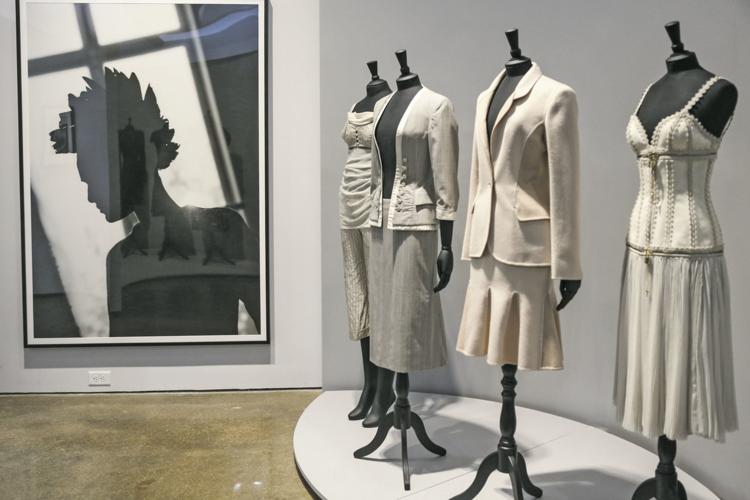 Beyond the Maid of Orléans affair just mentioned, as well as a nonpareil assortment of gowns and other womenswear, "Rendez-Vous" also includes an amusingly steampunkish bootie in bronze, silver and gold; an "un-stiletto," a weird black wedge sporting golden ornamentation that might lead some viewers to wonder what mad calculus McQueen used to design it; and a kicky bootie that goes full-tilt-boogie Union Jack.
"We wandered through a world apart from ours, the McQueen planet," Ray, in the exhibition booklet, reminisces about her 13-year friendship with the designer. "Rendez-Vous" warmly welcomes visitors to tour that protean, teeming place – a welcome no local fashion fan should decline.
projects+exhibitions, 4568 Manchester Ave., St. Louis, 314-899-0666, barrettbarrera.com
Be the first to know
Get local news delivered to your inbox!