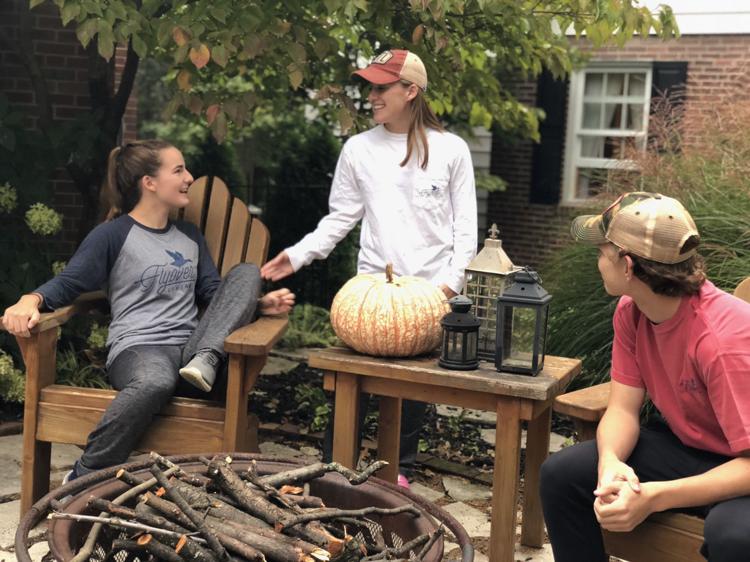 For years, those flying from coast to coast have referred to much of the Midwest as "flyover states" – states only seen from an airplane window and not seen as popular destinations. But sisters Emily Puricelli and Lila Kertz have always been enthusiastic about life in the Midwest. Growing up in the suburbs of St. Louis, the pair have long enjoyed the feel-good vibe this region of the country provides.
Puricelli and Kertz are now raising their own families in Kirkwood. They're both mothers of three and working on passing their enthusiasm for the Midwest down to their children. Puricelli says her sister started noticing that her twin teenage daughters kept buying brands like Southern Tide and Vineyard Vines – companies that are based and centered on the East Coast.
"They were spending their babysitting money on [clothing that celebrates] places that are far away," Puricelli recalls. "We wanted to do something that celebrates where we live. We choose to live here for a reason."
Three years ago, the sisters came up with the idea for what would become Flyover Living, a clothing company that has the same casual, preppy vibe of popular brands out east – but with a Midwest focus.
"Life here is cool," Puricelli says. "We wanted to show people what we love about it." The website adds the sisters' hearts "are in the rolling hills, the flowing rivers, the open fields and the dense forests of the Midwest."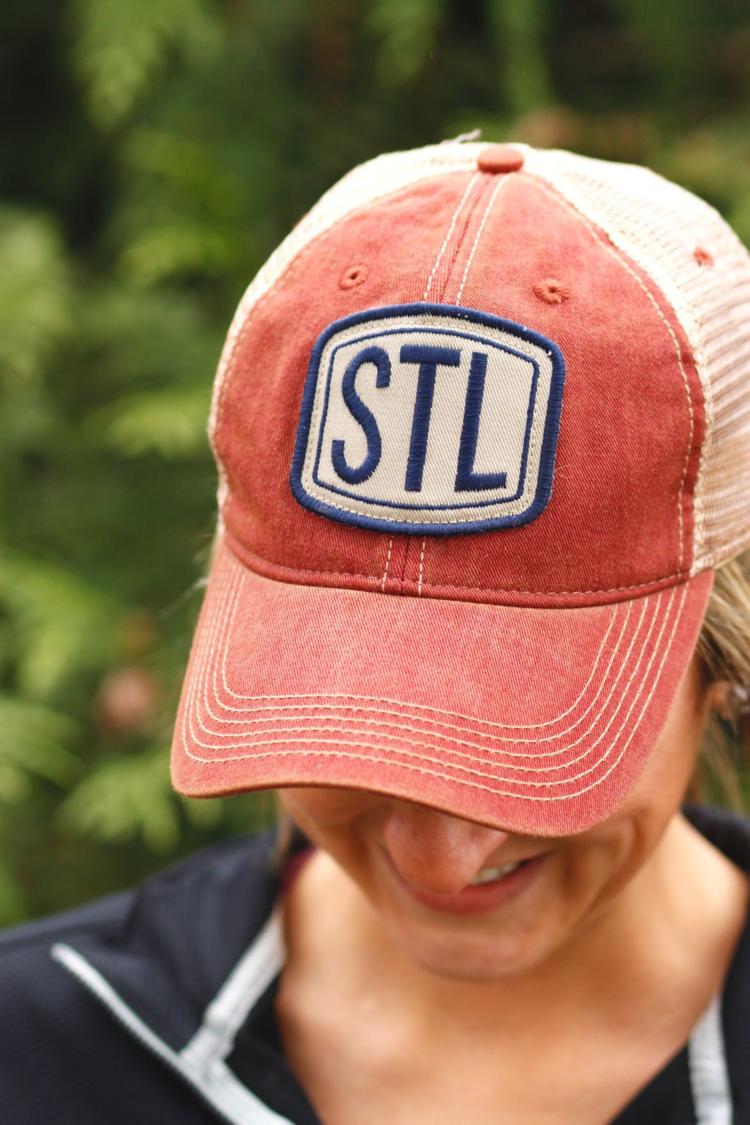 Puricelli works in advertising by day, and her sister is a nurse practitioner. While working their full-time jobs, they began producing T-shirts in 2015. They built a website and worked with an art director to create the perfect logo. They took to social media to get people to vote on the perfect symbol to sum up their mission, and the winner was Clark the duck, named after Lewis and Clark.
"It's been a learning experience getting a small business off the ground," Puricelli says. "We've worked with local retailers and have kept it local."
All Flyover Living shirts are designed by the sisters and are printed at a local company, along with many of the brand's hats and visors. The only exception are the hometown hats, which are being produced in another state because the sisters wanted a "specific high-quality style that was unique to the company."
When they were first getting started, the sisters partnered with Kirkwood High School's marketing class and had the students come up with a creative plan for how to promote the company. One of Flyover's first "models" was a student in the marketing class who mentioned the launch to her teacher, who reached out to see if Puricelli and Kertz were interested in being part of the course. Since then, Flyover has partnered with multiple high schools, including DeSmet High School, Cor Jesu Academy and St. Joseph's Academy, to do logo-printed hats and more. Puricelli says the high school ambassador program has been great for the business' publicity and is grateful to the high schools that have played a part in Flyover's successes so far.
"This has been all about laying down those hometown roots," Puricelli says.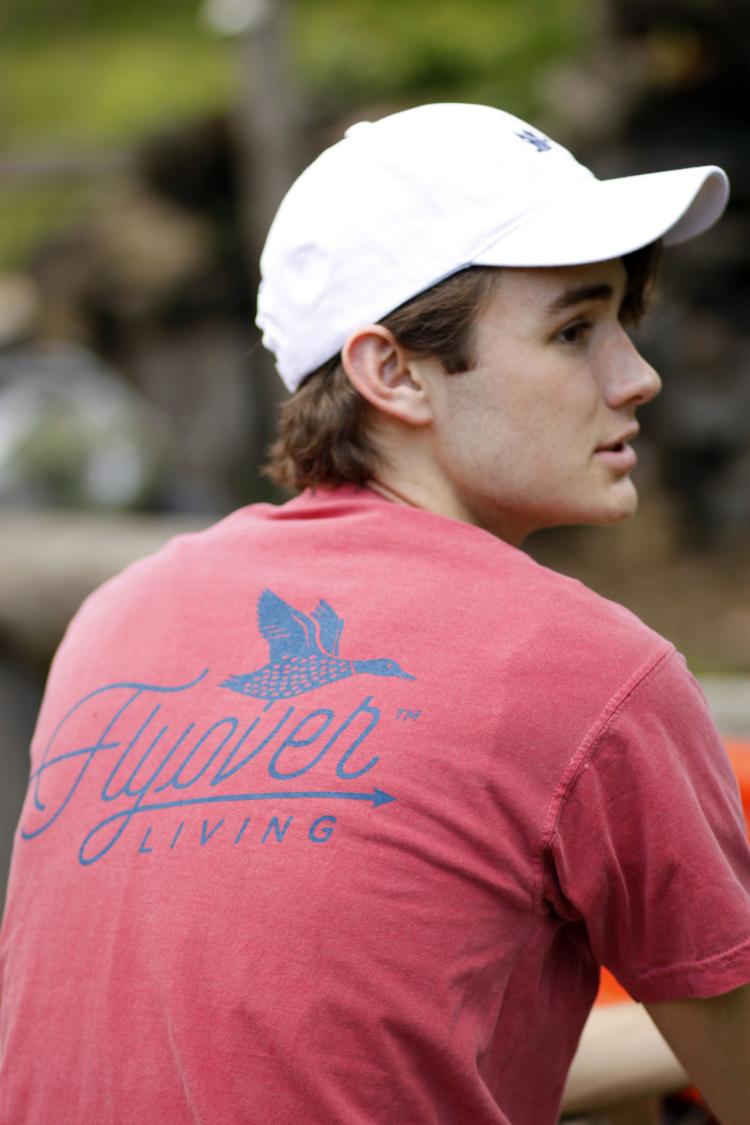 At flyoverliving.com, shoppers will find an assortment of Midwest-themed products. The site features brightly colored T-shirts bearing the Flyover logo, tank tops with sayings like "made in the Midwest" and "follow your arrow," an array of hats and visors, long-sleeve T-shirts in more subdued colors, and other items like stickers. Their products are meant for all ages and even include baby onesies. Currently, Puricelli says the hometown trucker hat is the venture's best-seller, featuring a patch with STL, MIZ or KWD (for Kirkwood). She also says the long-sleeve T-shirts have remained popular due to their high quality and softness.
"It's perfect for wearing to a bonfire or a boat ride at the lake," she says.
Currently, the sisters are gearing up for the holiday season. For a while, Puricelli says, they were offering a shirt in every color, but they've streamlined their process a bit more to include staple shirts and a few exclusive offerings. They're going to be releasing a green STL hat, which Puricelli says will be something "a little different."
Long term, the sisters just want to continue to develop Flyover Living and see where it takes them. They've dabbled with selling their products in retailers, but since it's just the two of them running the business part time, Puricelli says they'd need to bring on more people to make that a reality. They're also hoping to expand into other areas of the Midwest, as they're mainly St. Louis-based with some offerings for Kansas City and Columbia-based Mizzou.
"Our goal is to kind of keep having fun with it and see where it goes," she says. "We're in a good place right now and want to keep the momentum going. We love our town and are excited to have a product that helps celebrate that."
Flyover Living, flyoverliving.com