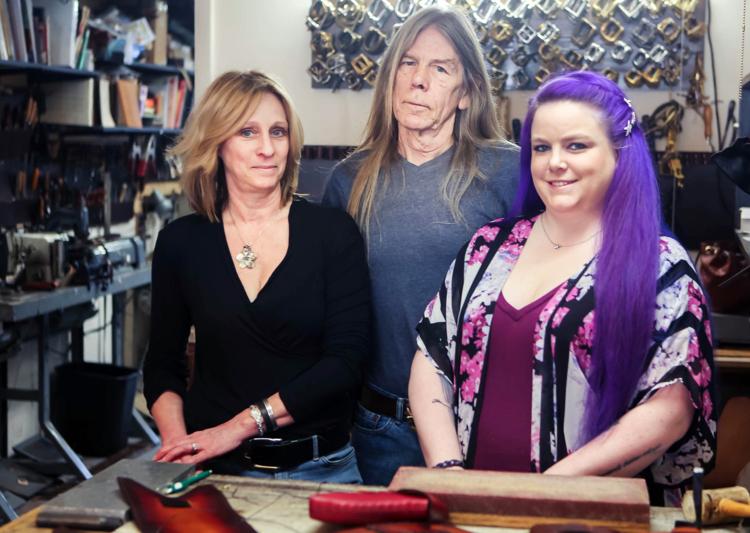 Imagine the perfectly worn-in leather bag. Be it a briefcase or a shoulder bag, the too-cool characters in movies always seem to sling exquisitely aged leather carryalls over their arms, as if to show they care about quality – but are simply too chic to shop anywhere you've heard of. Such bags are timeless statement pieces growing better with age, yet so different from any purse or tote you could find at department stores.
That's because bags like that come from Sole Survivor.
Looking at a Sole Survivor bag means admiring the designer's craftsmanship, rather than the monogrammed initials that often result in a hefty price tag. And these leather accessories – ranging from bags to belts to bracelets – are designed and made by a family business located in Maplewood.
"Upon seeing the store, most people know right away that there is something special here," says co-owner Kay Rye. "Our store visitors seem to know instinctively that the goods are made here and that they will never, ever have to doubt whether our goods are real leather." She notes the smell of leather is noticeable even before you walk in.
"Steve began working with leather in the '60s," Rye says of her husband, the original craftsman of the family. "Times were similar to today, with many people working creatively with their hands in a variety of mediums – he fell in love with leather and decided at that time to make it his life's work." In the late '70s, Rye joined the field "as a direct result of meeting and dating Steve."
Before opening a brick-and-mortar shop, the Ryes – not yet parents – traveled around the country selling their leather goods. They settled down when they started a family, and opened a physical store in the Central West End in 1985.
"My natural interests are more toward the business end of things, so that made us a good fit," Rye says. "Today, I'm still responsible for everything business-related, and I keep my hands in the work as much as possible. I make a lot of belts, both ready to wear as well as custom for people who have special buckles. I also spend time making sculptural vessels out of leather."
The Ryes, both Illinois natives, have been doing business and living in St. Louis since 1985. After its launch in the Central West End, their business also spent a number of years in the Delmar Loop. The current location on Manchester Road occupies the heart of the main Maplewood strip.
"We noticed Maplewood many years ago and always thought about coming here," Rye says. "One day, we were strolling Manchester and noticed a little shop for rent. We looked at each other and knew what was coming next. It was a whirlwind, and within one month, we moved and opened up for business in Maplewood [in February 2015]. It's been the best decision of our career!"
Over time, the Ryes' three children have all worked in or with the shop in some capacity, and their youngest, 29-year-old Annie, has worked with the company full time for 10 years, doing a combination of her own designs and stock pieces.
Sole Survivor has a few recurring customer favorites, Rye notes, like the drawstring Kate bag and the miniature Donna bag. "But the real specialty is our one-of-a-kind bags – Steve usually makes a collection of six to 10 bags two or three times a year," she says. "The starting point for these collections is the leather – it's always going to be something special like moose, bison, hair-on calf or something especially fine from Italy. Right now, he is working on a collection of elk-skin bags – with fringe. We haven't done fringe in years!"
Most Sole Survivor leather comes from European tanneries, says Rye; she notes her and her husband's 40-plus years of experience when explaining that they're able to use their extensive knowledge of and experience with hides when working with vendors. "We've developed relationships with our suppliers, who regularly send us samples and keep us up to date on new colors or processes," she says. "From these sources, Sole Survivor selects leathers that best suit the particular needs of the styles, designs and quality goods produced daily in the workshop."
Products from Sole Survivor are on the higher end pricewise, without seeming needlessly expensive. Belts start in the mid-$50s and cuffs in the low $30s. Wallets and bags vary in price; the Clark Polished Edge Tri-Fold Wallet, for example, lists for $68, and leather satchels range in price from $225 to $395. Even a few unusual accessories – like holiday bells attached to decorative leather straps– are available at this local leather haven.
"Something else that sets Sole Survivor bags apart from even high-end bag-makers is that there is no compromise on hardware," Rye says. "No 'gold-toned' or 'silver-toned' metals here – just good solid brass, chrome or stainless steel." The shop defines itself as "making original goods and timeless designs using the best of the most interesting leathers and quality hardware," and one visit will prove that the idea of quality is woven – and stitched and buckled and sewn – into every aspect of Sole Survivor.
Sole Survivor, 7312 Manchester Road, Maplewood, 314-932-1475, solesurvivorleather.com