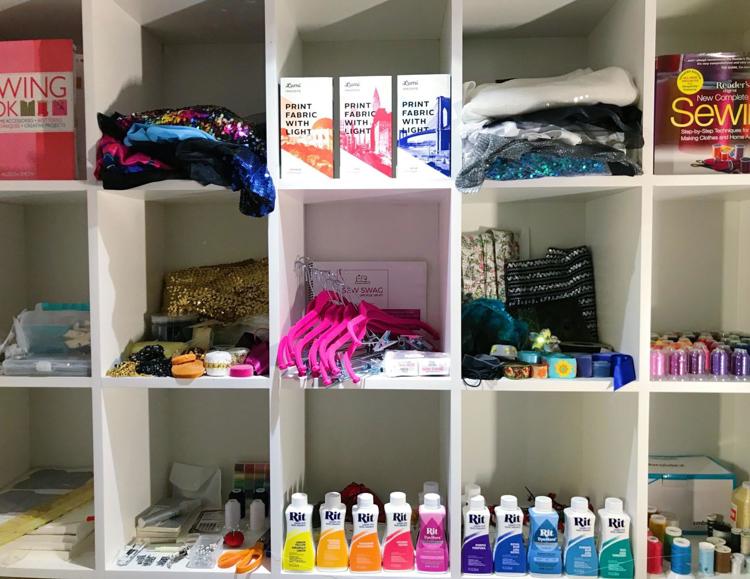 The nonprofit Sew Swag, first conceived half a decade ago, transforms Dillon Eisman from "just" an impressive young man with impressive tandem local fashion credentials into a classic triple threat.
The first of those local credentials centers on Eisman's postsecondary educational career; he's majoring in business organization/strategic management and minoring in fashion design at Washington University in St. Louis.
The second of his credentials locally involves Eisman's inclusion among the eight current residents of the Fashion Lab, the Saint Louis Fashion Fund's distingué branch providing a "combination of professional and educational opportunities promoting community, collaboration and connection within the fashion industry," according to the fund's website.
All of the preceding leads to Sew Swag, Eisman's extraordinary amalgam of philanthropy and fashion, in which he redesigns (dyeing, sewing, embroidering, embellishing), repairs (mending holes, removing stains, correcting defects, fixing wayward zippers and buttons) and redistributes pre-owned and now stylishly reenvisioned garb on the streets, in shelters and through other channels.
In one of many examples of sartorial transformation on Sew Swag's website, a pair of common blue overalls lost (snip, snip!) its worn-looking lower legs, received a spot of rejuvenating navy dye and had its denim shoulder straps exchanged with fanciful butterfly- and glitter-adorned replacements.
The origin of Eisman's humanitarian effort dates from 2014, when he experienced a lightbulb moment about so-called street people, who characteristically lack walk-in closets, mahogany armoires and similar appurtenances – and whose personal wardrobes, because of their deracination and peregrinations, often constitute only the clothes on their backs.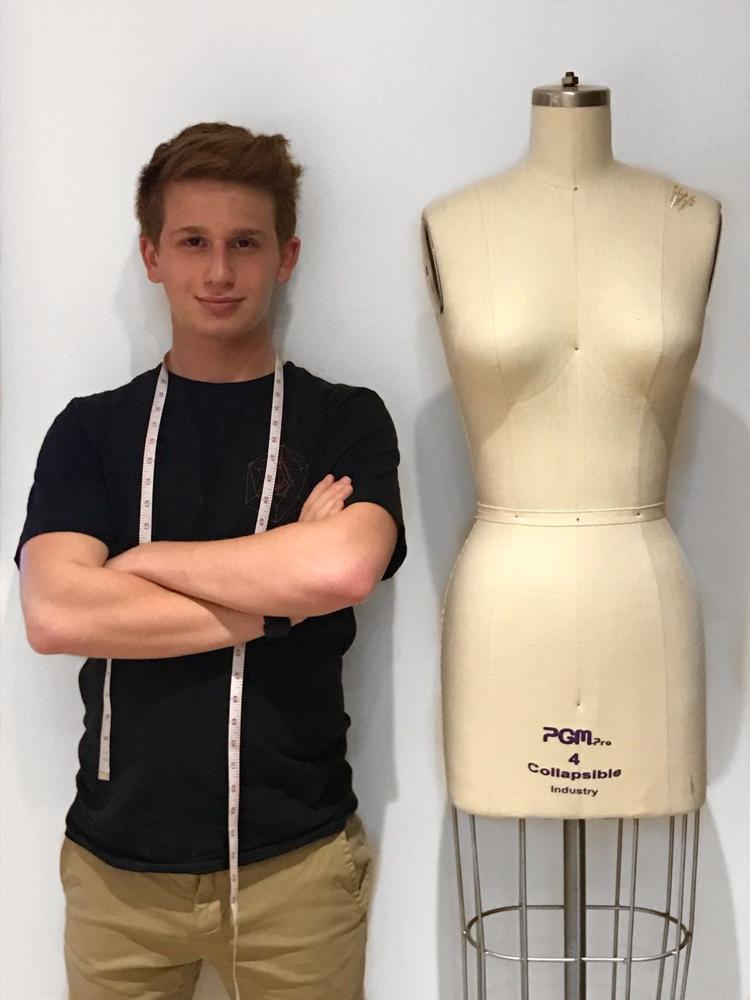 "Most people don't think twice when they choose their outfit every morning," Eisman says. "Neither did I, until visiting a homeless-youth LGBT shelter, where I realized that not everyone has the simple privilege of deciding what they want to wear every day. Since then, I set out to ensure that no one who receives secondhand clothing ever feels second-rate."
Having defined a socioeconomic problem, Eisman embarked on an initial solution with a bag of his mother's clothing awaiting donation to charity and a sewing machine also borrowed from his mother.
After teaching himself to sew, Eisman transformed that bag of castoff clothing into "new" couture, which he then gifted to the shelter previously mentioned.
And one thing led to another.
"Five years ago, Sew Swag was merely a project that I envisioned to help the youth at the homeless shelter by providing them with not only new [to the donees] but fashionable clothing," Eisman says. "Having no background experience in fashion design or business, I had to learn everything on my own, from hemming fabric to constructing a website. When I first started, I had no dress form or patterns, so I would use bowls to cut circle skirts and soup pots from my home kitchen to fit waistbands.
"After that initial donation of 'upcycled' outfits to the homeless-youth shelter, I recognized that my small efforts also helped restore the dignity and confidence necessary for these teens to begin their transition off the streets. This is what encouraged me to continue my project at other homeless centers and expand my project into a 501(c)(3) nonprofit organization."
For support, Eisman tried everything from pressing business cards on assistant managers at local boutiques to cold-calling executive board members of international apparel corporations.
"Eventually, after countless rejections, I convinced Abercrombie & Fitch to believe in my idea of repurposing outfits for a greater purpose," he says of that storied New Albany, Ohio-based retailer, whose donations of textile "waste" and unsold merchandise allowed him to launch the effort on a greater scale. Other affiliations, with such name entities as Goodwill and the nonprofit Project Narnia, followed. "Their influential partnership has made it possible for Sew Swag to upcycle hundreds of garments and subsequently help hundreds of people, customizing outfits to the specific needs and style preferences of individuals."
Eisman continues by providing a salient example: "In Southern California, I followed a mobile shower truck – Lava Mae, which provides hygiene services to the homeless in the greater Los Angeles area – with another clothing nonprofit – Project Ropa, which delivers basic necessities to the streets. I remember one day when it was raining, and there was a pregnant homeless woman in only a tank sleeve dress. We were able to give her a new jacket from the rack to keep warm, and it was fulfilling to know that she can now be comfortable and stylish at the same time."
Eisman hails a handy and timely increase in corporate social responsibility and ethicality in the apparel industry. "It's so inspiring that a major fashion company like Abercrombie is taking the first steps toward sustainable fashion and is willing to partner with grassroots organizations like Sew Swag," he says.
Characterizing his experience with the homeless as "incredibly humbling," Eisman adds: "Particularly with homeless LGBT youth, many of whom are abandoned by their families at a very young age due to their sexual orientation or identity, I've recognized that the stereotypes of homeless people are far from the truth. People often assume that the homeless are dangerous or have substance-abuse issues, but these people are just that: people, just like everyone else."
Although Eisman's initial altruistic efforts took place in Southern California, he intends to expand them here. "Going directly to the streets for distribution has allowed me to reach the homeless who aren't sheltered due to the lack of community resources/affordable housing," Eisman says. "I plan on continuing this model, in addition to partnering with local shelters, in St. Louis to benefit as many people as possible."
Springboarding from his Sew Swag experience and Wash U studies, Eisman also has been developing a social enterprise called Relux, designed to allow at-risk youths themselves to become part of the upcycling process and gain financial independence.
For that enterprise, he credits the fund as "truly a remarkable atmosphere [that] has allowed me to actually begin launching Relux with the resources it offers. Having a collaborative space with other local designers is very motivating. The Fashion Lab has built a sense of community for me, which is what makes the [fund] unique. They've made the revitalization of the fashion scene in Missouri not only possible but exciting."
Almost inevitably, Eisman addresses his own couture influences and enthusiasms: "The fashion designers I most admire are [the late British couturier] Alexander McQueen, for his artistic genius with unconventional materials and elaborate attention to detail, and [the American designer] Johnson Hartig of the brand Libertine, who influences Sew Swag's aesthetic of using embellished streetwear to spark joy."
As the final stitch in the Sew Swag narrative needlework, Eisman reflects on the subject of his Wash U minor. "To date, what's most delighted me about fashion design is being able to take something old or damaged and restore it to something beautiful," he says.
"With Sew Swag, the clothing itself is not only restored, but the confidence of those in need who receive secondhand clothing is also restored. This idea is what inspired Sew Swag's motto: 'Upcycle. Uplift.'"
Sew Swag, 310-926-3378, sewswag.org