In years past, glasses were more of an obligation – a necessity for those of us less fortunate than the few who maintain lifelong 20/20 vision. But in the year 2020, glasses are designed in a myriad of colors and styles, making them a desirable fashion accessory.
"Glasses have become cooler," explains Tony Erker, owner of Erker's Fine Eyewear in the metro area. "Where people used to just get them to wear them, now they get them – some without prescriptions – and they want to make a statement, or they want something that's different and unique."
Erker says the majority of people who visit his business do so because they're seeking a distinct look. According to the company's website, Erker's carries the largest selection of independent eyewear locally, with more than 6,000 frames in each of its two main locations: Eye Roc in St. Louis' Central West End neighborhood and Erker's in Ladue.
 "Independent eyewear [designers] typically design eyewear and nothing else," Erker says. "A lot of it is hand-polished and handmade, so it's all fine-detail work that's high quality."
Erker's produces two independent collections out of St. Louis, Erker's 1879 and NW77th, and sells its collections in many doctors' offices and eyewear boutiques across the country. Erker's also owns the sunglasses boutique Soleil By Erker's in Plaza Frontenac and manufactures and sells glasses in Copper Hinge on the Delmar Loop.
Nowadays, people often treat eyewear as a statement piece similar to a piece of fine jewelry, Erker says. A quality pair of glasses is an investment one dons for years, and it can be trendy or timeless, depending on the buyer's style and need.
Right now, Erker says that bright-colored and clear frames, both metal and plastic, are all the rage. Erker notes people are moving away from black- and tortoise-colored frames and instead favoring bold choices that make them stand out. He notes that celebrities like comic Howie Mandel and media giant Oprah are setting eyewear trends with their colorful choices, as is FOX Sports broadcaster and St. Louisan Joe Buck, who wears a pair of crystal-clear frames from Erker's.
"They're setting trends as far as what other people are seeing and what they want," Erker says. "When people see celebrities wearing vibrant blue frames, they're more likely to try it out themselves."
Thick, chunky frames are also growing in popularity, Erker adds, and bigger tends to be better. As for frame shape, he says it's best to make that choice based on the buyer's face shape rather than any specific trend.
Erker says his staff members are trained to help customers determine the pair of glasses that will work best for the individual wearer's lifestyle and look. The wearer's face shape, skin tone and hair color are all taken into consideration.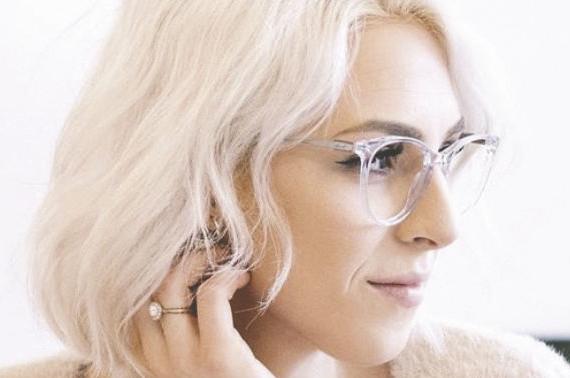 "There's a lot of options out there, and buying glasses is one of the hardest things to do because people typically wear them for five years at a time," Erker says. "If that's what you're going to do, and it's becoming part of you, then find something that you know is going to last five years and something that kind of makes you feel good to put on every day. And that's hard to do when you are doing that by yourself, so we're here to kind of help navigate that process."
Erker's is a family-owned company that has been passed down through five generations since 1879. Throughout its years of dealing in various lenses, from prescription lenses to camera lenses, the company has remained committed to providing the latest lens technology, Erker says.
Today, blue light coatings and filters are very popular lens features. Adding this layer of protection to eyewear helps reduce the risks of eyestrain, macular degeneration and other negative health effects that come as a result of overexposure to blue light from screens. Erker says glasses with blue light filters built into the lenses hardly appear different from any other pair of glasses, whereas a lens coating might produce a slight color tint. Erker's started offering this lens technology about five years ago, and the demand for it continues to grow as people spend more time using computers and smartphones.
Erker said his company is currently expanding its brand into the European market and has plans to open a new store in the Saint Louis Galleria in May. 
Erker's Fine Eyewear, erkers.com