Mister Guy is staying in style with a chic new location, fresh branding and a deeper selection of trendsetting designer duds – all while maintaining its perfectly tailored approach to service that has kept customers coming back for more than 40 years.
The area staple for timeless yet trendy men's and women's clothing and accessories will unveil contemporary stores for both Mister Guy and MG Women (formerly Mister Guy Women's) during grand reopening celebrations beginning the week of Oct. 14. Still in Ladue Market, the men's and women's shops are now adjacently located at 9817 and 9811 Clayton Road, respectively, in Ladue.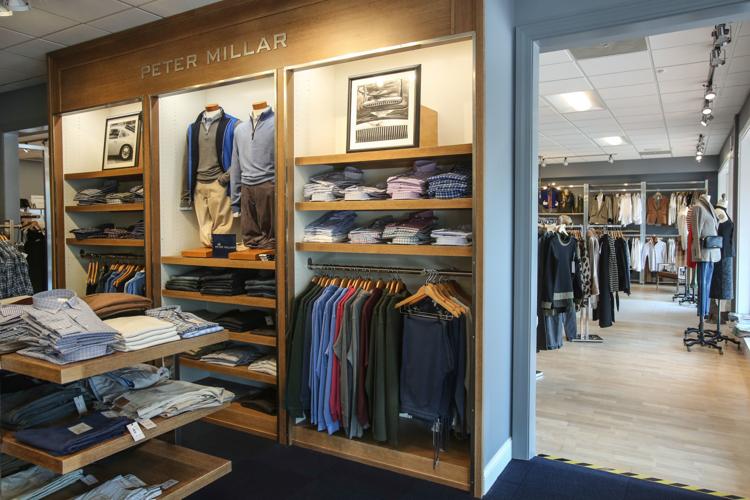 Terry and Carla Felumb began working for Mister Guy in 1976 and purchased the company in 1992. Now the Felumbs are passing the longtime family business to its second generation – their daughter, Sarah Rhim, and her husband, Simon – who moved back to St. Louis from San Francisco in 2009. "My parents are still very involved, and for the past 10 years, [Simon and I] have been in the process of learning the business, moving it into the next generation," Sarah Rhim says, adding that she is leading buying and marketing for the women's side, while her spouse is on the sales floor and handling the marketing and buying for the men's store.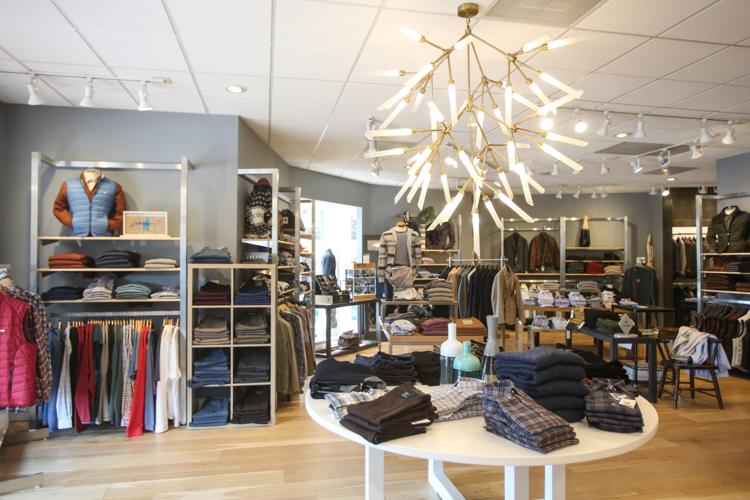 The newly connected Mister Guy and MG Women is a step forward, with a nod to the past, Rhim says. "Historically, the stores were combined men's and women's stores, but because of a real estate opportunity in St. Louis, they opened separate shops," she says. "We wanted to return to the heritage of the brand and put our store back together to make it more convenient to shop both our men's and women's [collections]."
The new location has been renovated from top to bottom to feature a contemporary feel with modern décor, including chrome and mixed-metal fixtures, as well as a gray, white and navy color scheme. "The clothes really pop against the color palette," Rhim says. "It's a contemporary, updated and cosmopolitan shopping experience." 
With the new space also comes a rebranding, including fresh logos; new e-commerce websites, misterguymens.com and misterguywomens.com; and, of course, the new name for Mister Guy Women's. "We changed the women's store name since Mister Guy Women's was always sort of a misnomer if you didn't know the history of the brand," Rhim says. "We wanted to give it a fresh start."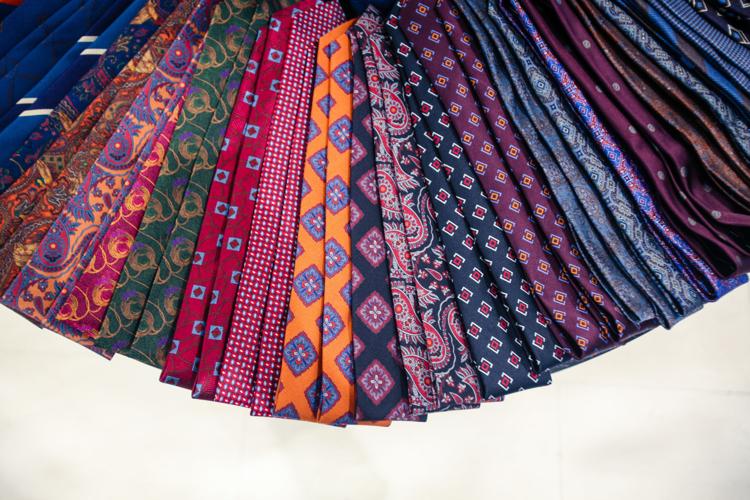 Both reimagined stores will still offer many of the same quality, contemporary local to international brands customers know and love, including Peter Millar Crown men's apparel and Peter Millar luxury menswear and womenswear.
The remodeled men's shop also will carry a new, exciting inventory for fall, from an expanded shoe selection and a Stenstroms custom shirt department to an even bolder emphasis on tailored clothing, Rhim says. "Tailored clothing has the biggest expansion," she says. "It will have 400 square feet of additional selling space, and a much larger selection of off-the-rack tailored suits and custom suit options."
The revamped women's store, which carries everything from traditional yet trendy dresses to denim and accessories, will add Trask shoes and Trina Turk clothing, as well as continue to offer newer brand favorites such as Veronica Beard designer wear and MOTHER jeans.
Although the shops have a new look, Mister Guy's signature services will stay the same, from free gift wrap to complimentary alterations, fittings and full styling services. "We will still have the same great customer service people are used to," Rhim says. "Everything we do at Mister Guy and MG Women is for our clientele … from the current makeover to the brands we carry to the custom, free tailoring offered – even down to the details of birthdays, personal style preferences [and] special ordering."
The week of grand reopening events will include the stores' fall brand release, gift raffles and a red-carpet celebration featuring food, cocktails, DJ Who and a photo booth from 6 to 9 p.m. on Oct. 16. "The theme is to wear your favorite Mister Guy outfit – vintage or new," Rhim says. "It will be a celebration of our heritage, as we look both backward and forward and embrace all the support from everyone in St. Louis for the last 40 years."
As Mister Guy looks to the future, it will employ a renewed effort to mesh its men's and women's shops with combined events, such as a Trask shoes trunk show next month, Rhim says: "We want to continue to bring the stores together."
Mister Guy and MG Women, 9817 and 9811 Clayton Road, Ladue, 314-991-5262, misterguymens.com, misterguywomens.com