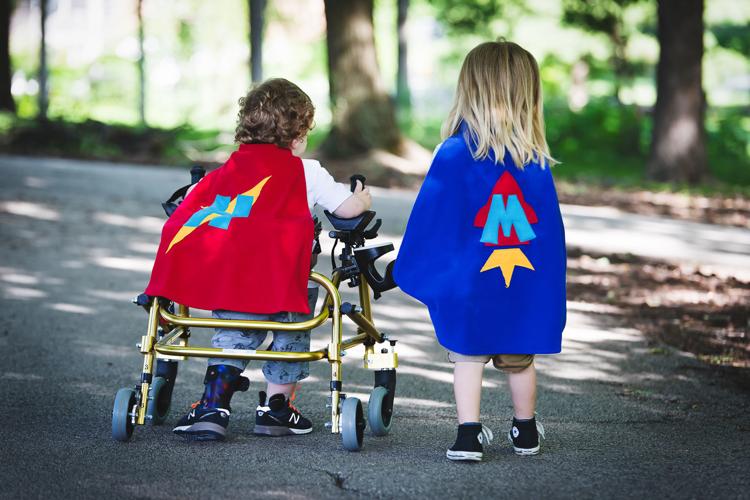 The world could use more superheroes. Luckily for us, in just five years, Kirkwood native Robyn Rosenberger has created more than 12,000 TinySuperheroes.
In August 2012, Rosenberger was on a mission to make the perfect present for her superhero-loving nephew.
"My husband had given me a sewing machine, but I hadn't used it yet," Rosenberger says. "I thought I would make him a superhero cape, which was like my first sewing venture."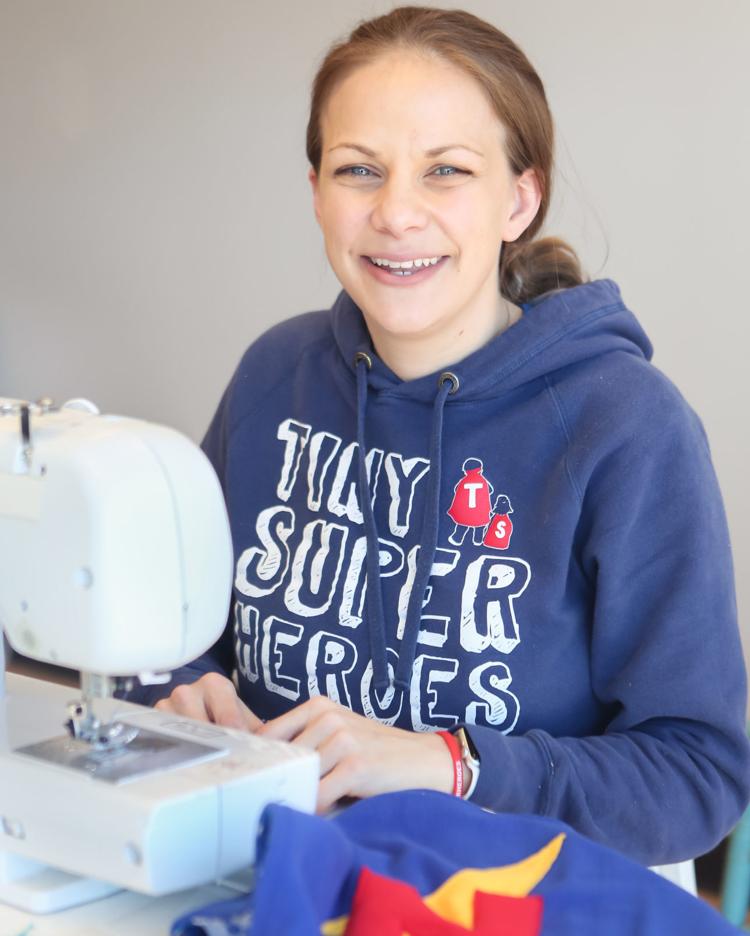 Rosenberger was so happy with the result she ended up making more for the other superheroes in her life, including her dog and 1-year-old son. It wasn't until she was introduced to an Illinois girl named Brenna, though, that the capes took a new meaning.
"She was born at the same time as my first son and was expected to be healthy, but [she] was born with a severe skin disorder that is very rare," Rosenberger says. "The first week of her life was kind of touch-and-go, and her mom had started a blog to keep her family updated … The thing that touched me most was that in light of this very difficult situation – because it is a very difficult disorder – the posts were very positive and very grateful, and I really love that. I thought, 'Brenna must be a superhero, and she needs one of our capes.'"
In January 2013, Rosenberger sent a cape to Brenna – who thus became the very first member of the TinySuperheroes squad.
"It kind of lit a fire in me," Rosenberger says.
She searched for more blogs with similar stories, finding 10 more online. "I sent them capes – kids [who] were battling anything from epilepsy to traumatic brain injury to heart defects," Rosenberger says. "We sent them around the country at first, and then around the world. Once we started, it just kind of kept going."
Approximately six months in, though, Rosenberger was balancing a full-time job at a software company, family life and a home "taken over" by capes.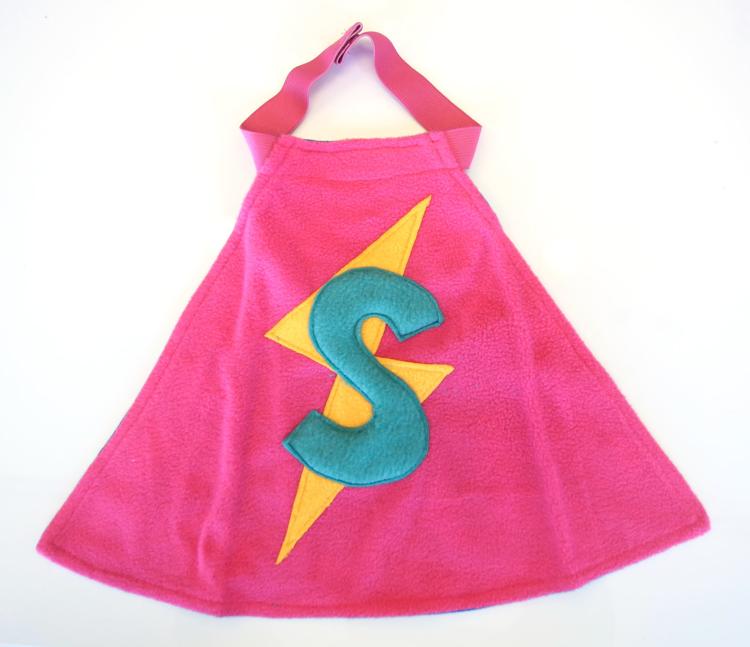 "I would come home from work, and I would make capes," she says. "It was obviously unsustainable."
But when Rosenberger received a call at work from ABC World News' Diane Sawyer for an interview, she knew she had to make a decision.
"I said, 'I either need to say no to this and stop making capes, or I need to quit my job and figure out a way for this to replace my job,'" Rosenberger says. "And so that is what I did. It was probably the biggest leap of faith I have ever taken."
Today, Rosenberger has sent more than 12,000 capes to children around the world in hopes of empowering extraordinary kids as they overcome illness or disability.
"I was delivering a cape to a child at a hospital who was dying," Rosenberger says. "His whole family was there. It was obviously a very sensitive situation. At this point, he had been intubated, couldn't talk, but when I got there and met them and showed him his cape and had him feel the cape, he smiled, and his mom started crying. She said he hadn't smiled in, like, a week. It was so tremendous; it's something so small that can touch [someone] in such a really big way, and that can kind of experience is validation of that for me."
TinySuperheroes capes are made with fleece on one side, flannel on the other.
"The capes are like a blanket," Rosenberger says. "This is like something these kids bring with them to every appointment or every surgery. They go through the wash. It's more like a memento than anything else."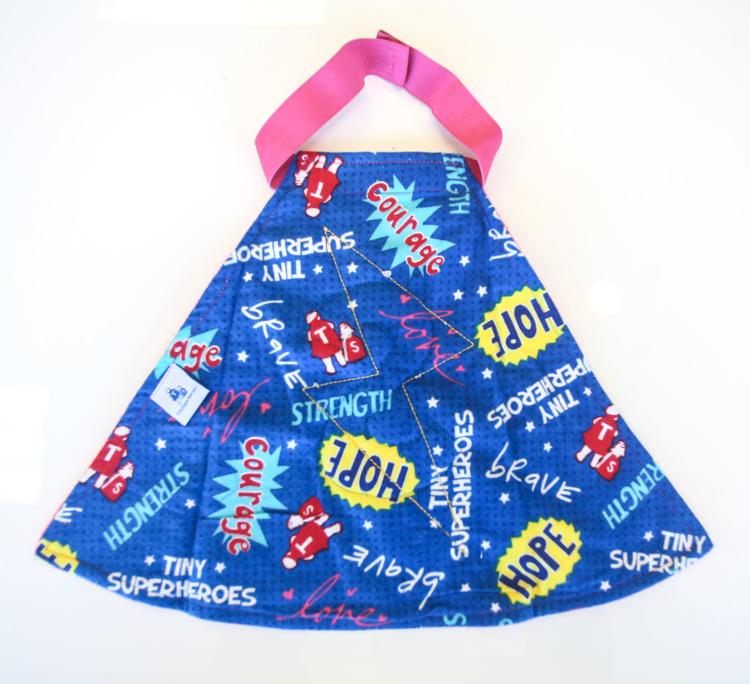 The sizes range from newborn to teen and are available in blue, red, purple or pink. Capes can be adorned with a lightning bolt, a rocket ship, a star, a heart and even a child's initials. Although the prices range from $47 to $57 based on personalization, Rosenberger notes that she never wants a cape to be a financial burden on a family, so TinySuperheroes accepts both nominations and sponsors.
"We are getting, like, 15 to 20 nominations a day," Rosenberger says. "Sometimes it's someone who knows them, but often it is someone who just wants to help, and so we just give it to the next child on the waiting list, so that's how we fulfill being able to send all the capes." She adds that families can nominate their own child for a sponsored cape.
For those wishing to sponsor a cape, it's $30. Those generous individuals will receive a postcard denoting who received the sponsored cape.
"It [the postcard] might say, 'Your cape went to Milly, who has childhood arthritis,'" Rosenberger says. "Maybe you never even knew that was a thing, so it's really neat to be able to help the families in that small additional way."
TinySuperheroes now also has its first home (besides Rosenberger's), located in Webster Groves.
"I've never had a spot where I could invite our TinySuperheroes to come, and this is a storefront location that is accessible," Rosenberger says. "I'm so excited to invite them in."
According to Rosenberger, the space will be an office, a place to sew and create capes, and a place where TinySuperheroes can strengthen their superpowers during special missions.
"We do activities with our TinySuperheroes where they can earn patches for their cape," Rosenberger says. "Right now, we do that through the mail, and it will be exciting for our local ones to come and be able to complete their mission with us."
The missions are part of a $10 monthly membership. Members will receive an envelope each month with a mission, helping TinySuperheroes practice a new superpower. The envelope will include a trading card of a real-life TinySuperhero who is the leader of that month's mission. Missions, though, are not to practice typical Batman-and-Robin feats of endurance and skill; they are more everyday skills that Rosenberger considers heroic.
"We've had strength, joy, kindness, courage, and there is an activity to practice that superpower," she says. "For kindness, we did an acts-of-kindness chain. So they had different links that had different acts of kindness on it, and then they got to write their own. And as they completed them during the month, they got to add them to their chain."
For Rosenberger, though, these missions are solely about empowerment.
"I want TinySuperheroes to be something active in their childhood so that we are constantly affirming their self-esteem over and over and over again," she says. "I think that's the only way it can actually work. A lot of these kids might never be on a typical T-ball team, and I want TinySuperheroes to feel like their team, their squad."
TinySuperheroes, 20 Allen Ave., Suite 160, Webster Groves, tinysuperheroes.com