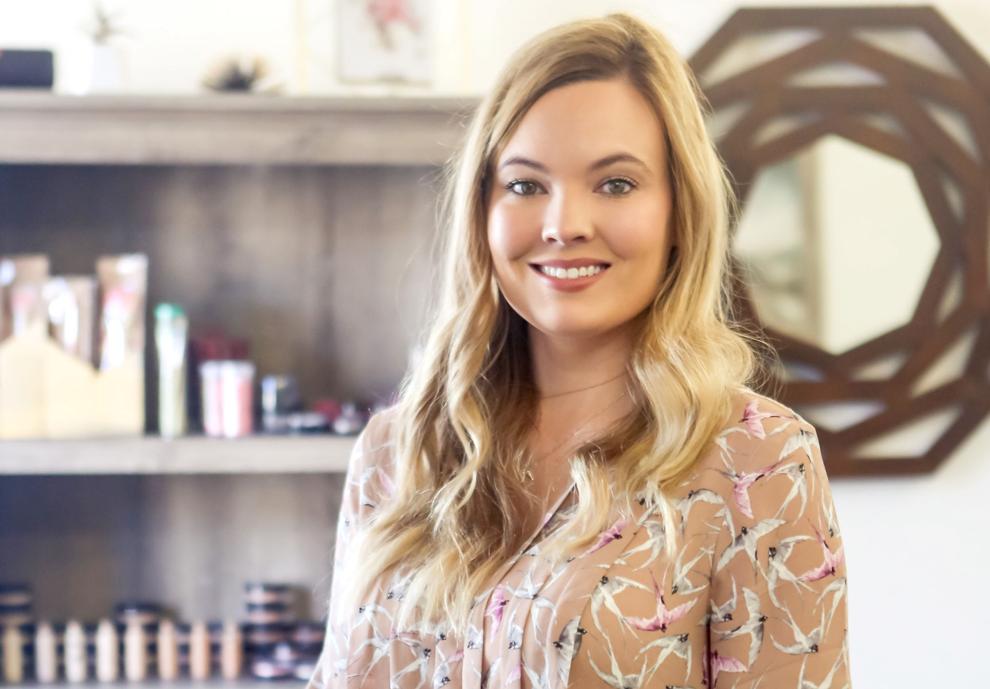 Laura Meyer has returned home – or nearly home, at least. After years in Colorado, this Edwardsville, Illinois, native has come back to the greater St. Louis area and founded her own beauty studio, Mineral and Root, this February in Maplewood.
"I feel really fortunate to have found my space in Maplewood," says Meyer, an esthetician and makeup artist. "On trips back to St. Louis, I always looked forward to visiting the shops and restaurants on Manchester [Road] and Sutton Boulevard in Maplewood. Every time I came back, I noticed it was continuing to grow. There is a lot of love for small business in Maplewood, and I'm proud to be a part of it."
Mineral and Root is a full beauty studio offering everything from makeup lessons to lash extensions to facials, Meyer explains. The products featured and used are made by "indie brands" – small, off-the-beaten-path lines she says have high standards for ingredients.
"I'm very selective about the products that I bring into my studio and am especially fond of small-batch, handmade skin care," Meyer says. She notes Nahla Beauty and Colorado Aromatics as examples, saying they provide a unique experience during facials. "They use blends of floral essences and herbs like lavender distilled fresh from the farm to enhance the sensory experience as well as leave you with glowing skin," says Meyer. "I get 'this smells better than any lavender I've ever smelled before' a lot! It's not a synthetic fragrance, and it's actually benefiting your skin."
This focus on natural ingredients and skin care was cemented during her time working in Colorado. Meyer entered this field in 2003 and was introduced to the founder of Alchemy Minerals, Bre Ortola Morris, in 2014. Alchemy Minerals makes natural, paraben-free makeup products. "The mineral makeup I had used in the past wasn't as easy to work with and didn't have the same effect on the skin as the Alchemy makeup," Meyer says. "I loved the glow it gave without the powdery texture. I began working with Bre at Alchemy Face Bar full time."
In addition to her job with Alchemy Minerals, Meyer was working in the Colorado Aromatics lab with Dr. Cindy Jones. Jones' skin care line is an herb-based "farm-to-skin" collection that allows consumers to know more about the products' origins than the average line. "It was invaluable to see ingredients in their raw form and learn their role in the formulations," she says. Through this, Meyer gained insight on cosmetics creation and the skin care experience.
"I was so inspired by these women and what they had created; I knew when I moved back to St. Louis, I had to take these amazing brands back with me," Meyer says. "I couldn't imagine doing my job without them. That is why I decided to open Mineral and Root: I'm very passionate about sharing what I've learned on my journey in this industry with my clients."
Another passion? Teaching clients how to navigate and use makeup. "The beauty industry can be so overwhelming, and I consider myself as a partner to my clients to help them sort through all the noise," she says. A two-hour lesson costs $75 and includes custom facial maps for at-home reference.
At Mineral and Root, Meyer offers not only makeup tutorials and the services using her favorite products but also lash extensions ($110 to $230), lash tinting ($20) and other salon staples. All offerings maintain the dedication to quality ingredients.
"The name Mineral and Root came from my passion for high-quality mineral makeup and plant-based skin care," Meyer says. "I love simplicity, and when I was brainstorming names, I had written down those two words for inspiration and realized that together they pretty much define my mission."
From the name to the ingredients, simplicity is the backbone of this young local business.
Mineral and Root, 3010 Sutton Blvd., Maplewood, 618-580-8226, mineralandroot.com