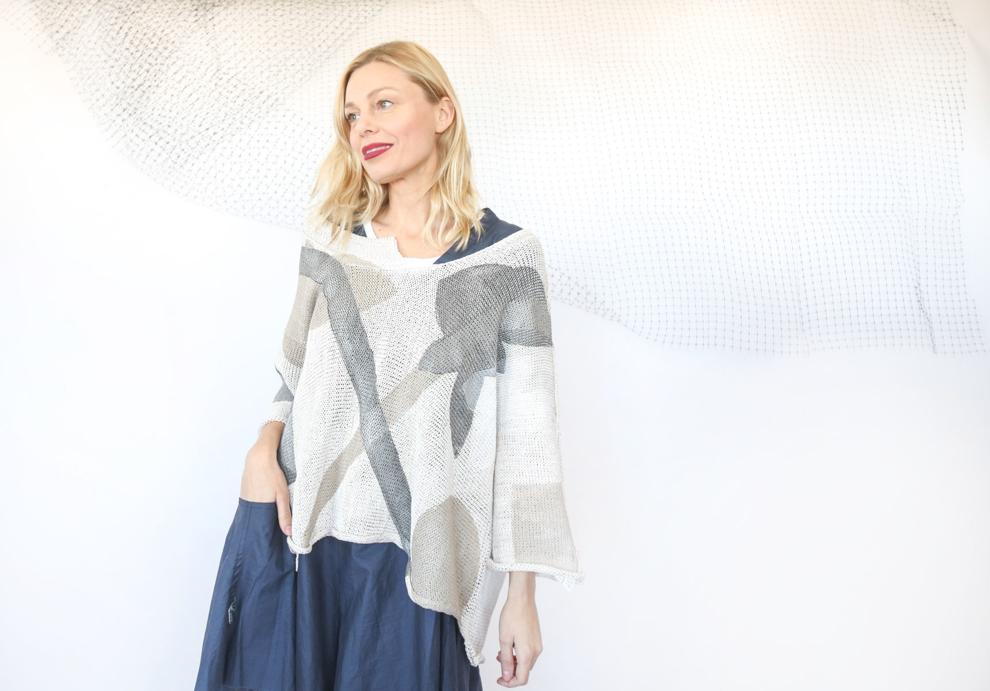 In the area unofficially known as St. Louis County's Chinatown sits an unassuming storefront. Written in red and blue, the sign reads "Universal Gifts & Furniture" – and the new tenant, although not a traditional gift shop or furniture store, has decided to keep it. That storefront is scheduled to become the second location of local fashion brand SKIF International.
SKIF is headquartered in the St. Louis neighborhood of The Hill (2008 Marconi Ave.), but it will expand next week to that storefront at 1800 Olive Blvd. Customers can pop in to test the brand's unique knitwear or peek inside the creation process at this artistically cluttered studio-store hybrid. While the HQ won't change, the line – which has been designing American-made knit items since the '90s – has grown enough to need that additional storefront. And the text on the pre-existing sign may provide a new avenue of creativity.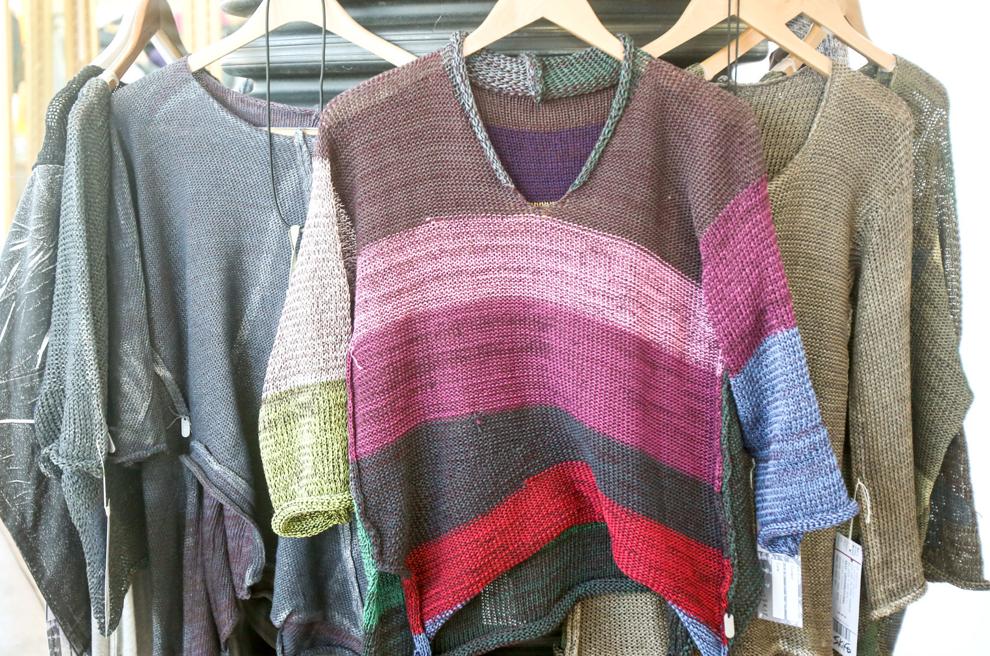 "Maybe we will make furniture this next season … ," says Nina Ganci, SKIF's founder. "We already recycle the boxes that fabric arrives in and all the plastic water bottles into sofas, and we make poufs from all recycled plastic bags." Ganci explains she fell in love with the sign that came with the Olive Boulevard building. "I don't usually consider retail sales at SKIF because I am focused on the boutique orders," Ganci says. "Now, I am looking at what we make for great people who come in to shop, how it looks on them and how it looks displayed in my own store. I am having tons of fun and freedom with décor. I have developed a real appreciation for the boutiques that sell SKIF."
Ganci, who learned to knit from a plastic knitting machine with coordinating VHS tape, founded SKIF after leaving the Fashion Institute of Technology in New York in 1992. She was drawn to designing with this medium "because it was a way of making the garment and the fabric. With just yarn, the shape of the garment is created."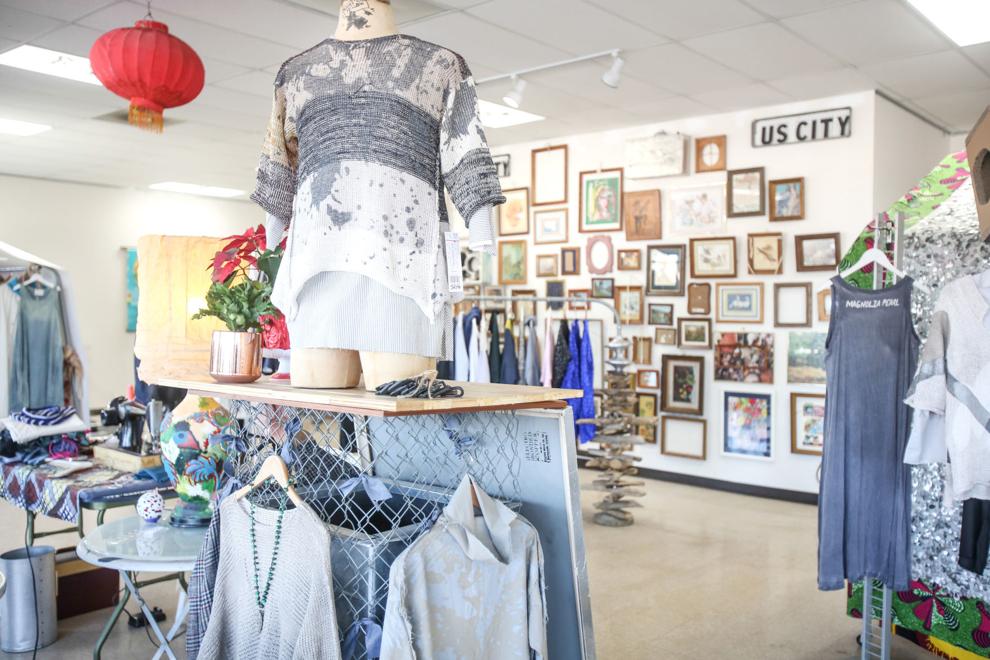 The shapes of the items from SKIF, overall, are loose and flowing. Sweaters are typically seen with curled hems and the occasional deconstructed element – a feature especially seen in The Matrix and The Matrix Reloaded, which put the Hollywood spotlight on the brand when nearly 100 SKIF items were made for those sci-fi cinematic blockbusters from 1999 and 2003. Although that was roughly 20 years ago, the general aesthetic of many of the items remains the same, but the options for embellishments, material and pattern have expanded.
SKIF's knit items are frequently used as canvases for artists in the brand's plethora of collaborations. Currently, such collaborations include area artists and designers Pele Prints, Q Liu and Michael Drummond. "Sometimes I am shocked at how the garment becomes a beautiful work of art," Ganci says of these items.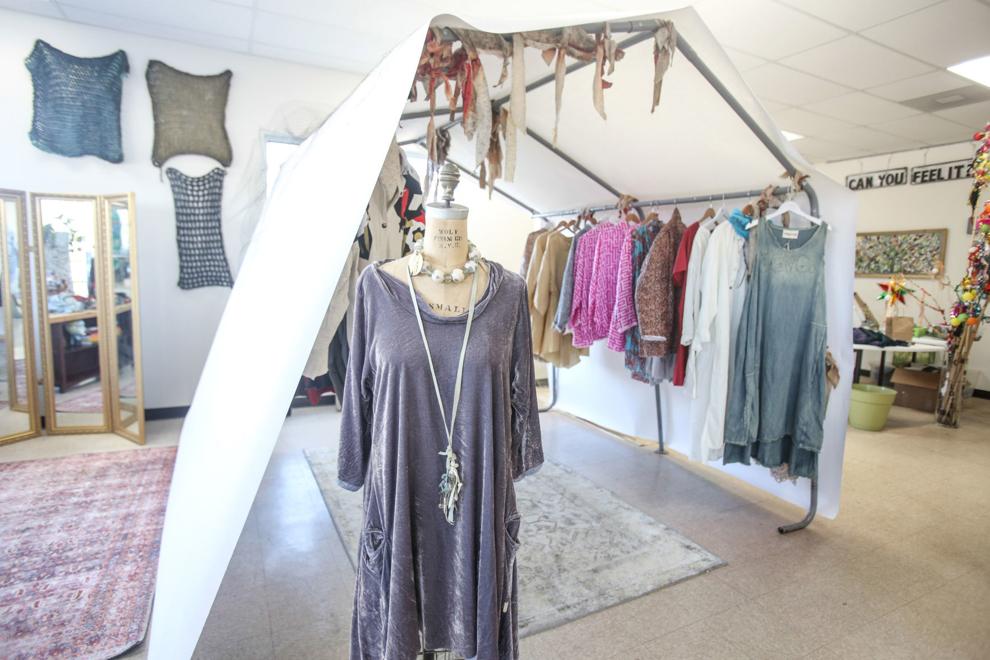 Although SKIF might be known best for its knitted tops, the brand includes a full array of artisanal items, including casual tees, dressy tunics, flowing pants, stylish accessories and more. "The reaction I see from people shopping at SKIF is fun surprise, relief from the default world and joyful freedom," Ganci says. Want a piece of your own? Items can be spotted at boutiques around the world, as well as the two area locations. Patterns are even available for purchase to learn to make your own SKIF cardigans, floor poufs and pullovers.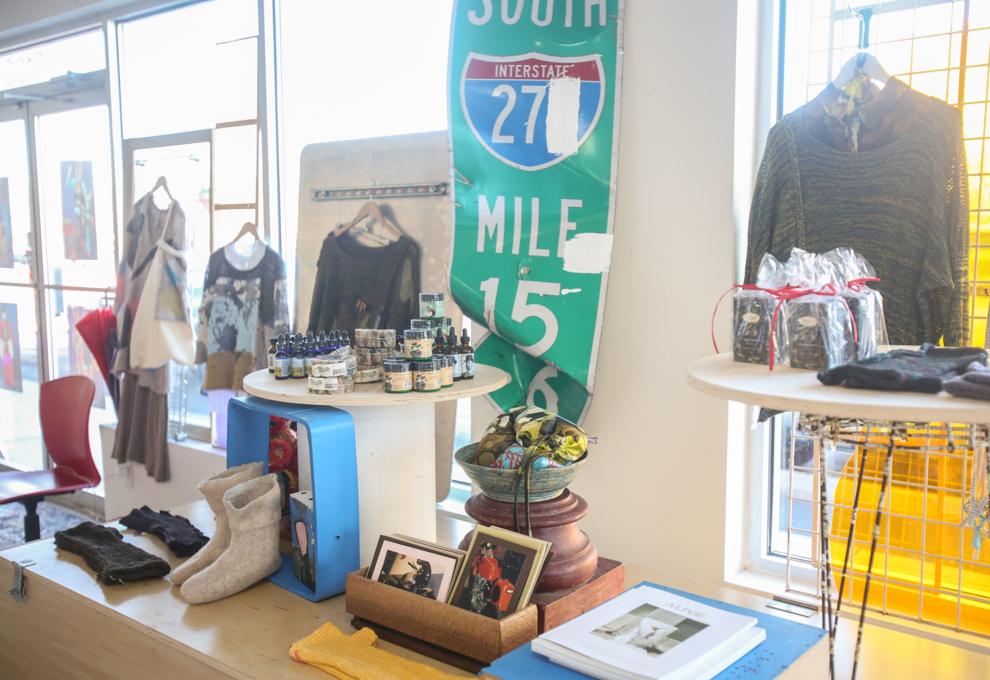 "Our design process is always evolving and is directed by our fans and friends, who tell us what they like about our line," Ganci says, noting special requests, mistakes or total accidents as potential areas for design inspiration. "The main purpose for a new style is to create a piece of clothing that can be comfortable and flattering to the body. Every body is shaped so differently, and we do not make clothes for mannequins."
Customers can celebrate the new University City location of SKIF for a ribbon-cutting on Tuesday, Jan. 22, at 11 a.m.
SKIF International, 2008 Marconi Ave., St. Louis; 8100 Olive Blvd., University City, 314-773-4401, skifo.com