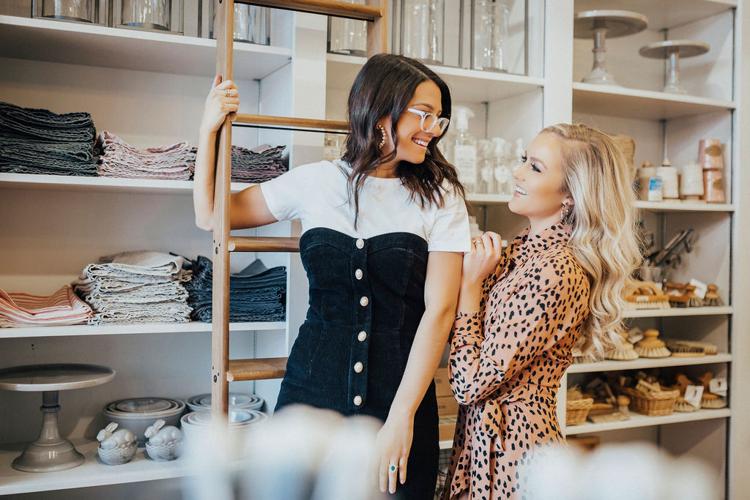 In this time of social media and other digital technology, it's easy to stay connected to friends and family wherever they are. But technology, of course, can be a double-edged sword, often taking the human connection out of relationships. And in the case of marking significant life moments, it can reduce well-intended warm wishes and congratulations to likes, comments and emoji-filled texts.
Entrepreneurs Uvie Ahlering and Madi Bruns are looking to change that with Honey Door Co., a lifestyle brand specializing in curated gift boxes. The pair's online storefront officially launched over the Memorial Day weekend.
"We both really had this inclination individually for years, that we just wanted to do something on our own," Bruns says. "And then we finally found the right idea and someone willing to try it with us."
In a very St. Louis way, Ahlering, born in Israel, and Bruns, originally from Oregon, met through their husbands, who attended high school together. But social media was the true conduit for their connection: Ahlering remembers following Bruns' husband on Instagram, and whenever he'd post pictures with her she'd think, "I feel like I need to be friends with this girl!" The feeling was mutual, and 24 days after connecting, the pair opened a bank account together. Six months later, Honey Door Co. boxes are already making their way through the mail.
The idea, they admit, was personal from the start.
"We both went to college away from home, and we met so many friends and made so many connections," Ahlering says, "and it was so hard for us to keep up with those friendships."
Visiting in person is great when it's an option, and anyone who's survived his or her mid-20s knows the joys of planning your vacation days around a particularly busy wedding season. But what about those life moments that are big, but not quite big enough to necessitate a cross-country flight or a rented tux – like purchasing a home, landing a job promotion, becoming parents for the first time (yes, puppy parenting counts) or recovering from a difficult surgery?
Bruns recalled a particular time when she wanted to send a care package to an out-of-state friend, but her options were limited to flowers, a fruit arrangement or a stuffed bear hugging a "get well soon" balloon. It was in meeting and partnering with Ahlering that they dreamed up a better experience.
"We know what our friends love," Ahlering says. "We know what we ourselves talk about and love, and we want our friends to have those same things. So we created a company that would make it easy for them. We're taking the inconvenience of gift-giving out of the equation."
Favoring unique goods that are ethically sourced, often organic and local when possible, Honey Door Co. launched with three different curated boxes. First, Bay-Bee Boy and Bay-Bee Girl boxes are perfect for expecting parents, with items like tiny moccasins and newborn-size soft sleepers. Swarm Wishes, the brand's self-care option, is great for any time a "thinking of you" moment occurs, packed with items like a jade roller and Lark Skin Co.'s Lavender + Mint Lotion Bar. Finally, the Found Your Honey box is for any ladies navigating the wedding-planning track and provides treats like matching eye masks and a leather pouch for stowing day-of essentials.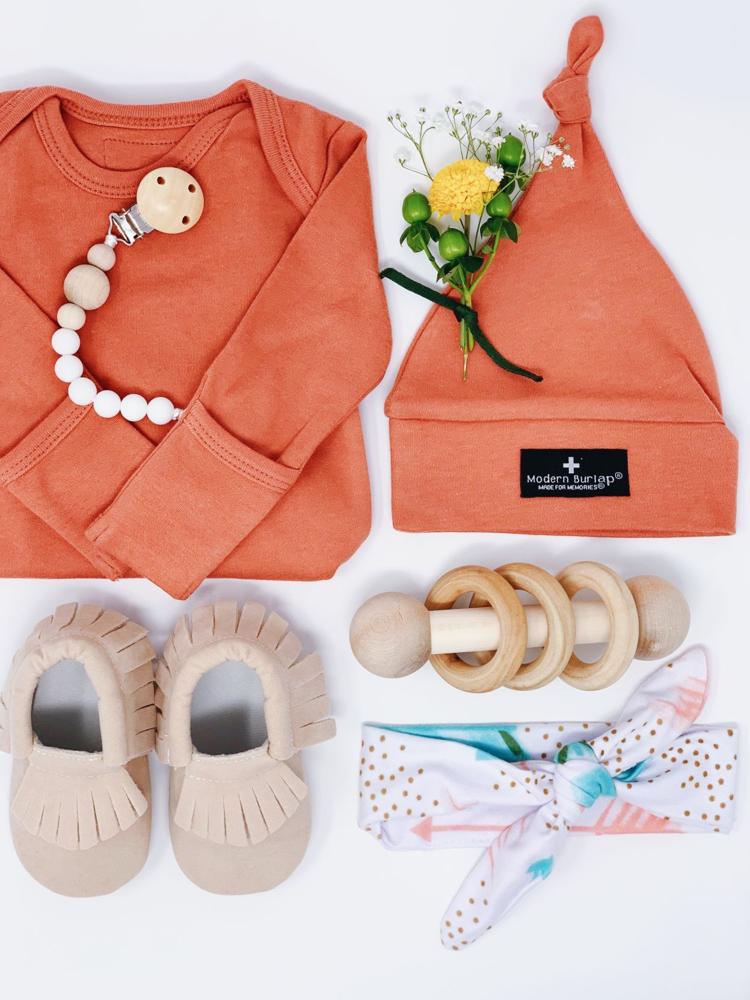 Ahlering and Bruns say their goal is to avoid generic items that the receiver might be tempted to regift. "When you're gifting, you don't want it to be clutter or mass-produced," Bruns says. "We selected things that people will be excited about in the moment but also will want to keep forever."
Adds Ahlering, "You can get, get, get so much in today's world, but I think it's really important to pick mindful items that people would genuinely use."
Each box will be delivered to the giftee's home within two days of purchase in the brand's signature cheery packaging (the box, crinkled paper stuffing and the packing tape are all recyclable) and will contain at least five items accented with a fresh floral bundle, a menu card detailing the customized contents and a personalized handwritten note. All boxes will retail for under $100, although they are valued much higher.
Ahlering and Bruns – who, in addition to Honey Door Co., both have full-time jobs in marketing and information technology sales, respectively – both mention the strong support they've received from friends, co-workers, family and the community at large as they've launched their passion project.
"We're really grateful for the St. Louis small-business community that understands where we're at because they've been there, too," Ahlering says.
"Everybody is willing to help; if you ask for it, it's there. St. Louis rallies – it's not about competition or who is doing what. Everyone just wants St. Louis to boom."
The pair is just as committed to giving back to the community with Honey Door Co., with a portion of the proceeds from each box going toward a local cause or charity. They've selected Haven of Grace, a St. Louis organization that provides a home for young women who are homeless and pregnant, as their first organization and say they are excited to rotate additional organizations in the future.
Looking ahead, they already have pop-ups in the works with other local businesses, and they plan on adding more themed boxes, such as a House Swarming box for first-time homeowners or boxes for when your friend becomes a puppy parent, and switching up the items as the seasons change. They're even open to working with individuals or companies for more white-label offerings like corporate gifts and wedding welcome boxes for wedding guests traveling for a wedding. Regardless of where they go next, the spirit of the company – revitalizing the act of connecting people through gifts – will remain front and center.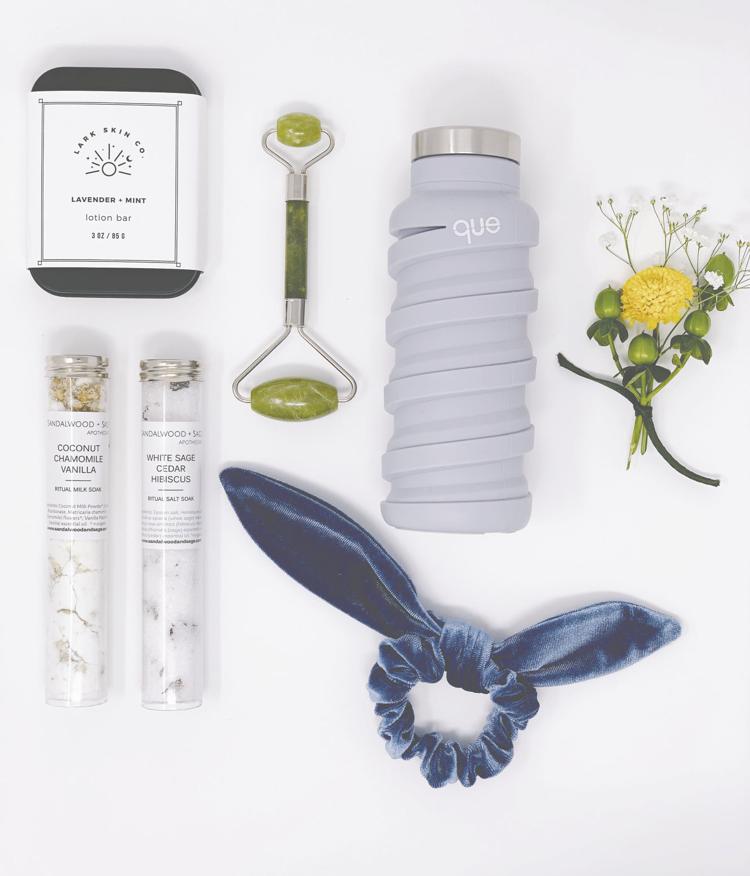 "We know how amazing people in St. Louis are, and that means you have friends in different places," Bruns says. "So we're here to provide a service that's going to keep those friendships and connections alive, thriving and meaningful, and we're honestly honored to do that."
Honey Door Co., honeydoorco.com