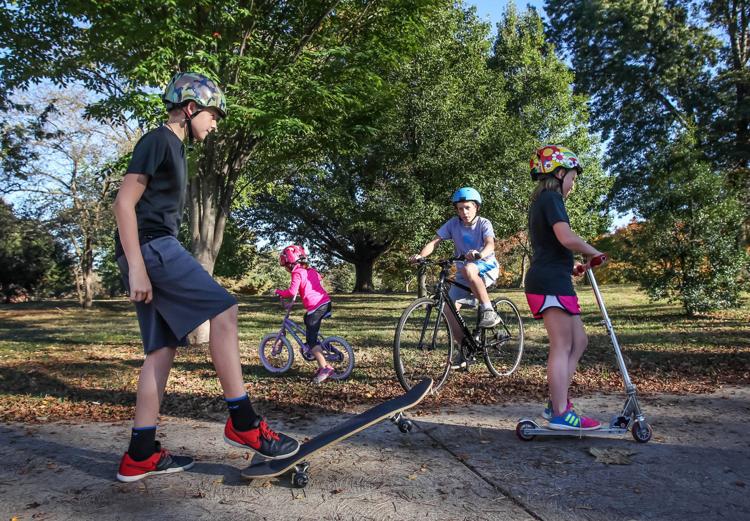 Monster eyes. Flower power. A winged skull. However your child likes to express his or her mood, preferences and personality, Brainskinz has a helmet with an interchangeable shell to fit his or her unique noggin.
Brainskinz – the brainchild of two St. Louis fathers, John Polansky and Brad Gilmore – launched this summer to offer helmets that kids actually want to wear instead of regarding them as nuisances. "Like many people in local neighborhoods, I watch kids ride around on bikes without helmets – they're often dangling from handlebars as opposed to kids having them on their heads," Polansky says. "So, I started asking my kids and their friends why they don't wear helmets." It turned out the most important factors to kids were comfort and style, Polansky explains, so Brainskinz set out to address those issues. "Our overall goal is to put more helmets on kids' heads for a reasonable price," he says.
Polansky, with a career background in sales and technology, and Gilmore, an accountant, spent five years brainstorming and developing Brainskinz as they also worked full-time jobs. "We wanted to make stylish helmets and began thinking of lots of different designs and shapes, but we realized safety also was a huge issue," Polansky says. The pair put their heads together and came up with a U.S. Consumer Product Safety Commission-certified base helmet and decorative shells that could easily be fitted onto it. "Based on mood, kids can change out their helmet style in a simple fashion," Polansky says.
St. Louis-based industrial-design firm Fred Sparks helped Brainskinz design the helmet and shell, while local advertising and marketing agency Boxing Clever creates the colorful, playful graphic designs that appear on the shells according to Polansky's ideas. "We want to satisfy both boys and girls, so we have six designs: monster eyes, bandana, flower power, skull with wings and two flavors of camouflage – newly available for the holidays," Polansky says. Next year, Brainskinz plans to release a new shell design each month, including a sci-fi fighter theme and a DJ design with headphones, a disco ball and lights shining on a dance floor. Holiday designs, sports teams and pop-culture favorites, from top TV shows to movies, also might find their way onto Brainskinz shells in the future, Polansky adds.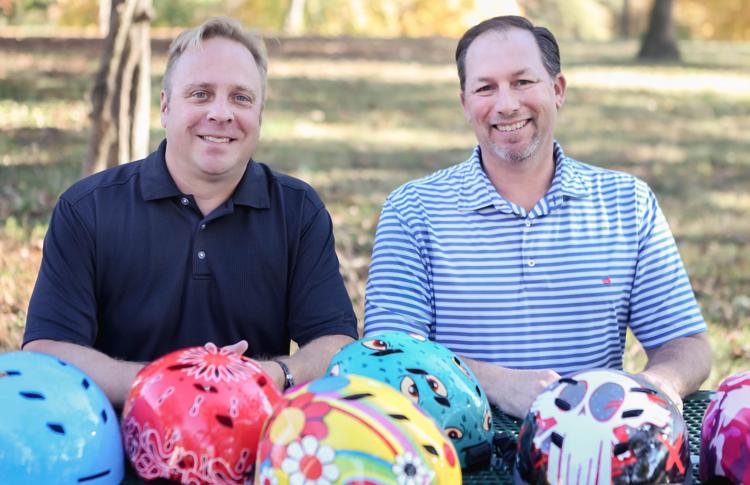 The helmets, which are produced by a Chinese manufacturer, feature a hard-plastic base, topped with a pliable thin plastic, as well as the company's signature brain graphic. On the inside, a soft material similar to satin provides comfortable padding, and an exacting dial allows for the helmet to be accurately sized to a child's head. An adjustable clasp-style chin strap also helps ensure the perfect fit. And hard-plastic interchangeable shells fit onto the helmet using two nylon straps, located on the front and back. A brief video on brainskinz.com shows consumers how to switch the shells. "Our goal is that it's so easy a kid can do it in about 30 seconds," Polansky says.
Although the helmets can be adjusted to a range of sizes, they are aimed to attract boys and girls between ages 8 and 13. The helmets are safe for kids to wear while operating virtually any nonmotorized vehicle – bicycles, scooters, skateboards, in-line skates and more.
Brainskinz helmets and shells are currently available at brainskinz.com and ship in about three to five business days, although through the holiday season, orders will be hand-delivered within two days of purchase, if needed. "Next year, we want to go to trade shows to get into retail stores," Polansky notes.
The creative helmets are being received well by parents and kids alike. "Parents thank us for making something their kids want to wear," Polansky says. "And kids like the idea of being able to change out the shell designs and that there are new shells coming soon."
Although Brainskinz is a small business, it's thinking big for the future. In addition to a slate of new shell designs next year, Polansky says the company hopes to launch a design studio section on its website, where kids, parents and designers can create shell designs to be voted on by visitors. "If a design gets enough votes, we will manufacture it and maybe even pay royalties on it," he adds.
Brainskinz is excited about shaking up the helmet industry for kids, Polansky notes. "At the end of the day, we just want kids to be safe, and we want them to realize that it only takes one time to injure your head."
And with a stylish flair that can be changed to match a child's mood at the swap of a shell, he believes kids are more likely to keep those helmets on their melons.
Brainskinz, 877-542-6669, brainskinz.com