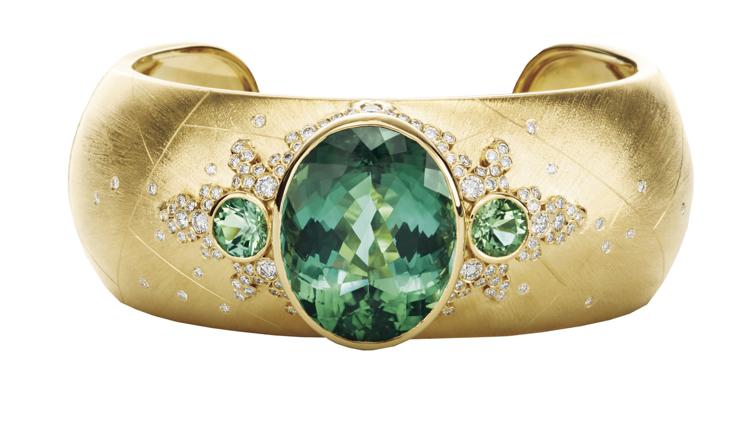 When the new Adam Foster Fine Jewelry storefront opens later this year, visiting clients will quickly pick up on the similarities between the designed space and the work of the designer. Specifically, the showroom has been meticulously designed to provide an elevated and personal experience from the moment you enter.
"I think you should experience the jewelry as well as experience buying the jewelry, and it doesn't have to cost more to do that," Foster, the company's namesake, says. "When you walk into a store, it should be just as exciting for you to talk about that as it is to talk about as the thing that you bought."
That "thing" you'll buy, if you're unfamiliar with Foster's work, is a custom-created, handmade luxury piece of jewelry created and manufactured locally.
And that storefront you'll be walking into? It's the realization of a career-spanning dream. That dream began in south St. Louis – in a 10-foot-square studio, to be exact – before moving to a 2,400-square-foot space on the municipality's Hill neighborhood, then to Clayton, then to a minimalist studio in Brentwood before finally settling into its current studio and soon-to-be completed storefront in Frontenac, set to open by the end of the year.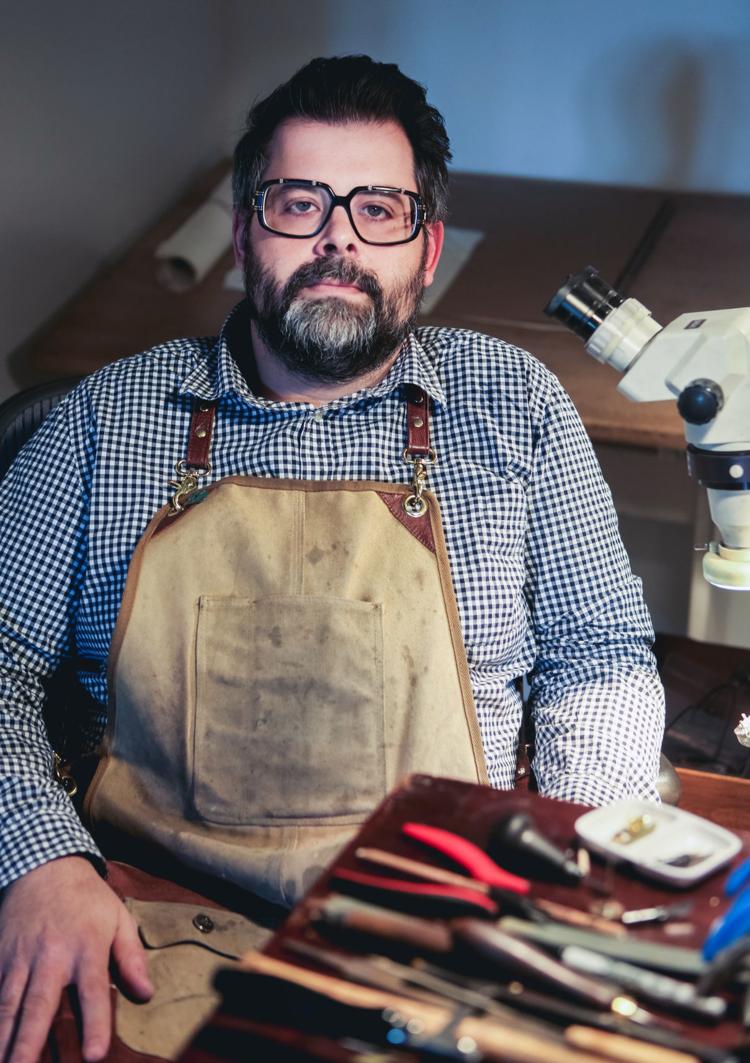 Foster, the St. Louis-born and -raised man meeting you at the door, is immediately welcoming. In fact, his penchant for the personal, coupled with his constantly evolving expertise, has shaped his 15-year jewelry career and made his eponymous line what it is today: an internationally sought-after brand showcased at Bergdorf Goodman, Neiman Marcus and Saks Fifth Avenue, as well as a host of smaller independent jewelers across the country.
Foster's two main collections, the Constellation Collection and the Plume Collection, both speak to his unique aesthetic and taste. The former collection features hand engraving and gem faceting, and recalls the attentive artistry of the Italian Renaissance and old-world Italy – a country which Foster visits often, to which he shares a family connection and which inspired his lifelong love of craftsmanship. The latter collection was created out of Foster's love of the outdoors, with pieces inspired by the intricate detail and uniqueness of each feather on various birds he observes during weekend trips to the countryside. Outside of his collections, the designer regularly creates bespoke pieces, crafted specifically to the individual personality of the wearer.
"I like to think of it as modern jewelry with a nod to the past," Foster says of his aesthetic. "We're looking for these pieces of jewelry that will stay in your collection and be passed down; they are heritage. I look at it not as much as jewelry, but as a ork of art."
That's not to say his jewelry isn't meant to fit your personal lifestyle.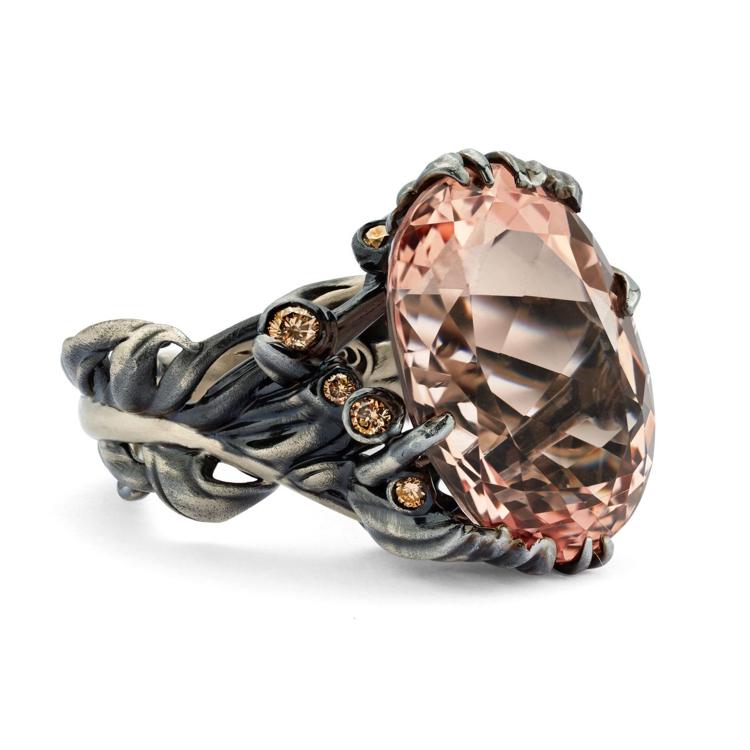 "We make jewelry that is meant to fit in well with other jewelry," Foster says. "My goal is not for it to be, 'This is my jewelry; it doesn't play well with everybody else.' My goal is to be part of a larger collection – that you can wear an Adam Foster cuff with Verdura earrings or something else that you inherited or bought at an auction, and it all fits well together."
Ensuring everything fits and that you're satisfied is not a process Foster and his team take lightly. Visits are by appointment only, with referrals encouraged, because Foster and his team want to prepare for your visit.
"That's so we can make sure that if you're looking for something specific, say, diamond jewelry, we can call back every piece of diamond jewelry we think you might be interested in from all over the world so it's here for you to view," Foster says.
For those interested in a custom piece, once you've decided on what you want (the metal, shape, budget, design and even exact stone), the design process takes four to six weeks, with Foster and his team using everything from hand-drawn sketches to digital renderings so advanced they look like photographs to 3D models you can try on for scale.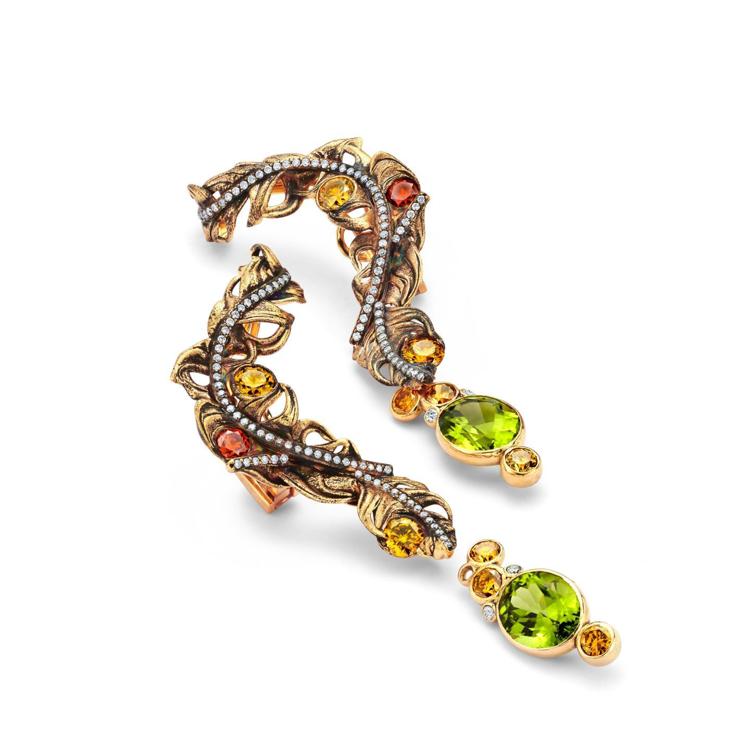 And soon, this process will be made all the more enjoyable by the showroom's atmosphere. Designed by locally based award-winning architecture and design firm Arcturis, it features skylights – natural light is a must – a fully stocked bar, and a dining room and living area. These elements are meant for all visitors to enjoy but will especially come in handy for special events hosted in the space, including the already-scheduled jewelry-themed book club dinner, a festive baby shower and an evening with one of Foster's dealers from Africa, who will visit and discuss his craft of mining with a small group of enthusiasts.
Even the way Foster intends to display his work in the showroom is unique.
"Everyone talks about how retail is dead, but that's because going to a store these days is boring," Foster says.
Translation: You won't find neck forms donning pendants or the standard velvet sleeve of bracelets atop glass cases here. Instead, picture one-of-a-kind jewelry imaginatively showcased in season-specific scenes and dioramas, not unlike curated museum exhibitions. For pieces that are meant to be cherished as works of art, the treatment fits. And for the designer who wants to make shopping exciting again, it's all about the experience.
"I believe that when you come in to my space, I'm hosting you," Foster says. "I'm concerned with how you enter the space, how you feel, what you smell, what you hear, how you enjoy the space. From the moment you walk in, it's hopefully unlike any other store you've ever been in."
Adam Foster Fine Jewelry, 601 S. Lindbergh Blvd., Third Floor, Frontenac, 314-771-3390, fosterjewelry.com