When most people hear the term acupuncture, they get stuck on the needles. However, Christine Barnard, the owner of Modern Acupuncture in Brentwood, is on a mission to prove acupuncture is about healing.
"Our mission is to make lives better," Barnard says. "It's that simple."
Barnard and her husband, Brian, opened the Brentwood location in October, the second in Missouri, after Barnard felt the need on a very personal level.
"I was dealing with sciatica," she says. "I hit a point where I couldn't sleep. I was on pills. I was doing cortisone shots. Nothing was helping. I knew I needed to try something new."
Barnard scheduled her first acupuncture appointment at the Des Peres Modern Acupuncture location and was sold, soon learning about the franchise opportunity.
"Having worked in the health care industry for over 20 years," Barnard says, "the American health care system generally provides things that can help our symptoms rather than things that will heal our symptoms. Acupuncture can help the root cause of many symptoms and help prevent disease. We need to do a lot more to get the word out about acupuncture."
Acupuncture involves inserting tiny needles – smaller than a human hair – into specific points on the head, face, arms, hands, lower legs and feet; depending, of course, on a client's personal needs.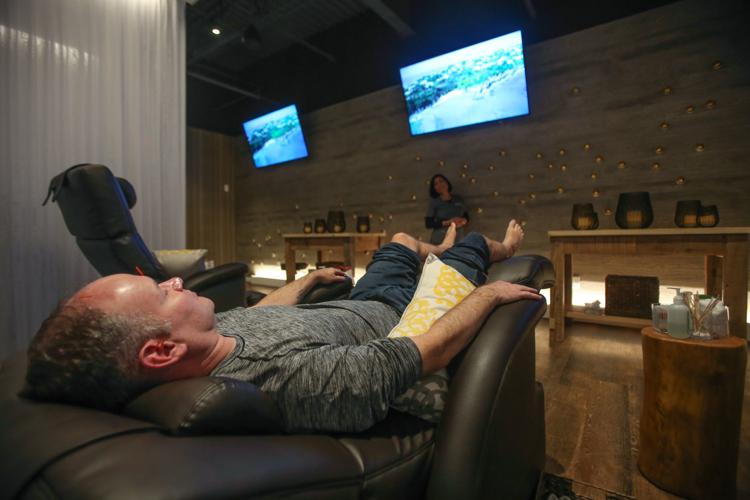 "The needles sit on 'meridians,'" Barnard says. "It's a concept in ancient Chinese medicine. When stimulated properly, they stimulate your immune system and open your flow of energy.
"Acupuncture can help with many different things: stress, anxiety, depression, fertility, chronic pain, nausea related to chemotherapy and other stresses," Barnard continues. "Acupuncture is actually offered in some VA [Department of Veterans Affairs] facilities because acupuncture can help with pain and PTSD [post-traumatic stress disorder]. Our acupuncturists will talk to you about your condition and give you treatment options based on the severity of your condition and what you are trying to work on."
This conversation, of course, takes place prior to treatment.
"You will walk into a very beautiful, Zen and relaxing reception area," Barnard says of a first-time visit. "We have Zen advisors. You do your intake form as a first-time patient, noting what your health concerns might be. Then your Zen advisor talks about the space and takes you to the Zen lounge."
The Zen lounge, a large, community-style space, houses the relaxation stations, where treatment takes place.
"There are curtains and sound machines between each chair," Barnard says. "You'll lay down in a zero-gravity, heated massage recliner and talk to your acupuncturist. It's a very Zen, spa-like atmosphere."
Modern Acupuncture has two treatment options: health acupuncture and glow (cosmetic) acupuncture. Health acupuncture restores balance; alleviates pain, stress and anxiety; enhances sleep; treats disease; and improves a client's overall well-being.
"The health needles are placed from the knees down and elbows down, and some are in the head," Barnard says. "Your needles will be put in a little differently each time, and they document that."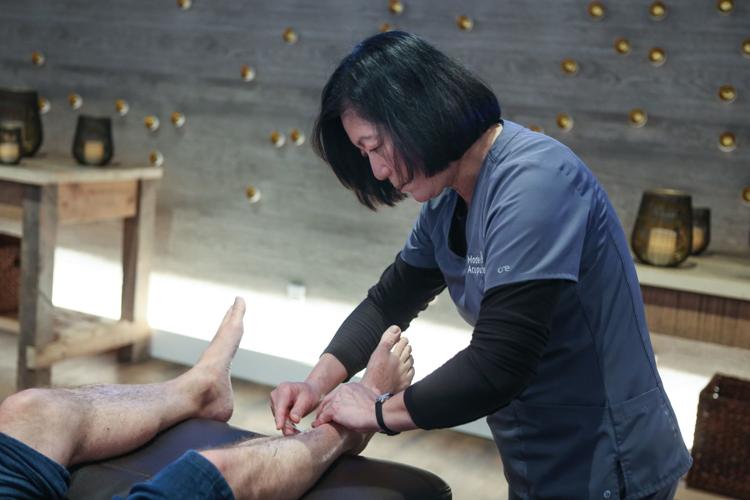 The glow acupuncture, meanwhile, focuses on addressing the surface signs of aging, as well as the internal stressors that contribute to the aging process.
"For beauty (glow), needles are placed in different areas of the face," Barnard says. "A lot of people have a fear of needles, but they aren't like shot needles. When I go get a shot, I don't want to know what they are doing. These needles are thinner than a human hair, and they don't just stick a needle in, but put their finger on that spot. You feel a tingle, but it isn't pain – more of a tingling sensation. Most of the time, you can barely feel them go in, and then you don't feel them as they are sitting there."
Visits take approximately 30 to 45 minutes, and monthly memberships are available. The health acupuncture membership, for example, includes two sessions per month (including preferred scheduling and rollover sessions, among other benefits) for $79 a month, while the glow acupuncture membership includes two sessions per month for $99 a month.
"There is a place for all medicine, but I believe we are at a tipping point with health care in America," Barnard says. "I know we are providing such an amazing service for people. You watch people come out and hug the acupuncturist because they haven't felt relief in a long time. It's an amazing product and service."
First-time visits are complimentary, and Barnard hopes people truly give it a try.
"Only about 5 percent of Americans have tried acupuncture," Barnard says. "We want to get that number up. Our mission is to make lives better. We do that by getting people to try it for the first time and come back. People want to come in because for that short time, they were so relaxed. They are taking care of themselves, so they can take care of their family. They are taking back their health."
Modern Acupuncture, 8480 Eager Rd., Brentwood, 314-310-2980, modacu.com/mo002