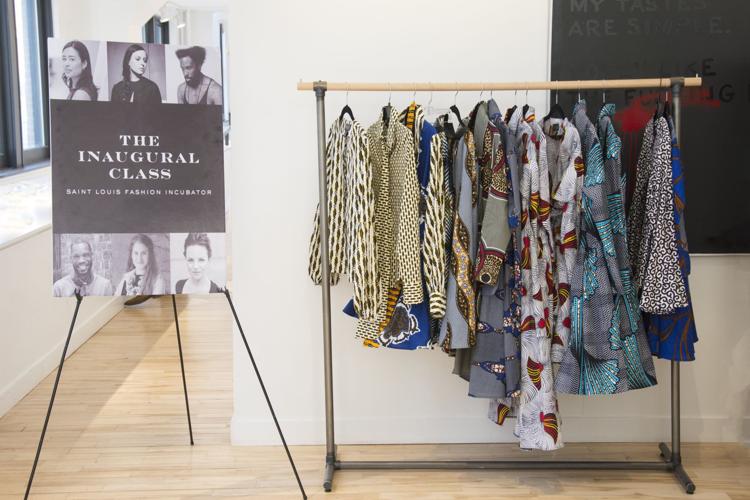 From Beyoncé and Carrie Underwood to Ellie Kemper and Emily Blunt, stars are shining in high-fashion ensembles created by six young design talents right here in St. Louis.
Those six emerging designers are the fiber of the Saint Louis Fashion Incubator, which celebrated its first anniversary in January. The incubator is part of the twofold mission of Saint Louis Fashion Fund, an organization aimed at revitalizing St. Louis' once-golden fashion industry through helping young designers with their own fashion lines and providing public programs to bring back the city's historic garment district. (Read more about it in the Sept. 9, 2016, edition of Ladue News.)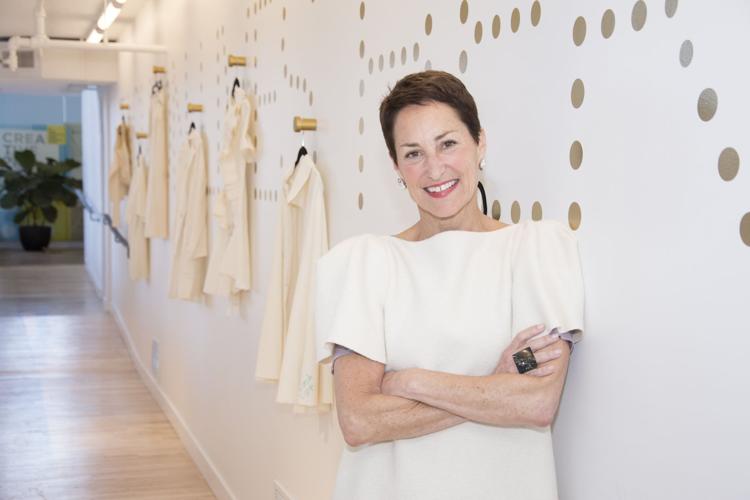 As Saint Louis Fashion Fund board chair Susan Sherman will proudly recount, from the late 19th century to the mid-20th century, St. Louis ranked second only to New York City in the fashion world, designing and manufacturing cutting-edge clothing, shoes and accessories. Today, the fund's fashion incubator sits on Washington Avenue – the heart of the formerly thriving garment district – and has been making industrywide waves in its first year as it fabricates a modern version of that in vogue era.
The incubator has spurred success in sales and industry esteem for its inaugural class of designers, who relocated from across the country to complete a two-year residency at the St. Louis fashion facility. Among honors, two designers have won $50,000 from local entrepreneurial supporter Arch Grants: Reuben Reuel for his creative, colorful, African-inspired Demestik women's line and Allison Mitchell for her stunning, sustainable, handmade handbags. In addition, Mitchell received the industry's prestigious 2017 Fashion Gallery International Rising Star Accessory Award.
The incubator's designers also have been chosen to present at the industry's biggest events, including Agnes Hamerlik's innovative, monochromatic luxury womenswear label at New York Fashion Week in September, while Charles Smith II's couture women's line has been worn by celebrities such as Zoe Kravitz and Angela Simmons, and Emily Brady Koplar's dynamic Wai Ming brand has been worn by stars such as actresses Ellie Kemper and Emily Blunt. Koplar also has created costumes for Saint Louis Ballet, and Audra Noyes, founder and designer of AUDRA luxury womenswear brand, designed uniforms for the World Chess Hall of Fame in St. Louis.
The designers have grown their businesses through industry expert-led classes, fashion talks and runway shows, as well as the incubator's showroom, where their lines are available for purchase. "Our designers have really found a St. Louis clientele," Sherman says. "It's a different experience to shop with us – the designers have face-to-face interaction with customers in St. Louis and the surrounding communities."
The incubator also has immersed the community in the fashion industry through its public programs. Its Miki's Closet fashion truck has made interactive appearances at signature St. Louis locales such as the Missouri History Museum and the Saint Louis Art Museum. And the organization's Speaking of Fashion free public talks, sponsored by the Regional Arts Commission, has featured top designers such as Proenza Schouler CEO Judd Crane last year. The series will continue this year with an April talk by Victor Luis, the CEO of Tapestry (which owns the Coach, Kate Spade and Stuart Weitzman brands).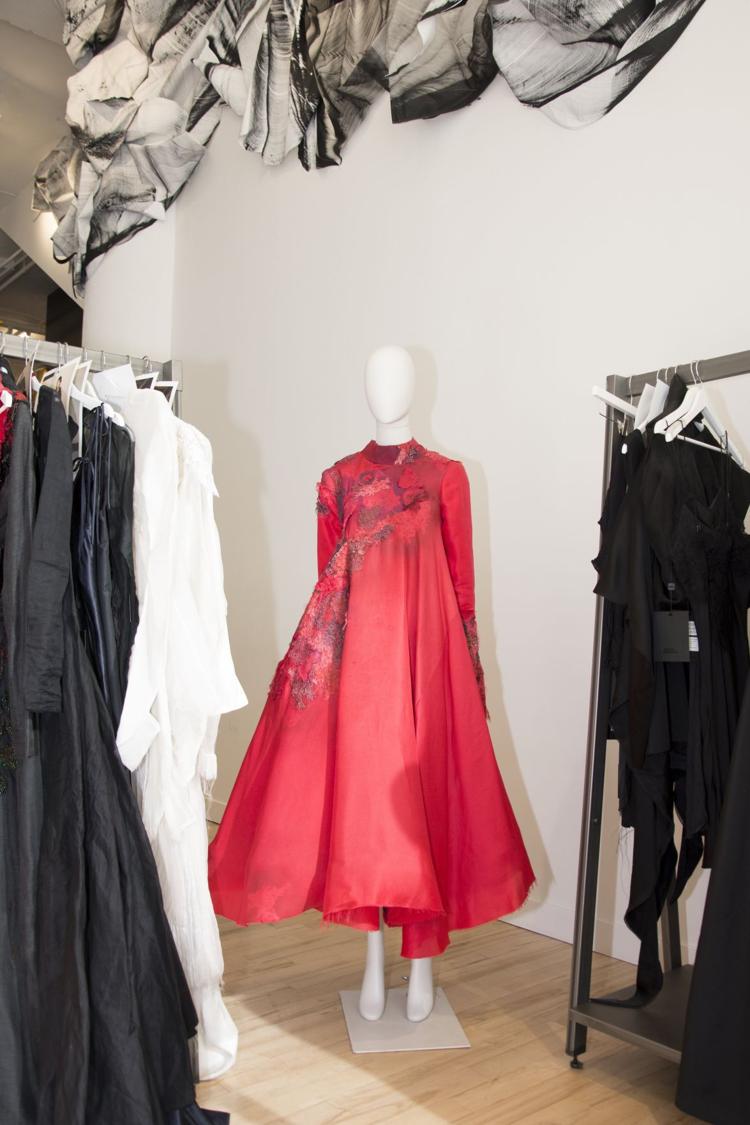 Another first-year program highlight occurred last summer as André Leon Talley, the iconic former editor-at-large for Vogue fashion magazine, chose pieces from the incubator's six designer collections to be featured in his Fluid Fashion 18 runway show. "He fell in love with our designers, looked at their lines and ended up pulling 16 or so looks for a fashion show at Saint Louis Art Museum," Sherman says, adding that the incubator will be naming a scholarship in Talley's honor this year. "He is so into supporting young designers interested in fashion and design careers."
As the incubator's designers embark on the second year of their two-year residency, they will be receiving individualized help for their fashion companies, from support with refining their business plans to digital marketing and finding investors "to take them to the next level," Sherman says. "We know a lot of high-powered people in the industry," she notes, adding that some of the designers will be making high-profile appearances at industry events such as Nashville Fashion Week, as well as designer trunk shows across the country.
And for the first time, the incubator will offer a Fashion Camp this summer for high school students interested in learning more about the business of fashion, from draping to design and sketching to sewing. "We want to make sewing sexy again," Sherman says. "For young people, they have this picture of workers sewing in factories. We have a modern production facility that looks like [reality-TV show] Project Runway. We want to show them what different areas of the fashion industry are really like."
Sherman says Saint Louis Fashion Fund wants the entire city, locals to tourists, excited about the future of the fashion industry – because it's happening now, right here in St. Louis. "The eyes of New York, Paris and Los Angeles are really on us – we're stirring things up," she says. "It really adds more to the fabric of the city. And we're very grateful for the support St. Louis has been giving us."
Saint Louis Fashion Fund, 1533 Washington Ave., St. Louis, 314-400-9300, saintlouisfashionfund.org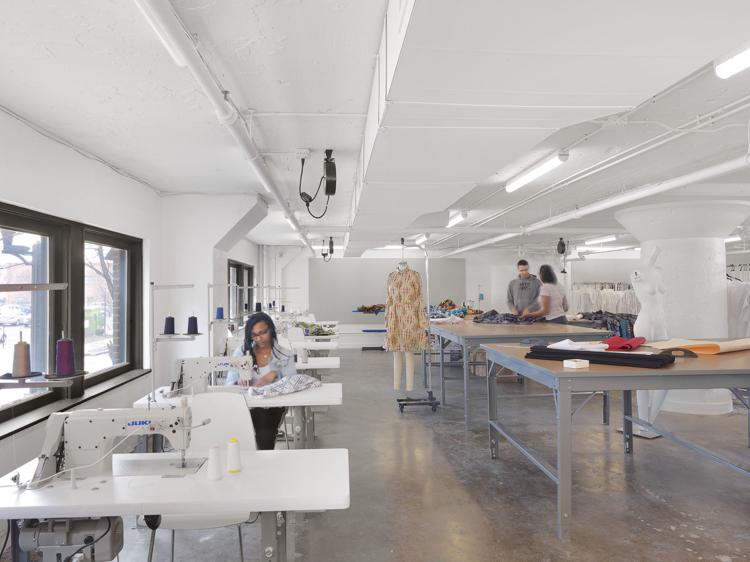 Saint Louis Fashion Fund Events
All events, if otherwise not denoted, will take place at the Saint Louis Fashion Incubator, 1533 Washington Ave., St. Louis, unless otherwise noted:
Feb. 7 Creative Process: Acclaimed artist Yvonne Osei in conversation with Laumeier Sculpture Park curator Dana Turkovic, 6 to 9 p.m.
Feb. 10, March 10 and April 14 Second Saturday: Shop designer brands, 10 a.m. to 4 p.m.
March 8 "Shop in Shop" Cocktail Event: Featuring Saint Louis Fashion Incubator designers, 6 p.m., Saks Fifth Avenue, 1701 S. Lindbergh Blvd., Frontenac
April 2 "Speaking of Fashion" Speaker Series: Featuring Victor Luis, CEO of Tapestry (owner of Coach, Kate Spade and Stuart Weitzman brands), 5 p.m.