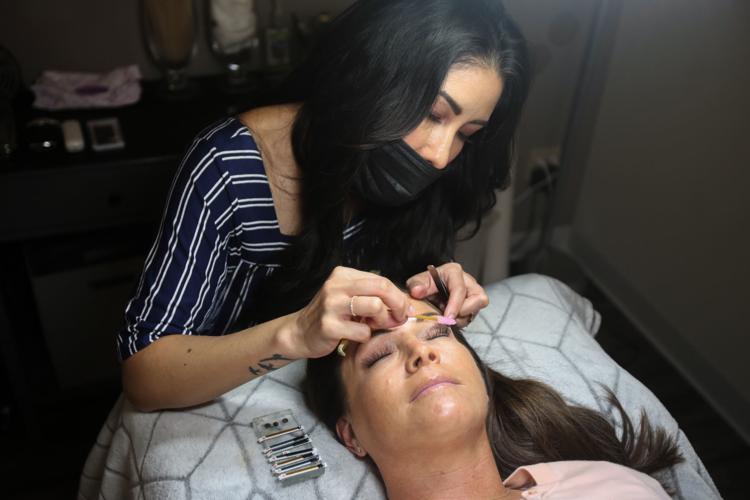 The interior of Wink iBoutique Lash & Brow Bar in Town and Country is decidedly casual. A tufted couch anchors the trendy waiting room, which is sprinkled with gold accent pieces and features a cute – and convenient – coffee bar for clients. Top-40 tracks fill the space, and exposed brick keeps the consultation rooms cozy.
But the story of Wink iBoutique is anything but casual. From launching two locations in 10 months to hiring and training a dozen expert employees, not to mention creating her own brand of eyelash extensions and adhesives, owner and creator Christina Passanise has been serious about her business from the start.
The first of its kind in the metro area, Wink iBoutique offers microblading, lash extensions, keratin lash lifts and henna eyebrow tinting, as well as a full menu of facial services including spa treatments and event airbrush makeup.
An aesthetician with close to 18 years of experience, St. Louis-born Passanise began her career doing facials for various spas in the area before earning certifications in lash extensions, skin treatments, airbrush makeup, micropigmentation and microblading. For nine years, Passanise built up her own devoted clientele, renting studio space out of Clare's of Clayton Salon, before realizing she needed more space.
"I was so busy that I needed to hire, train and expand," she says. "I was booked out six months in advance for lash extensions. My sister-in-law was the first to join me, and I realized that we quickly needed more space to grow."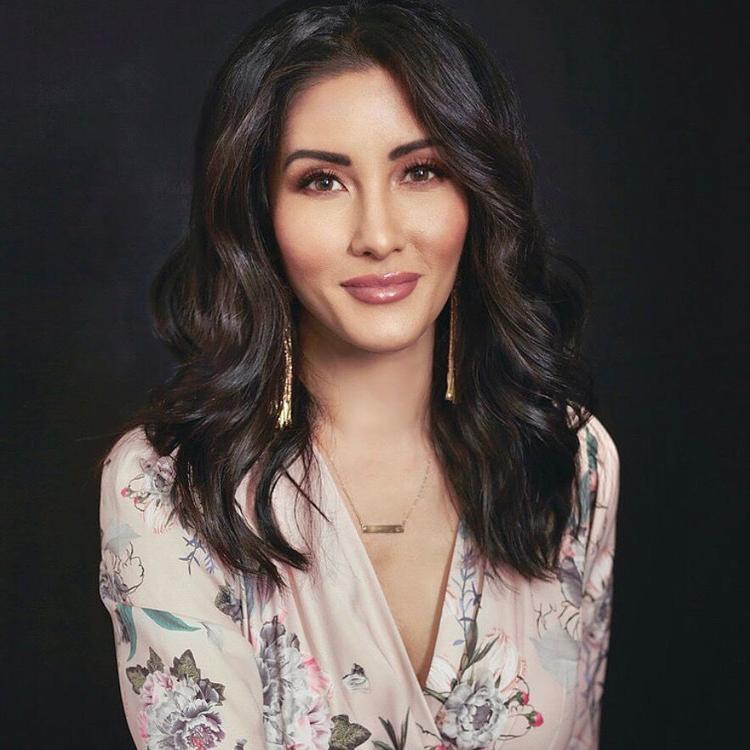 So in September 2016, Passanise opened Wink iBoutique Lash & Brow Bar in Clayton.
"I was looking for a space in Clayton to start," Passanise says of her four-room flagship studio. "I was careful in choosing the first space, not knowing how fast we would grow."
The community response was positive, leading Passanise to open a sister location in Town and Country in July 2017. The second location was met with just as much enthusiasm as the first, so much so that she and her team plan to move into a larger space across the parking lot this coming spring.
So how have Passanise and her staff earned the support of both communities so quickly? To start, her staff is extensively trained through a six-month apprenticeship, where they perfect their skills in Wink's lash, brow and skin services.
For example, when it comes to eyebrow microblading – a manual method of depositing a small amount of pigment in the uppermost layer of skin using disposable hand tools composed of very fine needle points to fill brows out – this hands-on apprenticeship makes all the difference.
"We are extremely careful not to scar the skin tissue," Passanise says. "A lot of people will get two-day training without a lot of hands-on experience before they get out there and start microblading. The problem is, if you don't have a background and experience working with the different thicknesses of skin types and how deep to go, it's hard to determine what you're doing."
Passanise says her team also uses a specific type of pigment in their microblading that omits iron oxide and heavy metals, keeping the brow color from changing over time. Attention to product ingredients is another hallmark of Wink's services, including Passanise's very own lash extension and adhesive line.
"Over the years, I had so many clients suffering from allergies that were glue related," she says. "So I started looking to refine that and what options were available, working with a chemist to come up with a better formula that doesn't contain some of those harsh ingredients, like formaldehyde and latex."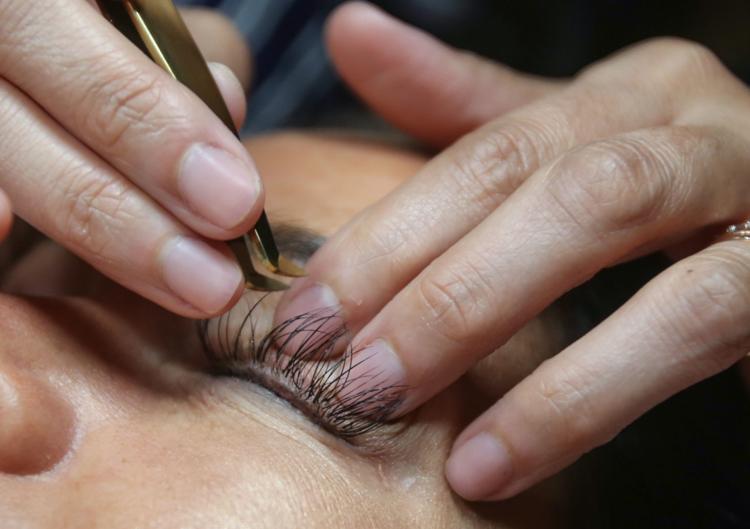 Passanise says the entire process, from finding more natural ingredients that would lessen the chances for allergies to deciding on the right manufacturer and creating the branding and training courses, was a yearlong project. But it was well worth it: It's the No. 1 service revenue-wise for Wink, with other top services including microblading and keratin lash lifts – an hour treatment using silicone rods to strengthen, lift and tint natural lashes for six to eight weeks.
"[The keratin lash lift is] a great alternative for the people who don't want to commit to lash extensions or can't due to eye sensitivity," Passanise says. "It's less maintenance and utilizes your own natural lashes, so it really has a big draw – our clients love it."
Looking ahead, Passanise is excited for the new location and to expand upon her offerings within Wink's Cloud º9 Skin Spa, including Fibroblast Plasma Skin Tightening, a nonsurgical lift treatment that activates collagen elastic production that she recently trained in. Wink will be the first studio to offer the service in the metro area.
And for those interested in brow, lash and skin services, Passanise has sound advice: "Do your research!" Passanise regularly posts before-and-after photos on her social media channels as examples for potential clients, and she welcomes anyone interested to come in for a consultation and even patch-test how his or her skin will react to products before committing.
"I'm kind of a freak when it comes to information," Passanise admits. "We consult and consult and consult. All of my girls are highly trained in setting those expectation levels and educating our clients. When it comes to microblading, you have to take into consideration your individual features and bone structure. We make sure all the information is at a client's fingertips – including aftercare."
Wink iBoutique Lash & Brow Bar, 7805 Clayton Road, Clayton, 636-346-3383; 14145 Clayton Road, Town and Country, 314-540-9454; winkiboutique.com