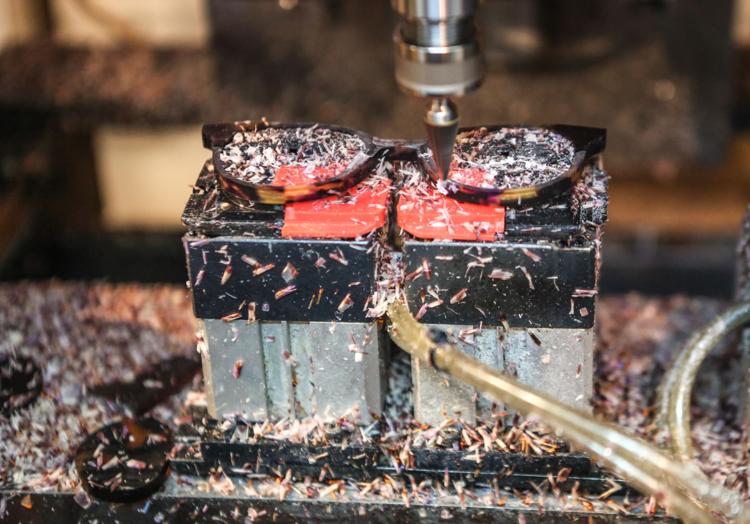 In the past decade, online shopping has seen explosive growth, from its humble beginnings as mere convenience to becoming an essential component of everyday life. Prescription eyeglasses and sunglasses are uniquely positioned in this market, straddling the seemingly polarized industries of medicine and fashion – people may be leery of ordering medical devices online, to be sure, but on the other hand, more robust and affordable frame selections from online retailers combined with low costs and that je ne sais quoi that showcases the wearer's personality to sweeten the deal. After all, most people who wear glasses need them to meet three essential components: one, improve vision; two, look good; and three, not break the bank.
The family behind venerable St. Louis institution Erker's Fine Eyewear, the oldest optical company in the country (founded in 1879), has taken note of these shifting sands and is focusing on bringing a brand to St. Louis that will compete with mail-order prescription eyewear companies such as Zenni Optical and Warby Parker. The brand, Copper Hinge, is led by brothers Jack Erker III and Tony Erker, who represent the fifth generation of Erkers in "the business," and is tentatively slated to open in late April or early May. Copper Hinge will feature a storefront and factory in the Delmar Loop, with eyeglass manufacturing taking place behind a glass wall, similar to the Fitz's bottling space down the street.
"It's been a dream of mine to make frames in the U.S.," Jack says. Only a small handful of U.S.-based eyewear-manufacturing companies exist; most utilize factories in Europe and Asia. With all their manufacturing done at the flagship University City store, Copper Hinge will have the ability to produce small-batch eyewear including limited-edition bronze frames. Such limited-edition batches will include runs of 50 frames, each numbered one to 50. "It's more special that way," Jack says. "If you have a frame with a story and a concept behind each, it makes it something different." Small-batch manufacturing also opens the door for Copper Hinge to offer consumers a wider range of shapes and sizes, including frames adjusted to a low-bridge fit.
Comparatively, most stateside eyewear retailers, including the well-known online shops, have to buy 500 to 600 of a certain model in order for their overseas factory to put the frames into production. Labor and machinery costs are the most prohibitive for U.S.-based manufacturing – a typical pair of glasses might require up to 50 or 60 carefully monitored machines to create from start to finish. Through research and innovation, Jack and Tony were able to track down and build multifunctional machines to do multiple tasks and streamline their production process, bringing the number of machines used down to about 20, many with automated operation to "set it and forget it," so to speak.
The manufacturing process begins with designs created by Jack and Tony, who have been designing frames for the family business the entirety of their professional careers. "We've been designing frames for 16 years – we just got back from Milan, and we see where trends are going and coming," Tony says. "We take inspiration for what's going on over there and evolve it for the American market."
"The neat thing about being in the U.S., [and] St. Louis for sure, you can see trends happening before they get here," Jack says. "Three years ago, we started seeing round frames in Hong Kong and Japan. We saw the big plastic frames coming out of Europe 10 or 11 years ago. It starts in Europe, goes to New York, LA, and it gets to St. Louis. It may be years later – and you don't want to overshoot it."
Their storefront is in an ideal location, generationally speaking, to test out these up-and-coming styles. "That's why we picked this neighborhood – we grew up in U City, we know this area, we love this area and people get it," Tony says.
After the frames are designed, large sheets of Italian acetate are hand-cut to the appropriate size. "[The company we source from] has been making acetate for more than 200 years – there's no acetate company in the U.S. to buy from, otherwise we'd source from here," Jack says. The acetate plates, which will become the front of the frames, are loaded into an automated, high-frequency machine that adds the nose bump to the frames. A few years ago, just this step of the process would require five machines; Copper Hinge technology brings it down to just one. Another machine laminates in two crystal pieces for the nose bridge, and the plates are loaded into another machine equipped with multiple shapes and sizes of drill bits, which are responsible for cutting out the shape of the frames.
The frames are loaded for polishing into wooden tumblers, each filled with a different material for various finishes. This part of the manufacturing adds to the Copper Hinge magic: Small batches will be finished with different materials sourced around
the country – seashells and sand from Tony's annual family vacation to Cape Cod, for instance. On our visit, frames were tumbling with wood chips from an old whiskey barrel from neighboring barbecue joint Salt + Smoke, owned by Erker family friend Tom Schmidt.
Rather than a company name or logo emblazoned on the frames, each pair will be finished with a special-patent eponymous copper hinge, a unique feature in the eyewear industry, which is dominated by silver and gold hinges. "You want to say the brand without saying the brand," Tony says. "You look at Christian Louboutin shoes with the red sole – everyone knows who it is."
Online, Copper Hinge shoppers will have the opportunity to choose five frames with clear plastic lenses, which will be shipped to their door to try on for free. Once their frame is selected, they'll return the test frames and order their specific prescription online. Measurements, such as pupillary distance, will be done online using an interactive program on the Copper Hinge website. Both sunglasses and eyeglasses will be available for purchase, with customization options such as laser engraving on the temples of the frames. Start to finish, a pair of glasses will take about a week to complete. Pricing will be similar to comparable sites, with glasses beginning at $95. A lot of thought went into the Copper Hinge shipping and packaging, with all boxes and packing pieces made from recycled materials.
The Copper Hinge storefront will house a full retail operation with an optometrist office, and eye exams will be available in-house. Color jars on store shelves give customers a chance to choose the color of dye for their own crystal frames, with Jack and Tony planning to offer seasonal colors like brights for summer and warm shades for fall and winter. Adjustments and fittings will be done in-house, and customers can also come in to try on sample frames to skip the online process.
Overall, Copper Hinge aims to bring an elevated, more specialized eyewear experience to shoppers, both online and in-store. "It's more than just putting your prescription into a computer and getting a pair of glasses," Tony says. "We are optical people: We are able to craft it a little better than an online experience. But we also see where online is going – it's more about marrying the two together, finding what retail looks like down the road for us. This is why we've been in business for 138 years – we see trends and make the change."
Copper Hinge, 6513 Delmar Blvd., University City, 314-997-0002, copperhinge.com