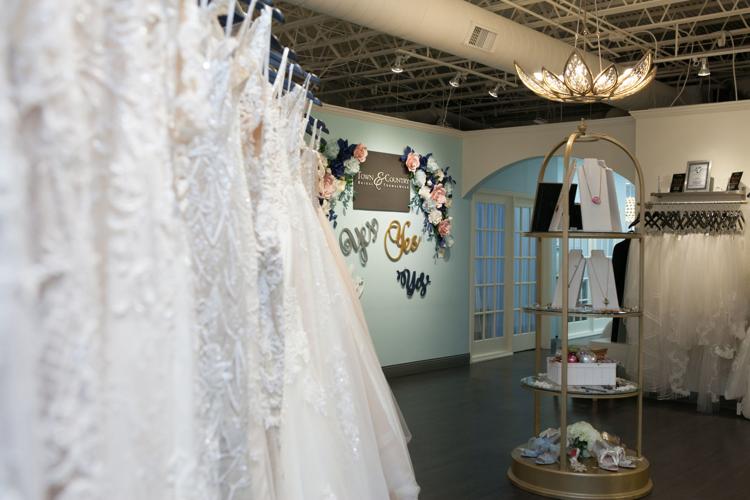 Shopping for a wedding dress is a big moment; it's one that requires attention to detail, a level of comfort and a perfect space to make memories and, of course, find the dress. Brides-to-be visiting Town & Country Bridal will now be able to accomplish this somewhat daunting task in a brand-new location, designed from start to finish so that brides – and their tribes – have an excellent experience.
From the moment you enter, you're greeted with a friendly bridal concierge, an eye-catching floral wall and gold accent pieces from the side tables to the fixtures. But your eyes will quickly trail down the hallway to the bright showroom, where a massive custom-made rack – more on that later – displays rows of gorgeous wedding gowns seemingly floating just above the floor. For ladies who have spent some time on Pinterest lately – and let's face it, that includes a lot of brides – it's like walking into a tulle-adorned dream. Most unbelievable of all, perhaps, is the fact that the establishment's new location was actually a drab office space with drop ceilings and ugly carpet not four months ago.
"When we first walked in, it was really hard for us to see the vision," owner Debbie Rudawsky says. "But then we just opened our eyes to what a great space this could be and what a great experience we could offer our brides."
When Rudawsky and her team of professional stylists knew the lease on their previous space in Colonial Marketplace on Ladue Road was set to end, they began the process of finding a new expanded space. They were starting to run short on storage space, and the traffic and parking on weekends was never an ideal situation for their brides.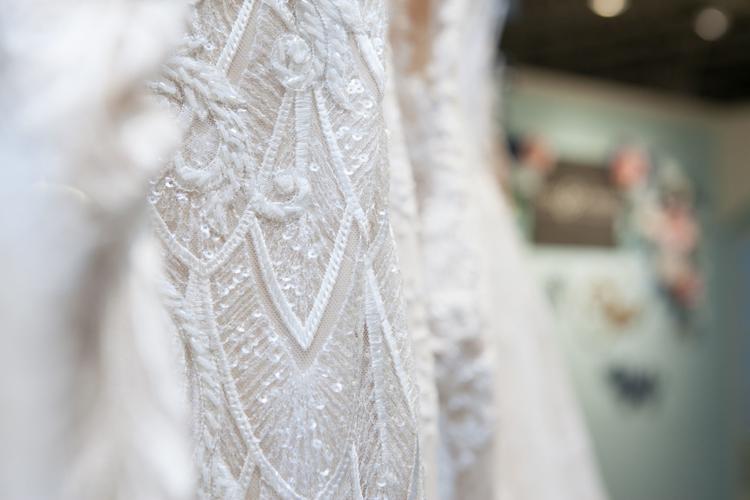 "We were working with a Realtor, and he challenged us to look outside the box and find somewhere different and unique," Rudawsky says. A former office space in a historic building on Ballas Road might not have been exactly what she'd been envisioning, but she soon came around.
"The more we looked at the raw space we could have, we realized we could go from 2,200 square feet to 5,000, with ample parking, just off the highway in a peaceful area for our brides where they wouldn't be fighting traffic that they might elsewhere on weekends," she says. "It was definitely the right move for our store."
The total renovation began at the end of September, and by Nov. 30, it was done and Rudawsky and her staff were welcoming the first bride into the new space.
"My team really kicked it in; it was nonstop moving and setting up," says Rudawsky, adding that when it came time to transport the gowns from the old store to the new (one of the shop's perks is that it stores brides' gowns for safekeeping until alterations begin), she and her staff did it themselves, rather than trust a moving company. It was, after all, precious cargo.
The new location allows Rudawsky and her team to service more brides at a time than the prior location. Around the perimeter of the open-concept space, four separate bridal suites are designed like little living rooms for brides and their groups to show off gowns. Three of the suites can comfortably seat six to eight people; one larger suite can accommodate 10 to 12. Next to each sitting area is a fitting room with ample space for the stylist to help brides into gowns, as well as a massive, ornate mirror – well-lit, of course.
"This is where the bride really gets the first look of herself in a dress," Rudawsky says. "It can be very emotional and overwhelming, so having a nice space allows them to really tap into what they feel because really, that's what it's all about. Every bride is going to look beautiful in a dress, but how a bride feels is what we try and establish. We want them to be themselves and be the best version of themselves."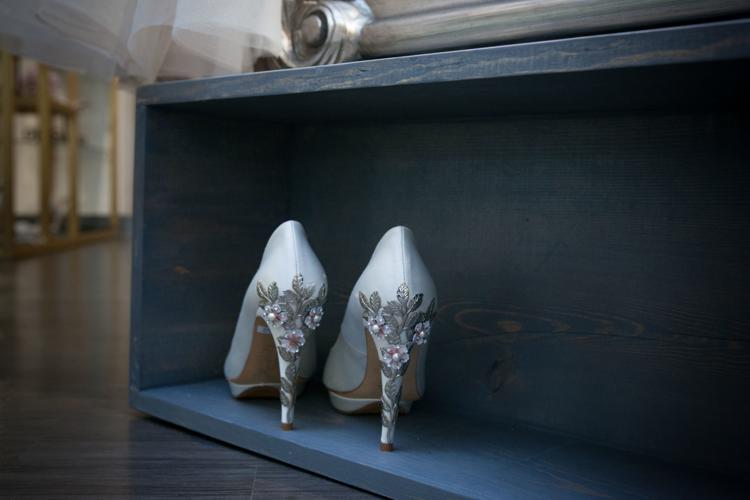 Dominating the middle of the showroom is a large X-shaped rack, designed and built by Rudawsky's husband, that allows Town & Country Bridal not only to better display the gowns but also to carry more gowns for its brides to peruse. With the expansion, the establishment added just one new designer, Lotus Thread, to its already extensive offerings, which include its own Traditions by Town & Country line that launched last summer.
"We thought it was important to show our loyalty to our existing designers and just go deeper into their lines," Rudawsky says. "They've already proven themselves to us and to our brides and have been great partners."
Along with more bridal gowns came more occasion dresses, a larger bridesmaids section, a convenient accessories shop and the addition of tuxedos to its offerings.
"We like to dress the whole party," Rudawsky says. "We've found that once our brides connect with us and our team, they feel comfortable that we can guide them toward making their vision exactly what they want on their wedding day, including bridesmaids, groomsmen and the flower girls."
The special care Rudawsky and her team take in working with their clients is seen in details big and small, and the new location is tailor-made to keep that tradition alive.
"Customer service is everything to everyone on my team," she says. "It's not about selling you something – it's about building that connection. We're happy for you regardless of the dress you buy or where you buy it; we just want to play a part in your discovering your style for that big day."
Town & Country Bridal, 2730 N. Ballas Road, St. Louis, 314-863-7200, townandcountrybride.com