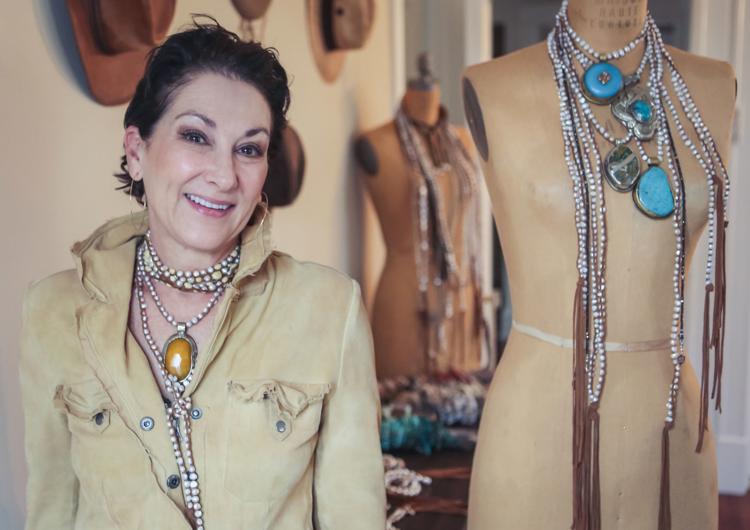 Karen Daniels had worked in retail her entire life. She spent time in management positions with The Limited and was with Vie Boutique in Ladue for 10 years. Over two decades, Daniels honed her skills at work with customers and selling products. While on a trip to Playa del Carmen, Mexico, 10 years ago with her girlfriends, though, she discovered a necklace unlike anything she had ever seen. This necklace not only struck her with an urge to make her own version on returning to the States but also gave her professional autonomy.
"I realized I was done working for other people, so I left retail," she says.
Daniels grew up on a farm in Troy, Illinois, and missed being outside and all the adventurous activities she had grown up enjoying, like hiking, biking and skiing. With her combined love of the outdoors and fashion, Daniels describes her style as "bohemian chic" and is influenced by natural fibers and the world around her. She focused this plethora of passions into one effort after leaving the retail world: replicating the stunning necklace she had seen in Mexico.
She began creating and selling the labor-intensive piece under the name of Tess Jewelry, named after her grown daughter, about eight years ago.
"Working in retail, I discovered if you use a name that's too lengthy, it doesn't resonate with people," she says. "It needed to be short. If [the customer] doesn't pull the trigger and buy it, they need to be able to remember the name."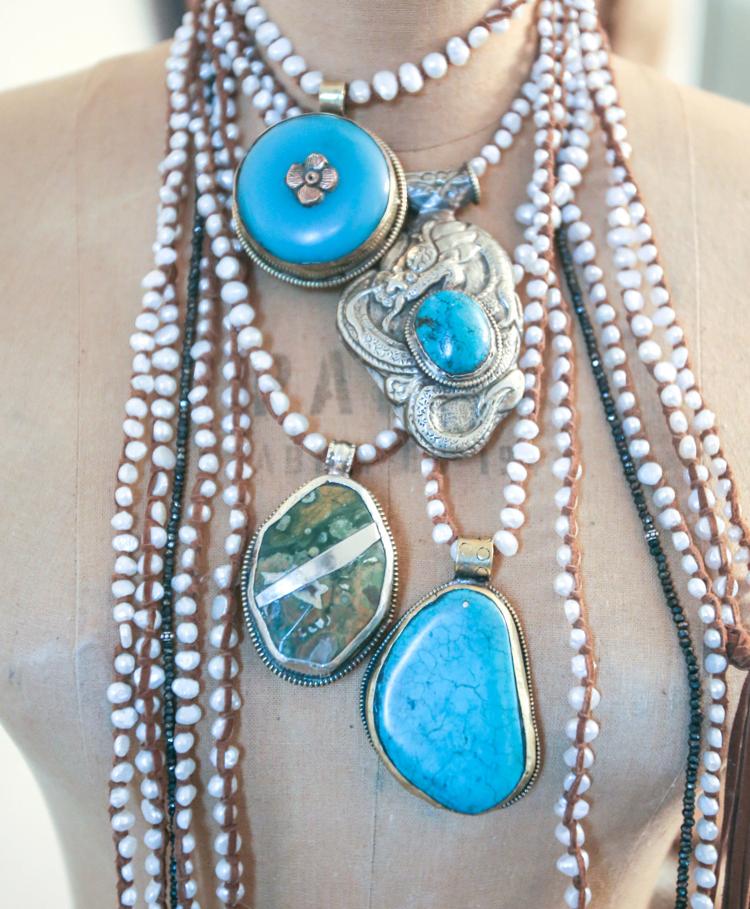 The original Tess Jewelry necklace is a stunning pearl-and-suede combination that Daniels simply calls "the basic." Each pearl of the 47-inch piece is wrapped in suede and knotted into one long strand. Daniels also adds turquoise, carved wooden beads, bone, quartz and other natural elements to create variations of the necklace that are both earthy and elegant. She says there are several different ways to wear and pair the necklace, and every time she sees someone wearing it on social media, it's a different look and feel.
"I think of my pieces as Chanel meets Ralph Lauren," she says. "Chanel has the draping of the pearls, and Ralph Lauren has the leather and suede."
In addition to the original necklace, Daniels works with vintage Tibetan pieces she gets from a Tibetan man she met at a market and elements of sterling silver to craft other lengths of necklaces that are perfect for layering. She's also recently begun making bracelets with diamonds to contrast the boho-chic feel of many of her other products. Overall, though, keeping her jewelry natural and (quite literally) down-to-earth is the goal. "I hardly ever put anything mass-produced in my jewelry," Daniels says, making each piece of Tess Jewelry one of a kind. "I have an affection for lots of layered jewelry. I always want to feel like I'm on vacation."
Although making her pieces known to area residents is important to Daniels, she's also been taking Tess Jewelry on the road to Aspen, Colorado; Sonoma, California; and Nashville, Tennessee, noting that both the style and price point ($240 to $400) resonate with resort towns.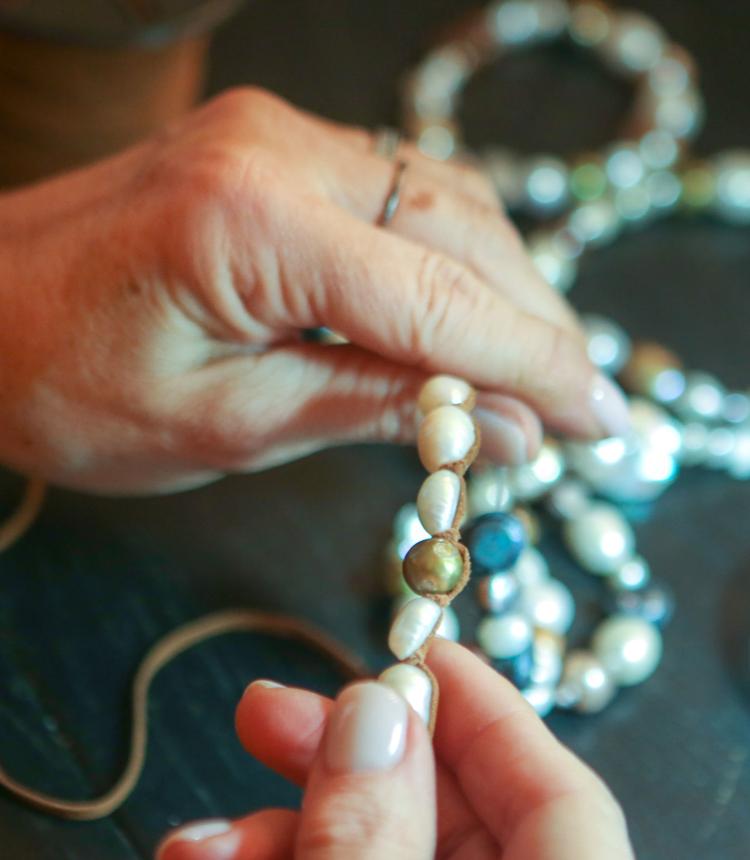 "My goals are to pack up my pieces and travel as much as possible," she says. "My kids are grown, so I can travel anywhere to find a home for my jewelry."
At the end of January, Daniels took part in a spring and summer shopping preview at the Missouri Athletic Club, featuring designers like Claire Flowers, Lux & Nyx, Fashion Paint, ETCETERA, Refash and Beltshazzar Jewels, giving local fashionistas the opportunity to peruse what Daniels has coming for the upcoming warmer months. Although the weather conditions were less than ideal, Daniels was able to showcase her stone necklaces, which feature minerals like sapphires, garnet, labradorite and glass beads. She said many of the event's attendees had previously bought pieces from her and were excited about the new necklaces.
"They can be worn long or wrapped three times," she says. "These necklaces add some color to my line and are a little more delicate."
Locally, area residents can find Tess Jewelry at Giddyup Jane in Ladue and Mary Tuttle's in Chesterfield.
Tess Jewelry, 314-941-2429, tessjewelry.net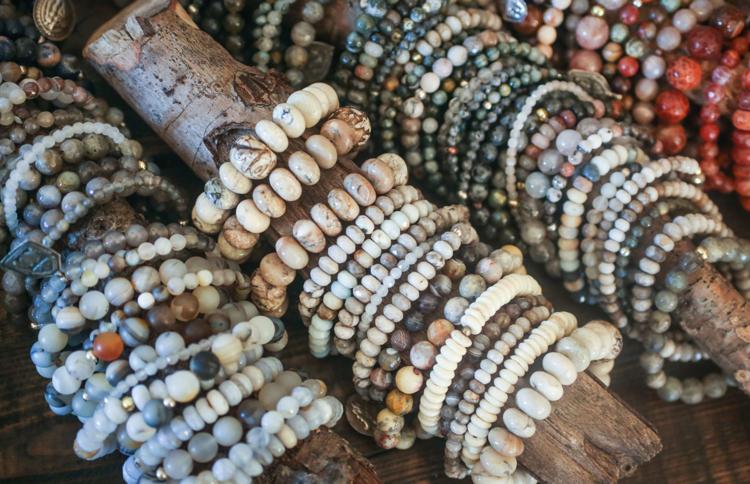 Be the first to know
Get local news delivered to your inbox!