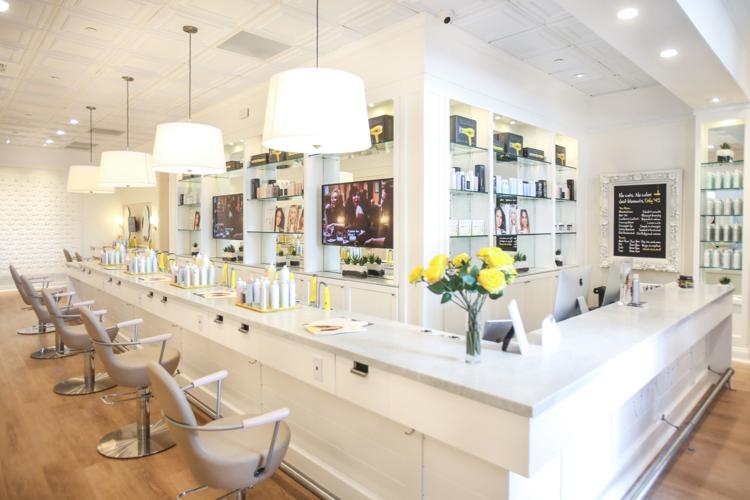 When Caroline Morehead returned to her hometown of St. Louis, she longed for the great hair days she had while living in Dallas. She wasn't affected by the Midwestern humidity – instead, she missed her favorite styling salon, Drybar. What's a girl desperate for good hair to do? Why, open her own franchise, of course.
Missouri's first Drybar, a nationwide blowout salon known for its shiny hairstyles and sought-after yellow tools, opened May 16 at the former POPtions! space in Ladue's The Village at Schneithorst's. And that location is just the start, explains Morehead, who envisions multiple Drybar salons peppering the metro area in the future.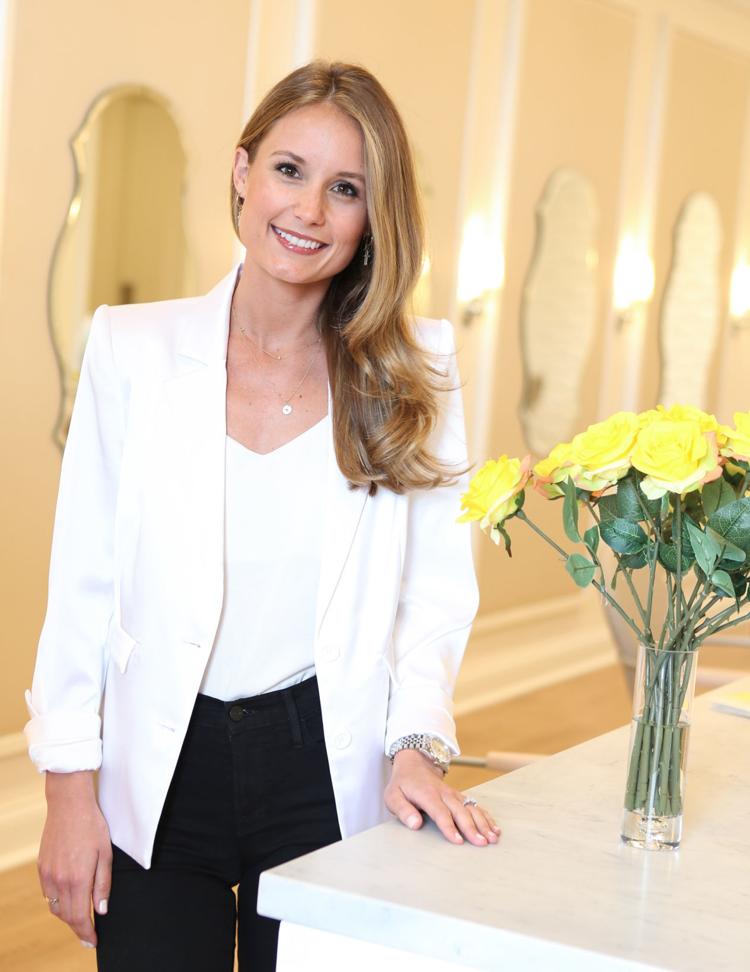 After graduating from Mary Institute and Saint Louis Country Day School, Morehead moved to Dallas to attend Southern Methodist University. She double-majored in journalism and sport management, and eventually used her degree to begin working for the Dallas Stars hockey team. "I went to Drybar when I was in college down there, but I really started going religiously once I was in that young professional business category," she says. "I would go and love it … It was 45 minutes to myself to get pampered, know my hair would look good the rest of the week so I wouldn't have to waste time doing that [and] get so much work done."
When Morehead returned to St. Louis with her fiancé and co-owner, fellow St. Louis native Chris Wideman, she missed the Drybar experience. "I told Chris, 'I think a Drybar would do so well here,'" Morehead says. "That's the one thing I feel like I miss the most from Dallas." He finally convinced her to put in a franchise application, and to Morehead's surprise, she heard back the next day. "From there, it was a lot of hard work," she says. "It was Chris and [me] doing calls just about every week." This included flying to Irvine, California, for an interview with the Drybar founder, as well as a day working the Newport, California, store for a firsthand look at salon ownership. "Seeing it from behind the bar was really enlightening, and I loved it," Morehead says.
Drybar operates under the tagline "no color, no cuts, just blowouts." It offers eight signature adult styles, all named after cocktails – plus one kid-friendly version aptly named the Shirley Temple. Although prices range by location, the blowout styles cost $45 here for any length of hair (and an additional $20 for extensions). The salon offers a signature blowout called the Straight Up and a beachy-wave look called the Mai Tai. For formal occasions, there are the Old Fashioned, with supple old Hollywood-style waves, or the volume-focused Southern Comfort. Braids can also be added to any look for an additional price, and up-dos (called Uptinis) are also available.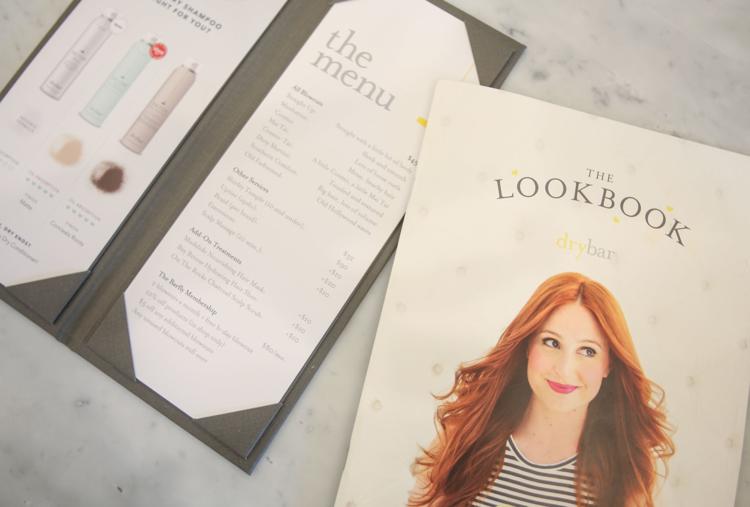 "Our big thing at Drybar is promoting happiness and confidence," Morehead says. "Although it seems very minimal in the scheme of life … , you go in, you leave and your hair looks amazing. It makes everyone feel good. It's a nice little boost in your day."
The Drybar experience starts with an appointment, either made in advance or booked as a walk-in. (Appointments can be made online, using the Drybar app, or by phone through a call center; Morehead mentions the salon has no phone because of the noise from hair dryers and music.) Next, a client meets with the stylist for a consultation and selects a style from the lookbook. Because Drybar styles are designed for all hair textures and lengths, the lookbook portrays a variety of individuals with each style to help the guest imagine the end result.
After that comes washing the hair, followed by the strategic blow-dry and style while the client sips complimentary Champagne or coffee and watches rom-coms on the TVs in the salon. In roughly 45 minutes, the client's hairdo is done and ready to be worn for up to a week. Regulars may want to consider the Barfly Membership ($80 a month), which comes with discounts and two blowouts per month.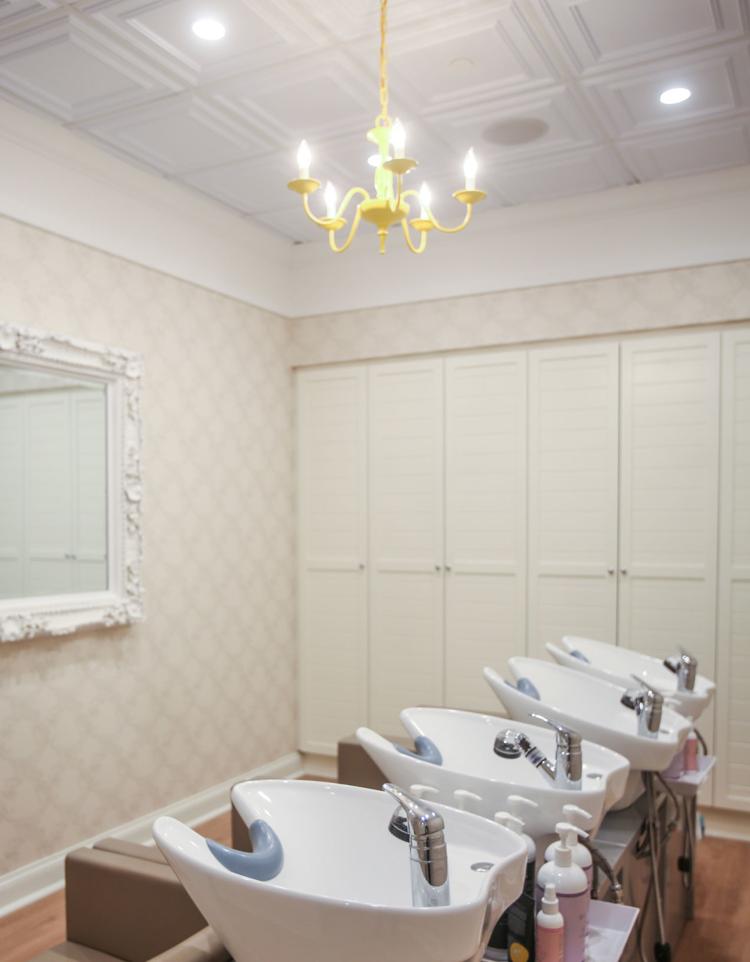 In addition to its signature styles, Drybar has developed a cult following for its hair products. The Hot Toddy protects against heat, the On the Rocks is a scalp scrub, and the popular Triple Sec adds texture. (As with the hair styles, the branding here cheekily plays up the second syllable of the company's name.) With all products and tools used in the salon available for sale, a client can find his or her perfect style and buy the items to re-create it at home.
Offering Drybar's signature styles at the new location was critical, Morehead explains. "[Because] there are 120 locations of Drybar nationwide, they want you to be able to get a blowout in New York or Miami or Chicago and have the same experience you have in St. Louis," she says. Those who have visited Drybar locations in other states will feel right at home in this matching salon, which features nine styling chairs and a separate hair-washing room in its 1,200 square feet.
"We are so excited to bring something of this national caliber back to St. Louis," Morehead says of the opening. "The response so far has been really encouraging, and I think that comes from people being so supportive in the St. Louis area. I feel like St. Louis is very loyal, which is amazing – but also, a lot of people have traveled to Chicago or New York, and they've been to Drybars there. [The positive response] speaks to what Drybar has created."
Drybar St. Louis – Frontenac, 1580 S. Lindbergh Blvd., St. Louis, 314-202-5082, thedrybar.com/locations/st-louis-frontenac