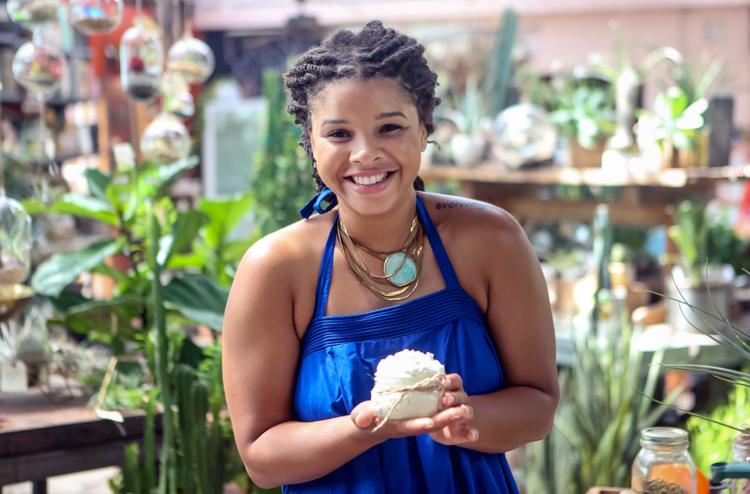 Matcha-lemon. Vanilla-almond. Rosemary-mint. Oats and milk. Sound tasty? You're not the only one who thinks so – but these flavors aren't meant to be eaten.
"The smells are very yummy, and because I whip my butters, I have had so many customers coming to my booth and thinking that it goes on a cracker," says La'Crassia Wilderness, the 28-year-old South City resident and founder of Butter Love by L.C.
Instead, Butter Love creates all-natural body products aimed at healing dry skin. This includes scrubs, soaks and – the one your confused spoon likely reaches for – fluffy, hydrating body butters.
"One of the reasons I started Butter Love was because I suffered from dry skin," Wilderness says. "Once my mom introduced me to shea butter to heal my dryness, it immediately subsided. That's when I knew how powerful shea butter was."
Wilderness explains that while studying marketing at Columbia College Chicago, she and a friend would craft homemade products for natural hair using ingredients like shea butter, aloe, coconut oil and more. But the stress of college sent her home her junior year, and Wilderness says she hit a "quarter-life crisis" and landed with her father, unsure what to do next. She happened to be out of hair products, so she ordered a few on Amazon.
"Once everything was delivered, I started mixing," she says. "Then I started researching all about carrier oils like jojoba, argan and sweet almond oil. It took off from there. I was obsessed. I started Butter Love in my room at my dad's house, mixing oils on the floor next to my bed."
Since her company's 2014 founding, Wilderness has launched a variety of products, each with its own unique benefits and handmade process. Take, for example, the Floral Milk Bath – a favorite of Wilderness and customers alike, meant to be poured into a warm bath for soaking. She starts with the milk.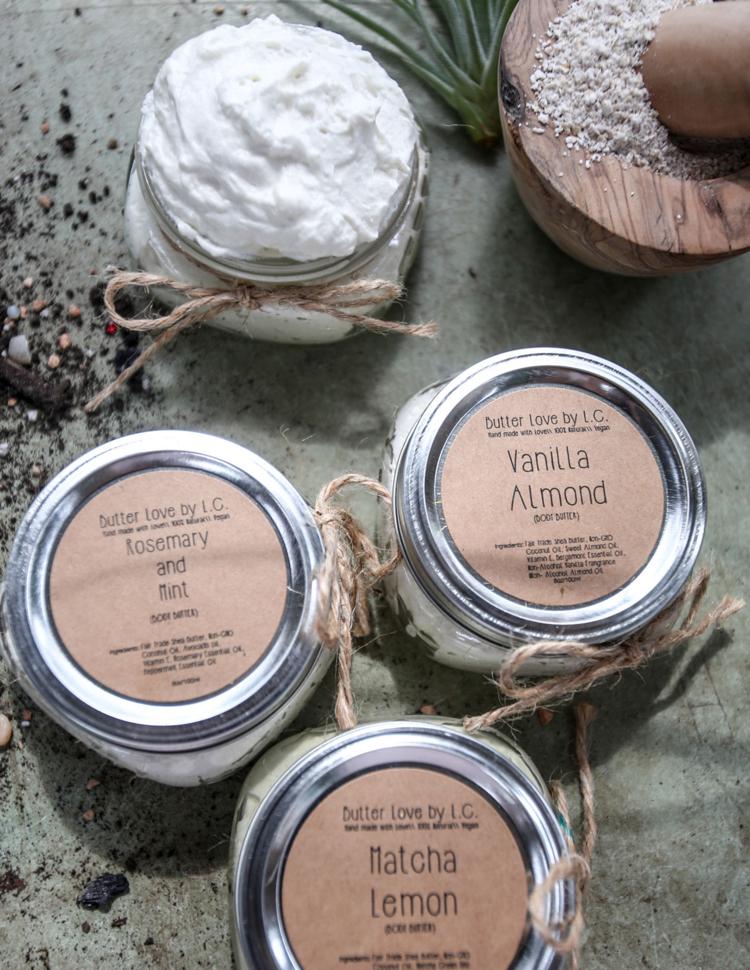 "I use dry milk because it works as a natural exfoliant to remove dead skin cells, revealing the fresh, younger-looking skin that's been hiding underneath," Wilderness says, noting the dry milk idea came from her father. "Then grab your detoxifying properties." She notes salts including Dead Sea, pink Himalayan sea and Epsom.
"Once you mix all of those ingredients together, you add a little bit of tea leaves," Wilderness continues. "This milk bath in particular possesses rose petals, lavender buds, camomile and sage for cleansing, which are used to create a feeling of calm, inner peace and balance. The aromas of the teas are heavenly, and they make your bathtub look magical. Now that you have your bowl of magic, you take a wooden spoon and carefully mix like nobody's business."
Each "bowl of magic" made by Wilderness features a scent combo she says she personally loves. She also notes the benefits of essential oils and says they help her know when the products would be best used, such as the soothing aspect of lavender being added to a before-bed regimen. Other than the Floral Milk Bath, she cites the Vanilla Almond Body Butter and Rosemary and Mint Body Butter as her best-sellers.
Currently, Butter Love's handmade items can be found online (butterlovebylc.co) and at Heirloom Room (2116 Cherokee St.), Tiffany J Salon (4415 S. Kingshighway Blvd.) and Union Studio (1605 Tower Grove Ave.), with more locations coming soon, Wilderness says. Her products can also be spotted at various fairs and festivals, such as the recent Grand Market. Products are packaged in minimalist Mason jars and craft paper pouches, allowing the goodness inside to remain the focal point. Prices range from $10 to $20.
"I believe that energy transfer is very real, so I do put a lot of love into Butter Love," Wilderness says. "I make all of my products by hand because I want to transfer positive healing energy into my products with the intent to heal physically as well as spiritually."
Wilderness likes to say that the more you use her products, the more you don't have to use them. Compared to a drugstore product that leaves you wanting to reapply, she explains, Butter Love penetrates the skin for healing: "All of the products in my line are specifically made to promote healthy, nourished skin."
Wilderness says Butter Love has come a long way since its founding on the floor of her bedroom. "I would have never thought that is what I would be doing," she relates, "but I know in my heart that this is what I'm supposed to be doing!"
Butter Love by L.C., butterlovebylc.com