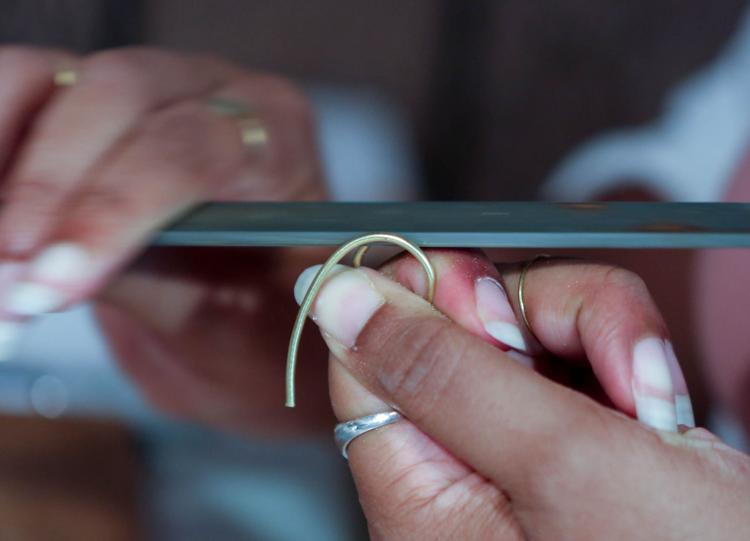 Often, inspiration comes from unlikely places – an interminable, crowded train ride is where author J.K. Rowling famously came up with the idea for Harry Potter – and for 25-year-old Shayba Diaz Muhammad, founder and designer of Mahnal Jewelry, her line of elegant handcrafted brass women's jewelry was born of a childhood spent delicately handling her grandmother's heavy brass vases and animal paperweights.
Although the bridge between heavy brass tchotchkes and a geometrically inspired, graceful single-wire brass choker might seem murky at best, the timelessness and cultural history behind the metal were essential to Muhammad's choice in establishing her line.
"I fell in love with its depth, durability and character," she says. "And when I discovered its use for jewelry in African and Native American cultures, I knew brass was it."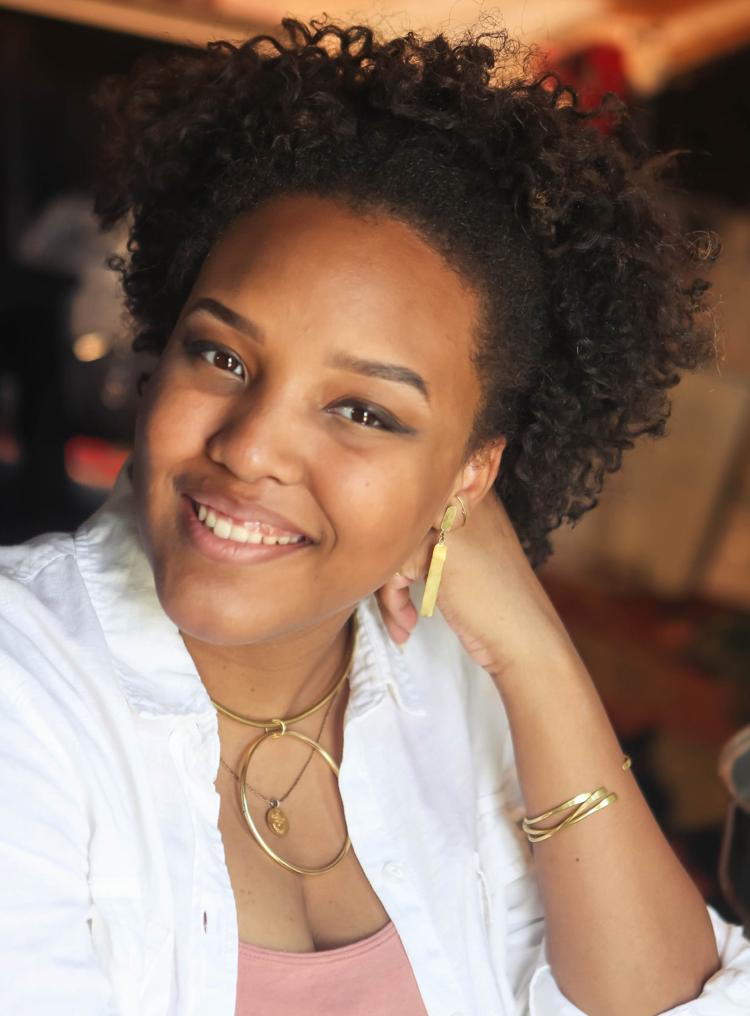 Mahnal Jewelry features a line of brass necklaces, earrings, bracelets and rings, each piece handmade by Muhammad in her home studio in the St. Louis area. Muhammad always has her eyes peeled for design inspiration. "I'm constantly keeping notes on different things that inspire me: mostly things that capture mood, but also interesting shapes and textures I see in architecture, garments or plants," she says. "When I'm ready to design a new collection, I go back to those notes."
Muhammad's educational background is in fashion design – she was in an accelerated-degree program at the Illinois Institute of Art in Chicago pursuing her Bachelor of Fine Arts degree in fashion design and also was working as an accessory specialist when she first tried her hand at metalwork.
"I saw a lot of [jewelry] and thought, 'Hey, I could make that!'" Muhammad says. When she did craft her own jewelry, friends and family began to ask for custom pieces, which gave her even more opportunity to fine-tune her craft. After deciding to take a break from her intensive program and return to her hometown of St. Louis, she launched her brand in 2013, named after an Arabic word associated with attainment, achievement and success.
"I knew these were attributes I wanted women to feel," Muhammad says. "I've always believed what we wear is a form of communication. It expresses something about who we are: that achievement starts with a healthy self-love. I want the jewelry we adorn ourselves with to be a token, a wearable reminder of that."
To create her pieces, Muhammad takes raw brass wire and sheets and carefully measures and cuts them for the specific purpose of each, after which she takes hammers of various sizes to add texture to the pieces or build dimensional shape. An inflexible metal, brass requires heat – a lot of heat – to be formed into a wearable accessory, so Muhammad uses a small torch to soften the metal to work with, applying heat and bending the piece until it reaches its final shape. Additional parts of each piece, if necessary, are soldered together, and the final product is washed in a mild acid bath and polished to a high shine.
The finished design is a durable, timeless, minimalistic statement piece, meant to accentuate a woman's natural elegance. Each piece not only is uniquely handcrafted but also will develop its own identity over time: Oxidation and exposure to the wearer's body chemistry will cause the jewelry to develop a patina – a shift in color at the metal's surface – as it ages. "I like to say it creates a 'living finish,'" Muhammad says.
She adds, "The beauty of brass is that, like sterling silver, you can always choose to let it patina or take a polishing cloth and restore its original brightness."
What began as the curious exploration of a possibility has turned Muhammad into a maker and entrepreneur. "Jewelry was one of those things that was supposed to be an experiment – but it stuck for me," she says. "I only wish I had discovered jewelry-making sooner."
Mahnal Jewelry plans to hold its official grand-opening online launch in late October. The shop will partner with various bloggers to host giveaways and special discounts and limited-inventory pieces. Details for the launch can be found on Facebook (@mahnaljewelry) and Instagram (@mahnal). The jewelry will be available online at Decovo and Mahnal's website (after the launch), as well as Urban Matter boutique in the St. Louis area.